As gold has been falling we have been wondering if this was simply a really ugly market correction or whether someone was being forced to close up shop and liquidate the entire portfolio. Well, there is no story to report about a hedge fund going under...yet; but what we can say is that these gold focused funds have been under considerable pressure over the past quarter. It appears that even the best hedge fund managers have been unable to avoid the downturn, as David Einhorn is the latest to be highlighted as a gold loser (see story here). It is headlines such as these which add further pressure to gold and ETFs like the SPDR Gold Shares (NYSEARCA:GLD).
Chart of the Day:
Corn appears to be breaking through the support we pointed out recently and that is not bullish. It appears many switched from beans to corn when they saw that Iowa may not have had the best conditions for corn growing and were hoping to benefit from that. That may prove to be the reason why corn heads lower as the market braces for a record harvest. Pay attention to the grains.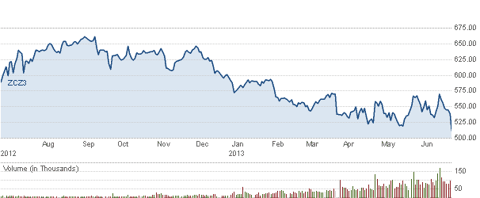 Source: CNBC
Commodity prices this morning are as follows:
Gold: $1236.20/ounce, up by $12.50/ounce
Silver: $19.465/ounce, down by $0.005/ounce
Oil: $97.01/barrel, up by $0.45/barrel
RBOB Gas: $2.7309/gallon, up by $0.0153/gallon
Natural Gas: $3.572/MMbtu, up by $0.007/MMbtu
Copper: $3.122/pound, up by $0.0645/pound
Platinum: $1353.60/ounce, up by $13.70/ounce
Rare Earths
As we mentioned in our article Friday, the Securities and Exchange Commission has given Molycorp (MCP) a clean slate and will not be filing any charges. This gave the stock a nice 10.5% bump during Friday's session with 22.7 million shares traded. Looking back on what happened during the bull market in rare earths there were a lot of animal spirits running rampant and an environment where many make large sums and many others get left holding the bag. This is sadly the way these micro industry bull markets in commodities work and what we have experienced over the past decade investing in them. We have been on both sides of the trade and can sympathize, however, at the end of the day it is how these capital markets work for junior miners. Yes, it smells fishy once the tide has gone out and left many fish flopping on the shore, but that was the risk investors knew they were taking.
This looks about as bad as a coal company's stock chart, but the good news for investors is that the SEC investigation is over. This should remove a major hurdle in the stock price moving higher.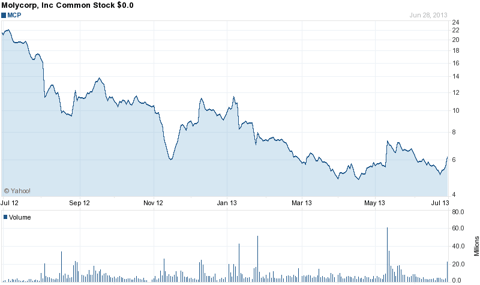 Source: Yahoo Finance
Oil & Natural Gas
One of our recent disappointing buys is Halcon Resources (NYSE:HK). Most of our shares were purchased about $1/share higher than we currently trade, the rest were purchased at exactly the price that shares closed on Friday, $5.67/share. Friday readers might have noticed the increased volume in trading as the company traded 12.9 million shares, well over 2x normal daily volume. The reason? Well, Halcon continues to consolidate acreage in its top plays and they made a move to purchase non-operating acreage for which they are operators. The price appears to be really good and investors can probably expect to see a bit more in terms of capital allocated towards the Bakken now.
It has been ugly over the past few months, but with smart acquisitions like last week's we have to remain optimistic.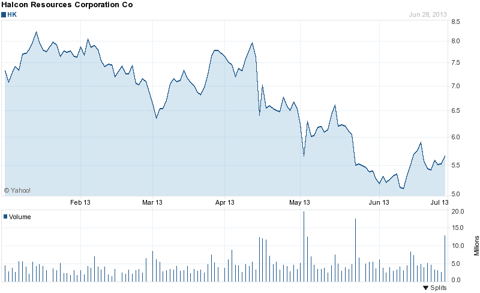 Source: Yahoo Finance.
It appears that Egypt is once again in turmoil (see story here) as citizens take to the streets to vent their frustrations with the current government. This is not good for companies with assets there as protests and political turmoil have a tendency to drive economic activity down and prevent the everyday activities of business. Apache (NYSE:APA) learned this the hard way last time and has taken measures to lessen their exposure to situations such as these, but these riots and/or demonstrations speak to a larger point. Just how ready are parts of the world such as this prepared to come into the 21st Century? Looking at the world as it is today, the future growth in commodity production will overwhelmingly be derived from areas such as this and we need to judge just how prepared we are to deal with production hiccups...especially as the world has moved towards a just-in-time inventory system.
All of which simply goes to highlight how important security of supply truly is. With the way some commodities work an economy can continue to fully function for a month or two so long as they can produce roughly 30% of their needs domestically. America is blessed with the ability (not that it necessarily does though) to produce many of its most important commodity needs at this level. This is why we have been big proponents of domestic production. Not just in terms of oil and natural gas, but also copper, rare earths, molybdenum and many others. If we have another wave of uprising in the Middle East, watch for security of supply to once again become a major talking point.
Precious Metals
Miners were the big winners on Friday as we saw a nice rebound in shares after the large drop experienced during the week. Silver Wheaton (SLW) saw shares pop nearly 7.50% and that was impressive. The stock is indicated higher again in pre-market trading although silver is lagging the moves higher in other precious metals. We were asked an interesting question on Friday by a friend regarding these names and they wanted to know whether we would go with a name such as Silver Wheaton or an ETF for the miners as a whole.
It is a great question and it depends 100% on whether one sees a rebound or not. Further, the type of rebound is important. His thinking is that gold goes higher and platinum follows, and that one should be extremely bullish at these prices. If that is one's thinking then the junior gold miners ETF would be the way to go, but we would simply stick to big caps as we are less bullish. Obviously, returns would be lower, but so too would your risk and the volatility.
Disclosure: I am long HK. I wrote this article myself, and it expresses my own opinions. I am not receiving compensation for it (other than from Seeking Alpha). I have no business relationship with any company whose stock is mentioned in this article.