Touchscreen technology has come a long way since the first viable screens were created in the 1960s, and many startup companies have succeeded while others have failed along the way. Investing in a startup or production phase company in a fast-growing space like touchscreen technology can provide investors with tremendous returns or overwhelming regrets. Hindsight is always 20/20, but in the world of early stage technology, it's hard enough just to see one foot ahead through the fog to make informed decisions.
Uni-Pixel, Inc. (NASDAQ:UNXL) has been perhaps the most interesting company in the touchscreen space for some time now. With grandiose promises and a product said to be a game-changer, the company's stock reached highs of nearly $40/share, without ever posting any revenue, before falling 60% in a matter of weeks. The 1-year chart below shows the rise of Uni-Pixel as optimism for its new touchscreen products took off. Likewise, it shows the recent drop after questions emerged surrounding the viability of short term contracts disclosed by the firm as well as pending lawsuits.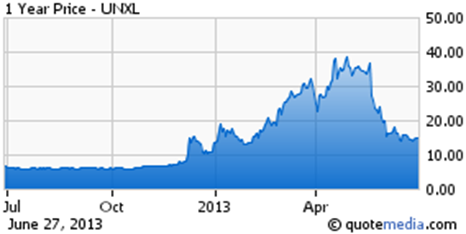 As controversial as it may be, with pending lawsuits, under-delivered promises, and multiple setbacks, the company is still intriguing as an investment opportunity given its technology and market potential. The company is clearly not without risk or volatility, however, risk and potential reward should always be weighed together.
A Brief Overview
In order to understand the significant potential behind the technology being produced by Uni-Pixel, Inc. it is important to first understand the market. Touchscreen technology was really created in the mid-1960s but didn't evolve into what we see today until well into the 2000s. Today, there are number of technologies on the market, from the durable resistive touch screen that uses pressure from any object (i.e. stylus, finger) to the mutual capacitance technology used in the iPhone. Mutual capacitance and self-capacitance technologies both fall under the category of projected capacitance which uses Indium Tin Oxide (ITO) technology. So why is this important?
The UniBoss™ technology claims to simplify and reduce the complexity, cost, and risk of manufacturing touch sensors and other electronic circuit applications. Rather than the multiple layers of conductive material, glass, and adhesive used in the current generation of touchscreen technology seen on the iPhone, iPad, and other similar devices, the UniBoss technology allows for the printing of circuits directly on film sheets. This revolutionary process reduces thickness, improves display, and cuts manufacturing costs for device manufacturers. The side-by-side comparison below of current generation technology vs. next-generation touchscreens shows the potential reduction in thickness and complexity of the newer technology currently being developed. The thicker, multi-layer image on the left is the current ITO touchscreen used in most handheld devices today. The image on the right is a view of the potential next generation screens that clearly provide a similar result at less than ½ the thickness.
The new technology has the capability to be a game-changer in the industry if the company can get it to market. Setbacks and competitors have threatened Uni-Pixel's success, but if the management team can get back on track, this technology and the company could still take off. While there is a significant amount of competition in the current generation of ITO touchscreen market, Uni-Pixel will be competing against other companies with emerging technology similar to that of the UniBoss technology. One such competitor is Atmel Corporation (NASDAQ:ATML).
Competition
Atmel Corporation is a designer and manufacturer of microcontrollers, captive touch solutions, and other technological control solutions. With $1.4 billion in TTM revenues, the company is far from a startup, but it is currently developing new technology under the maXTouch S Series name that would be a direct competitor to Uni-Pixel's UniBoss technology. At this point it is a race to the finish for these two companies to bring this new technology to market in bulk, and the winner will certainly garner early market share in this space. Atmel has the advantage of existing customers for its other products, as well as manufacturing relationships, however, this shouldn't prevent Uni-Pixel from gathering a customer base if it brings the technology to market first.
Planar Systems, Inc. (NASDAQ:PLNR) is another manufacturer of LCD and touch screen technology. While the company's focus has mainly been on larger screens used in the business environment rather than handheld personal devices, it does provide projected capacitive technology similar to that seen in current generation ITO touchscreen displays. There is nothing preventing the company from pursuing next generation technology similar to that being created by Atmel and Uni-Pixel.
Management
Uni-Pixel's solid management team with diverse backgrounds in technology and innovation not only bring expertise to the company, but they also bring contacts of potential partners and purchasers of Uni-Pixel's UniBoss technology. CEO Reed Killion was a former VP of Business Development for LogiCom, a distributor of computer and technological components with global offices around the world. In his 20+ years in the technology world, Mr. Killion has consulted with HP (NYSE:HPQ)/Compaq, Dell (DELL), Siemens (SI), Atmel, Foxconn (OTCPK:FXCNF), and other technology companies, many of which could be potential future partners to Uni-Pixel. Chief Operating Officer, Seong Shin, joined the company in September 2011 and brings more than 30 years of experience in the technology world spanning business development, engineering and business management, marketing, and research and design. With a background in LCD panel technology and his former position as VP of strategic marketing and sales for Samsung (OTC:SSNHY), Mr. Shin handled relationships with major customers including Dell, HP, IBM (NYSE:IBM), Apple (NASDAQ:AAPL), Acer (OTC:ASIYF), Gateway, Toshiba (OTCPK:TSHTY), Sony (NYSE:SNE), and Siemens. He was also responsible for developing Samsung's next generation panel technology and LED backlight systems. Other members of the executive team and board bring equally as important experience and contacts to the table. As they continue to develop relationships with potential manufacturers, partners, and ultimately purchasers, this team is certainly capable of steering Uni-Pixel to success if they can overcome other obstacles.
Upside Potential in the Industry
While Uni-Pixel and its management team certainly face challenges, the technology it is creating, along with the potential in this industry, still makes for an interesting case. A new report from ReportLinker reveals the potential of the technology being produced by Uni-Pixel and other competitors. Currently, the touch screen market is dominated by the indium tin oxide touch screens which are widely used by most handheld and PC touchscreen devices. The new technology found in the UniBoss film could, and likely will, replace the current indium tin oxide screens used today. The potential here is overwhelming, given the number of devices and companies already using the ITO technology. The new material that will replace the ITO screens is cheaper and provides even more functionality. Manufacturers will use this new technology once it is available for the cost savings alone, and the existing ITO technology will be obsolete. A 2011 Indium Tin Oxide report by Global Information, Inc. estimated that ITO technology made up 97.6% of touchscreen technology in 2010 with revenues of $6.99 billion. The report further estimated that the ITO market would experience a CAGR of 26.4% between 2007 and 2016, reaching $26.78 billion in 2016. With the advent of new technology likely to replace the ITO touchscreens, the market growth should occur in new products like the Uni-Pixel's UniBoss screens and Atmel's maXTouch S series screens rather than in the existing ITO products. These are huge revenues for a new market, and UniBoss products could potentially win significant market share if Uni-Pixel can bring the product to market soon.
Eastman Kodak Partnership Promising for Uni-Pixel
In April 2013, UniPixel announced the signing of a manufacturing and supply agreement with Eastman Kodak (EKDKQ.PK). For Uni-Pixel, this may mean the ability to scale production to meet growing demand. Under the partnership, the two companies will open a new manufacturing facility to produce the touch screen sensors, giving Uni-Boss the supply chain and manufacturing capacity to roll out the touchscreen technology at the commercial level. While there are still design and manufacturing issues to overcome, this partnership is a step in the right direction. Uni-Pixel expects to sell the UniBoss finished products to equipment manufacturers by the end of 2013. This would obviously be a huge step for the company, but pending lawsuits could create setbacks.
Pending Litigation Risk
Uni-Pixel, Inc. is faced with pending litigation on multiple fronts. First, the company was served with two lawsuits filed by Conductive Inkjet Technology Limited (CIT) relating to Uni-Pixel patents. Conductive Inkjet Technology claims that Uni-Pixel used its confidential information in two patent applications filed by Uni-Pixel. The actions seek to change the inventor of the two patents to include CIT. While this lawsuit could provide major setbacks to Uni-Pixel's strategic plans, it doesn't necessarily mean the company will be negatively affected. First, the lawsuit is pending with petitions already filed by Uni-Pixel. Second, a changing of the patent inventor may not necessarily mean Uni-Pixel cannot continue to develop and earn revenues from the product. The company could end up with an agreement to pay Conductive Inkjet a portion of the income from the technology, but this may not be a game changer given the massive potential of this new market. In addition to the patent lawsuits, class action lawsuits have also been filed against Uni-Pixel. The shareholder complaints allege that licensing agreements and the Kodak supply agreement were immaterial or legally unenforceable, causing the stock price to drop significantly. Whether either of these lawsuits will materially affect the company's ability to bring the UniBoss products to market or generate revenue is yet to be seen.
Huge Potential with Significant Risks
An investment in Uni-Pixel stock is certainly not without significant risks. However, returns could be tremendous if the company can overcome the litigation and finally make it to market with a finished product available on a mass scale. The potential of the market for the UniBoss technology is incredible, but the company has not yet proven its ability to bring the technology to market to generate revenue. While adverse legal decisions or stiff competition could drive the Uni-Pixel price down to nothing, a marketable finished product with revenues to back it up could send the stock price into orbit.
Disclosure: I have no positions in any stocks mentioned, and no plans to initiate any positions within the next 72 hours.
Business relationship disclosure: Market Exclusive is a team of analysts and writers. This article was written by Richard Kaplan, one of our Group contributors. We did not receive compensation for this article (other than from Seeking Alpha), and we have no business relationship with any company whose stock is mentioned in this article.