In the late '90s the European stock market accounted for 36% of the market capitalisation worldwide. It thus vied for protagonism with the US stock market, which had a 41% share. They left a decade behind them in which European stocks had traded at a premium to their US counterparts. Fifteen years later and the scenario is rather different: while the US stock market now accounts for over half of stock market value worldwide, the European exchanges all taken together do not even amount to one quarter of this figure, their value languishing even below that of the Asian markets.
The beginnings of the uncoupling of the US from the European stock markets can be traced back to the opening weeks of 2010, when the level of Greek debt started to become a cause for concern. Over the following three years the steady stream of financial disasters in Europe has opened up the spread between both markets. From 2010 Long USA - Short Europe has translated into a substantial 50%.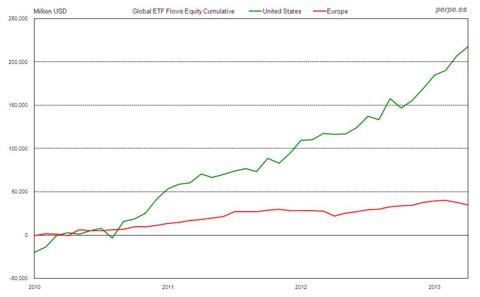 Source: www.perpe.es
During these three and a half years equity has mostly been funnelled into the US stock market (ETF flows illustrate this well - see chart), driving up stock prices and making it one of the most expensive stock markets in the world. The S&P 500 stands at a current P/E ratio of 18.9 and a Shiller P/E ratio of 22.7, both comfortably above their historical average. If we go by the replacement value (Q ratio), the US stock market is also at historically high levels. And according to Mr. Buffett's favourite ratio for valuing the market (Market Cap to GDP), it has surpassed the third highest level in history after 2000 and 1929.
Even though this may not mean that the US stock market is set to fall in the coming years, it is reasonable to assume that its future performance will be fairly modest. Assuming long term growth on fundamentals of 6%, with a current Shiller P/E ratio of 22.7 and a dividend yield of 2.2%, the S&P performance over the next 10 years should be a moderate 3.9% a year.
On the other side of the seesaw, we have the European indices at under their historic highs, condemned to be listed against the backdrop of a possible disappearance of the Euro, with the sole and timid exception of the DAX. If we apply the Market Cap to GDP ratio to Europe we see that it stands at way below the high of the year 2000. Its major markets (Germany, the UK and France) stand at Shiller P/E ratio levels of close to 11 and show dividend yields that double the rates offered by the US market. Such flat prices were last seen in the early 80s at just the time when European shares embarked on a ten-year period in which they showed a premium in the market compared to US stocks (see chart).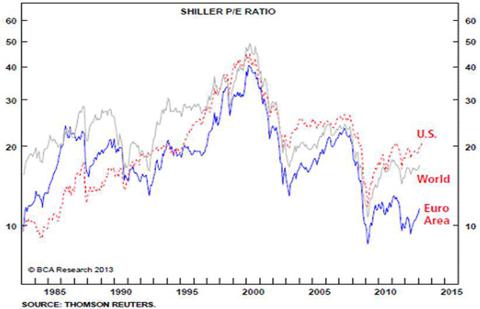 The S&P 500 currently stands at 1.4 sales compared to 0.7 for the Eurostoxx 50. Working off the assumption that we live in a world that is increasingly globalised and where multinationals rely on world growth (not local growth), the gap in valuations between both markets is surprising. This point takes on particular relevance if we bear in mind that 44% of the revenues of European companies are produced outside the continent (in the case of the UK this figure rises to 52%). In addition to this, one quarter of the profits of European companies derive from emerging markets, a figure which doubles that obtained by US companies from these markets.
But perhaps one of the best signs to measure valuations properly is corporate transactions. In comparison to the frenetic corporate activity we have witnessed in the USA for some time now, this has fallen off sharply in Europe (by -14% in 2012) down to levels unseen since 2003. This shows that sellers are not willing to dispose of their businesses and assets at these prices and are probably holding out for more realistic valuations. It should therefore come as no surprise that the book value of the S&P 500 is 2.2, compared to 1.6 for the FTSE-Eurofirst 300.
There is therefore no doubt that the market values on the "Old Europe" are highly attractive compared to those in the USA, and these actually stand at a low not seen for 40 years now: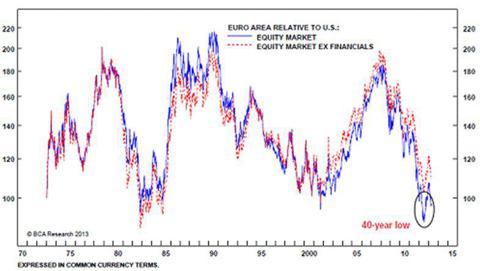 Source: BCA Research
As a result, stock-pickers are enabled to operate in an environment where attractive opportunities are more frequent. 50% of European equity managers have actually outperformed benchmarks since 2006. Unlikely, only 16% of US managers were able to generate returns above their indices. So nevermind how destabilizing your recent memories are. If I were you, I would not miss the chance to grab this moment and select European stocks. Hopefully, the stocks below will be good examples for you to study when trying to filter interesting stocks within the European universe: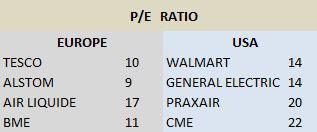 The "Old Europe" will present us with a key opportunity in the next few years, which no investor should pass up. It might even rejuvenate.
Disclosure: I have no positions in any stocks mentioned, and no plans to initiate any positions within the next 72 hours. I wrote this article myself, and it expresses my own opinions. I am not receiving compensation for it. I have no business relationship with any company whose stock is mentioned in this article.