How fast can banks grow their assets over the long run? The chart below shows growth in total assets and assets per share ("A-PS") for the twenty largest US banks over the last twenty years. The data was provided by SNL Financial LC; data for banks whose tickers are marked with asterisks goes back fifteen years: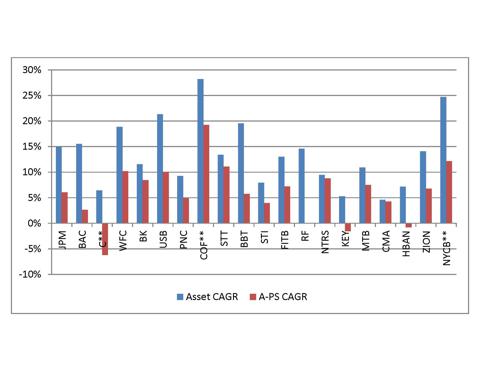 In the long run, growth in bank EPS is mainly a function of growth in A-PS. So what does the above chart say about asset and A-PS growth?
Many banks have experienced compound asset growth well above 10%. But few delivered A-PS growth over 10%. Why the disconnect? Acquisitions. Acquisitions grew total assets meaningfully, but they increased shares outstanding too. The net impact of acquisitions on A-PS (which is what matters to shareholders, who think in per share terms) is modest at best.
Some banks delivered zero or negative A-PS growth over this period. Citigroup (NYSE:C) is the worst offender, not because of acquisitions but because losses in 2008 forced it to issue common equity, which materially diluted A-PS. Serial acquirers such as Regions Financial Corporation (NYSE:RF) were compelled to issue equity too, due to problems either with acquired banks or their "core" operations.
To me, that means even though A-PS growth over the last twenty years was modest, it was still risky.
Asset growth for all of these banks has been lackluster for the last several years. Is that an anomaly, or simply the hangover from the frantic asset growth of the years prior?
One final point with respect to the largest banks. JPMorgan Chase (NYSE:JPM) looks great from an A-PS growth perspective when compared to C or Bank of America (NYSE:BAC), another institution which has faced ongoing operational challenges, but bad when compared to Wells Fargo (NYSE:WFC) or U.S. Bancorp (NYSE:USB) and even worse when compared to "best in class" Capital One Financial (NYSE:COF). JPM now has $2.39 trillion in assets. If you're a JPM shareholder, you'd better hope that acquisitions hurt historical A-PS growth, because if they helped, future A-PS growth will look a whole lot worse. How many large banks are left for JPM to buy?
If you're a bank stock investor who focuses on whether next quarter's EPS will excite or disappoint, the above may not matter to you. But if you're a long-term investor, it's critical. If you're using a 7-8% long run asset growth rate in your fair value estimate, you may be in for some disappointment.
Disclosure: I have no positions in any stocks mentioned, and no plans to initiate any positions within the next 72 hours. I wrote this article myself, and it expresses my own opinions. I am not receiving compensation for it (other than from Seeking Alpha). I have no business relationship with any company whose stock is mentioned in this article.