The first article of the series has introduced the Carbonate Triangle of the renowned Canadian oil sands. The region is the world's third largest oil reserve with its rich carbonate-hosted bitumen deposit located in the northern Alberta's deep underground. Precisely, the Carbonate Triangle is situated between three major bitumen areas, Athabasca, Cold Lake and Peace River.
In today's investment guide on the Carbonate Triangle, I will briefly recap the main characteristics of the Cold Lake region to have a better assessment of its potential. Then, I will introduce a major oil producer owning a few assets in that specific play.
So far, I examined the following producers involved in the Carbonate Triangle. The first area analyzed was Peace River. The producers were:
The current area, Cold Lake, has been reviewed in a past article as well as the following oil producers:
Notably, an analysis of the current operations of the company will be examined with the objective to provide the most complete information available to the potential investors before deciding to seize the opportunity that the 54,132 square miles of the Carbonate Triangle has to offer. Let's start by reviewing briefly Cold Lake, the second largest oil sands deposit of the Carbonate Triangle.
The Cold Lake Region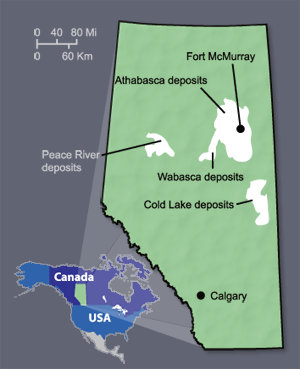 Source: Strata Oil and Gas
Historically, the majority of the primary bitumen has been produced from the Cold Lake oil sands area using vertical wells and progressive cavity pumps that tolerate the large volumes of sand produced with the bitumen. More recently, with improvements in horizontal and multilateral drilling technology, primary bitumen is being produced from the Athabasca and Peace River oil sands areas.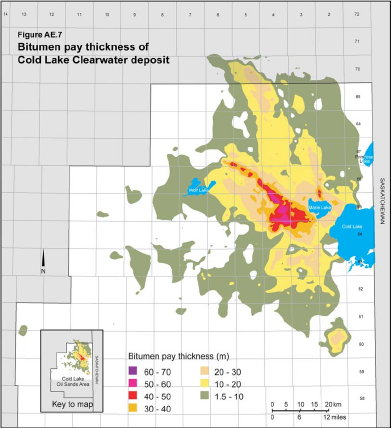 Source: ERCB
The Cold Lake oil sands lie within a package of stacked incised valleys that rest encased within more regional deltaic, shoreface sands and marine mud. These overlie the fluvial and estuarine sands of the Clearwater formation. This formation is overlain by regional deltaic, progradational barrier complexes and incised valley-fills of the Lower and Upper Grand Rapids formation, which extends to the top of Mannville group.
The entire Cold Lake area is estimated to contain 201 billion barrels of initial in-place volumes, within a total oil sands reserve estimated at 1.8 trillion barrels for the entire Carbonate Triangle. Approximately 8% of the 201 billion barrels would be accessible given the available technologies, which would represent 16.08 billion of recoverable barrels for Cold Lake.
Imperial Oil (NYSEMKT:IMO)
Imperial Oil is a leading member of Canada's petroleum industry. It is one of the country's largest producers of crude oil and natural gas and is Canada's largest petroleum refiner with the leading market share in petroleum products sold through a coast-to-coast supply network that includes about 1,850 service stations. The picture below illustrates the assets owned by Imperial Oil as well as the ones from Exxon Mobil (NYSE:XOM).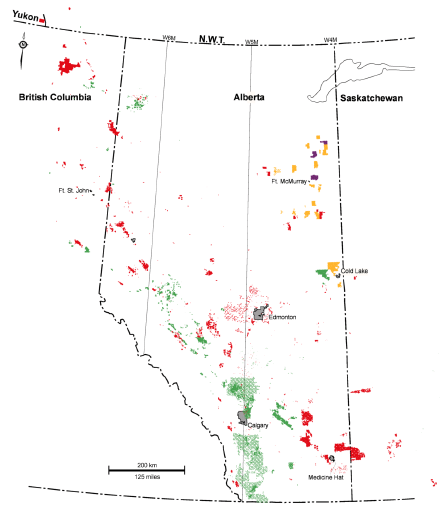 Source: Barclays Americas Select Franchise Conference, May 2013
Over the past 40 years, Exxon Mobil has invested more than 2,000 work years in heavy oil research alone. These heavy oil research efforts include developing proprietary in-situ recovery processes, enhancing surface-related technologies to improve the economics of mining operations, and creating technologies to increase the value of heavy oil and aid in its transport.
A R&D Leader In The Canadian Oil Sands
Imperial Oil's Calgary research center is considered one of the leading oil sands research facilities in the world. Imperial Oil and Exxon Mobil have held more than 160 upstream patents since 1961, including the first patents on CSS (cyclic steam stimulation) and SAGD (steam-assisted gravity drainage), two key processes used across the industry in bitumen recovery. Today, those inventions are continually being refined at the center to improve productivity and environmental performance.
Imperial Oil now operates the world's largest thermal bitumen recovery project in Cold Lake using this process. The company's R&D program delivered efficient processes through time and is still very promising.
Source: Barclays Americas Select Franchise Conference, May 2013
Cold Lake operation uses CSS technology to access the in-situ resource. Exxon Mobil and Imperial Oil developed a produced water technology in the late 1970s, which has allowed approximately 95% of produced water to be reused for steam generation. "Produced water" is water extracted with oil and gas during production. As a result, it has been able to reduce the freshwater use intensity at its Cold Lake facility by almost 90% since the project's inception. Other conservation initiatives are underway that, if successful, will reduce fresh water use at Cold Lake by up to an additional 30% from current uses.
Novelties Developed To Improve Bitumen's Production
After more than a decade of research and pilot testing, the producer deployed a new technology called LASER (liquid addition to steam to enhance recovery) that complements its CSS processes. The technology co-injects low concentrations of pipeline diluent (gas condensate) with steam. The diluent helps to further reduce the viscosity of the bitumen and aids its ability to flow. The condensed water, diluent and heated oil are produced back from the same well after a soak phase.
This process results in improved, more efficient oil production. By adding the diluent, the technology enables more resource to be recovered from mature wells for the same amount of steam injected in traditional CSS production. LASER technology has the potential to reduce GHG intensity by more than 25%.
Recently, Imperial Oil commissioned a pilot project at Cold Lake that adds light hydrocarbon solvent to SAGD wells SA-SAGD, which is recovered during production. By adding solvent to steam, it can produce more bitumen with the same amount of steam, resulting in lower energy and GHG emission intensity.
Source: Barclays Americas Select Franchise Conference, May 2013
The objective was to improve the SAGD process similar to the improvements LASER has shown over traditional CSS. This technology has the potential to enhance recovery for certain reservoirs in the Cold Lake and Athabasca areas. Steam injection for the pilot project's well pairs is underway. The pilot project received recognition from the Alberta government through the Innovative Energy Technologies Program.
According to Imperial Oil, every dollar invested in the oil sands creates about $8 in economic activity, with much of that value generated outside Alberta: in Canada, the U.S. and around the world. According to CERI (Canadian Energy Research Institute), large investment in the oil sands industry contributes to increased economic activity in the rest of North America by stimulating demand for goods and services across a wide range of industries.
As oil sands production increases, CERI estimates that 343,000 new U.S. jobs will be created between 2011 and 2015, adding an estimated $34 billion to U.S. GDP in 2015, $40.4 billion in 2020, and $42.2 billion in 2025.
Cold Lake Operations

Cold Lake bitumen is located more than 1312 feet below the surface of the ground and the company extracts it by injecting steam into the oil sands to thin the heavy bitumen and enables it to flow to the surface through wellbores. Its Cold Lake operations are located in northeastern Alberta near the communities of Cold Lake and Bonnyville.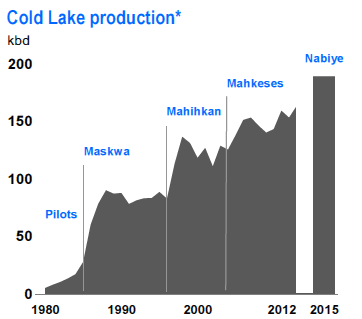 Source: Barclays Americas Select Franchise Conference, May 2013
Imperial Oil leases at Cold Lake cover about 301 square miles of oil sands and it operates four plants in the area: Leming, Maskwa, Mahihkan and Mahkeses. In 1985, it commissioned its Phase 1-10 and it currently produces 110,000Bls/d. Its Phase 11-13, commissioned in 2004, added 30,000Bls/d. Cold Lake operations produced more than 160,000 barrels of bitumen per day in 2011, an annual record for the company.
The Nabiye Project
Source: Imperial Oil Nabiye Project May 2013 Update
In 2004, Imperial Oil received regulatory approval to expand its Cold Lake operations in a new area called Nabiye. The expansion will include new producing well pads and a new bitumen-processing plant. In 2010, the company received approval to amend its development plan with a $2 billion expansion to include technology improvements such as a field development plan to reduce surface footprint, a co-generation facility to enhance energy efficiency and sulfur-removal facilities to reduce sulfur-dioxide emissions.
The recent updates are the following:
Construction is complete on access roads and six initial phase well pads
The company is continuing on the buried pipelines and a power line connecting to existing infrastructure
Construction is underway on production pipeline laterals
Drilling is complete on four of seven initial phase well pads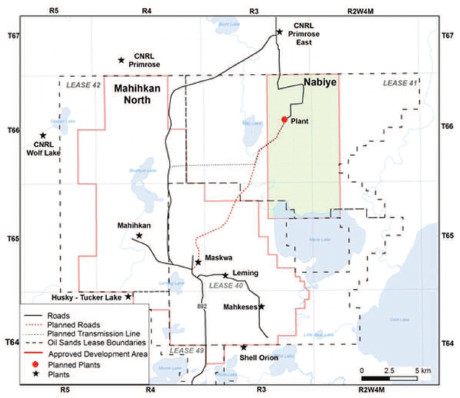 Source: Imperial Oil Nabiye Project May 2013 Update
The Nabiye Project, complete at 37% by year-end, should be operational by 2014, adding 40,000Bls/d to more than 140,000Bls of daily production.
Core Financials
Imperial Oil reported earnings of $3.8 billion or $4.42 per share in 2012, up from $3.4 billion or $3.95 per share in 2011. Cash flow from operations totaled $4.9 billion last year, an increase of $100K at $4.8 billion the year before. Total debt at the end of 2012 amounted to $1.65 billion up from $1.21 billion in 2011, a 36.4% increase. The company reported an industry-leading return on capital employed of 23%, even with significant investments in assets under construction.
In 2012, capital and exploration expenditures spent were $5.7 billion. For 2013, it anticipates capex to be about $7 billion. Cold Lake continued to operate with reliability, achieving a production rate of 154,000Bls/d. Average total daily production of crude oil, natural gas and natural gas liquids was 282,000Boe/d before royalties.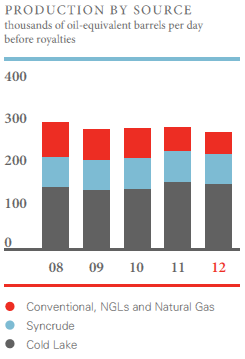 Source: Imperial Oil's 2012 Annual Report
Imperial Oil holds an extensive and attractive portfolio of future development opportunities with a proved and non-proved resource base of over 16 billion oil-equivalent barrels.
Source: Barclays Americas Select Franchise Conference, May 2013
Bottom Line
Imperial Oil is a strong competitor in the Canada's oil sands play as it owns about 301 square miles of lease lands in Cold Lake. However, the company owns several lands in the Athabasca region as well. Furthermore, a very promising project, Kearl, is underway. A forthcoming article will explore the Athabasca assets and the potential of Kearl project. In the meantime, here are the incentives for Imperial Oil:
Annual per share dividends paid increased for the 18th year in a row in 2012 and totaled $398 million
Share buybacks between 1995-2010 returned $15.5 billion to shareholders
Uninterrupted payouts of dividends' reliability for more than 100 years
A performance history of its R&D developing new efficient processes
The largest refiner in Canada and one of its largest crude oil and gas producer
Disclosure: I have no positions in any stocks mentioned, and no plans to initiate any positions within the next 72 hours. I wrote this article myself, and it expresses my own opinions. I am not receiving compensation for it (other than from Seeking Alpha). I have no business relationship with any company whose stock is mentioned in this article.