Over the past year, silver and gold have been absolutely demolished. I've penned a few articles about the precious metals stating my case for why I'm very bullish long-term on both gold and silver and why I think the bottoms might be in. I written about why I think silver is ready to run again, why metals are effective hedges against QE tapering, and the basics of precious metals.
Here, you can see how both metals have fared over the past year: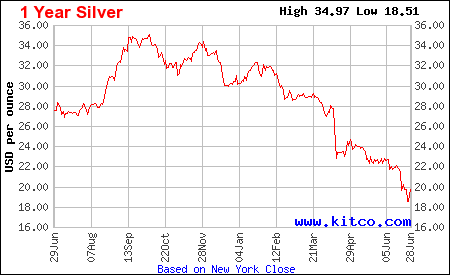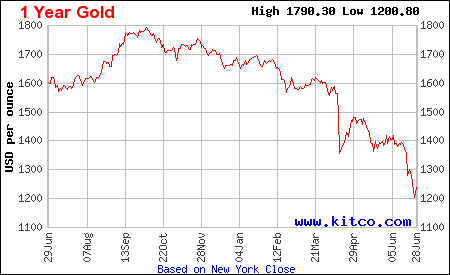 It's been ugly, to say the least. Also, just as people buy into rallies, people sell short into bear raids, hammering both of these metals and their corresponding major ETFs (silver - SLV, gold - GLD). Investors love a good ole' fashion "pile on", no matter what direction its driving a stock, and that's what we're witnessing this past year with gold and silver.
The latest to pile on silver has been a slew of analysts over the past few weeks, each issuing their own corresponding downgrades. In this article, I'll argue again why downgrades hold no long-term merit and what recent history has taught me about analyst downgrades with relation to precious metals.
Recently, silver has been downgraded by UBS who cited this insane reasoning:
Monday cut its outlook on silver prices for this year and next, warning that the metal is liable to be dragged lower on gold's coattails as the U.S. Federal Reserve prepares to scale back its stimulus program.

The bank slashed its one-month silver forecast 32.7% to $17.50 a troy ounce and cut its three-month silver forecast 26.8% to $20.50 an ounce. This year, it expects silver to average $24 an ounce, down 17.2% on its previous forecast. In 2014, it sees silver averaging $25 an ounce, down 16.7% on its earlier outlook.

At 0802 GMT, silver was trading at $19.64 an ounce on the European spot market.

"Silver continues to lack its own drivers at the moment and is therefore taking its cues from the gold market. This means that the white metal would also come under pressure as gold sentiment sours further," said UBS analyst Joni Teves. "Given silver's tendency to overshoot gold moves, the downside risks are greater in the short term.".
The reasoning here is completely off-the-wall for several reasons that I'm going to point out.
As a preface, let me just set the record straight on where I sit with precious metals. I come from the "old school" of Austrian economics. Austrian economics dictate that market corrections and pullbacks are good things - they represent the actual supply and demand of products and services and how they correspond to a company's valuation.
At their fundamental state, precious metals like gold and silver are both non-renewable, meaning that there's a finite amount of these items in the world as we know it. Unlike our currency, we can't just "make more" gold and silver out of nothing. This is why, as we print money, gold and silver's value continues to rise as the correlation of these metals to amount of printed currency continues to skew out of whack. This is where these precious metals find their value.
So, citing the U.S. Federal Reserve's pullback in QE isn't exactly a reason to downgrade a precious metal. The bear argument here is that because the Fed will print less money, the value of these metals will taper. However, it doesn't take in account the monstrous decline that both metals have already faced over the last year and how that is already priced in. It also doesn't taken into account the biggest "DUH!" factor that these analysts missed: if the Fed tapers QE, gold and silver will be huge hedges against a falling market, driving their prices up, not down.
Also, citing that silver will move on gold's coattails is also a case of "right idea, wrong execution". Silver is used in industry significantly more than gold. Also, silver's volatility compared with gold suggests that it doesn't always ride gold's coattails. Saying that silver lacks its own drivers right now is like saying that Tesla (NASDAQ:TSLA) lacks its own catalysts and is just following the sentiments of the entire auto industry. Yes, they're both precious metals. No, they aren't always correlated.
In his excellent recent article regarding the state of both silver and gold, Emmet Kodesh comments:
Certainly retail demand for silver is very strong: Recent price declines have led to 800% increase in sales for retailers like Provident Metals. The US Mint has sold record amounts of silver eagle dollar coins YTD and demand for precious metal coins, jewelry and bars is high in Asia, too. Though the rate of Asian buying has slowed in June, by early May, Heywood Cheung, President of the Hong Kong Gold and Silver Exchange said late in April (see previous link) that dealers had exhausted physical stockpiles in trying to satisfy surging demand, the highest in thirty years. How then to understand what is being taught by the radical decline of silver prices, 37% YTD and counting?
It's clear that silver is heavily in demand. So, what is the meaning of this downgrade, then? Why can analysts just be piling onto silver as the price is crushed?
I'll argue that, like institutions often do, it's to move the price of the metal (and corresponding equities and derivatives) in both the short term and the long term. No serious economist is really going to argue with you about whether gold or silver will rise in value at some point eventually as time progresses. They are both non-renewable, therefore their values are controlled. Versus inflation and money printing, they are bound to continue to rise as they become rarer through time.
I'd argue that this is a short term downgrade, potentially to buy or cover a short position. Think institutions don't do that? Look at what happened with Goldman Sachs and gold a couple of months ago. I wrote about Goldman's downgrade and subsequent total change of heart on gold (after they had covered a short):
Imagine my surprise on April 23, less than two weeks after Goldman's massive downgrade, I see front page on CNBC.com with the headline "Surprise! Goldman Covers Gold Short":
Goldman Sachs on Tuesday reversed its high-profile call to short gold, which it made two weeks ago, just before the metal sunk into bear market territory.

The firm's commodities research team said the decline in gold was more rapid than it expected, and it exited the trade with a potential gain of 10.4 percent, below its original target price of $1,450.
Interesting. Goldman was short gold before issuing a "world is going to end" style downgrade on gold and then covered their entire short after the market and the common folk sold off to bring gold down about 15%? Duly noted. I'm not saying its market manipulation, rather just a series of coincidences. Yeah, let's call it that.
For our visual learners, here's a picture version of all that pesky text you might not want to read through: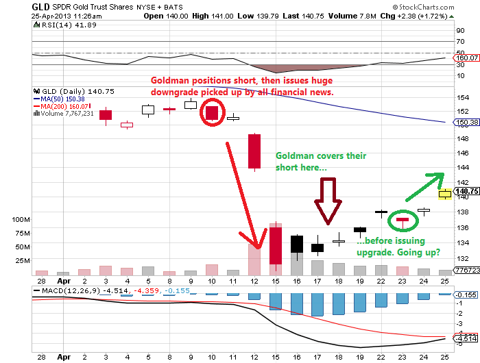 Is it out of the question that this is what we're seeing here with silver? I think not.
To further make my point about precious metals being good long-term investments, take a look at silver & gold's long-term charts compared to their one year charts: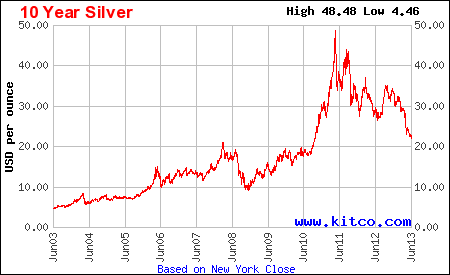 The metals are both experiencing insane returns over the last 20-year period and are both arguably in the middle of a tremendous long-term bull run. There are tons of arguments out there against gold and silver, as you may have noticed over the past couple of years, but in the long term, as long as we are not heading back to the gold standard, both metals will rise in value correlating with inflation.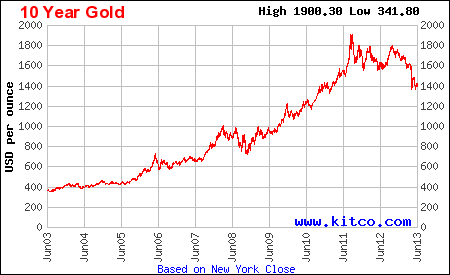 To conclude, my argument remains extremely bullish for silver in the face of institutions downgrading it.
I made my arguments for silver instead of gold in a previous article:
Silver is easily the more volatile of the two metals. As silver has many applications in industry, as well as being a hedge for investors, it tends to make sharp moves in both directions. Sharp price moves mean extra risk, but also extra reward if you can time the upward movements correctly. Aside from investors buying silver for the same reasons they buy gold -- primarily an inflation/end of the world type hedge -- silver remains in demand no matter what the current market sentiment is on holding precious metals as insurance.

Gold is the most well known commodity, and as such, is most susceptible to inflation and overbuying in times of panic. Because of this, the gold/silver correlation spread is much larger than it would (or should) normally be. From a buyers stand point, this just means that silver is a better value buy than gold right now.

Also, as long as the Fed continues to keep things warm and fuzzy, a faction of gold holders are going to continue moving their money out of gold and into other investment vehicles. Silver, again, benefits from its use in manufacturing and industry. If the economy continues to churn upward on actual demand, silver is going to stay in demand and will rope the spread with gold back in.
Dollar cost averaging a position in silver bullion or one of its corresponding equities is a savvy move as you're assured the price will never suffer from 100% loss and, over time, will continue to rise.
I'm betting that over the coming days we're privy to a continued silver rally off its lows in the $17's and that we find out certain analysts have covered positions as they shift gears to neutral or upgrades.
I remain bullish and long on both precious metals, especially silver. Best of luck to all traders.
Disclosure: I am long SLV. I wrote this article myself, and it expresses my own opinions. I am not receiving compensation for it (other than from Seeking Alpha). I have no business relationship with any company whose stock is mentioned in this article.