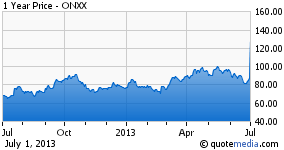 Onyx Pharmaceuticals Inc (NASDAQ:ONXX), the manufacturer of cancer drugs, has rejected a takeover offer worth approximately $10 billion from Amgen Inc (NASDAQ:AMGN). It has said that the offer is too low but will still continue to consider selling itself. The cash offer of $120 a share represents a premium of about 38% on the prevailing market price. Robin Karnauskas from Deutsche Bank has estimated that Onyx is worth up to $148 per share to a potential buyer and, at $140 a share, it would be accretive to the earnings of Amgen in 2015. Onyx has hired Centerview Partners to handle potential buyers and has said that it has received "expressions of interest" from Amgen and other unnamed third parties. Amgen is the largest biotech company in the world with a market capitalization of roughly $74 billion and Onyx has a market capitalization of $6.32 billion and 2012 revenues of $362 million.
The patent cliff problem
Large pharmaceutical and biotech companies face significant decline in revenues because of expiring patents and are seeking to acquire smaller biotech companies to acquire new drugs for their pipelines. They are particularly interested in cancer drugs because of the high prices and margins. As a result, merger and acquisition activity in the first six months of 2013 has jumped by over 30% to $93.6 billion compared to the same period of the previous year.
Onyx products include Nexavar, a treatment for liver and kidney cancer and colon cancer drug Stivarga in partnership with German pharmaceutical company Bayer AG (OTCPK:BAYZF). Last year, Onyx launched Krypolis for the treatment of blood cancer, which analysts estimate will touch annual sales of $3 billion. Amgen Is facing declining revenues from flagship anemia drugs Aranesp and Epogen because of restrictions on usage and concerns about safety and is looking for replacements for its drug pipeline. It is also considering biosimilars (inexpensive alternative versions of biotech drugs) and plans to launch six products by 2017. Experts say that Kyprolis will be a good fit for Amgen's cancer drug sales and marketing infrastructure and complement its portfolio of cancer drugs. Kyprolis was developed for patients with multiple myeloma who have received at least two prior therapies and approved in the U.S. last year.
What is Onyx really worth?
Geoffrey Porges of Sanford C. Bernstein has come out with a note supporting Karnauskas' valuation in which he says Onyx could easily be worth $150. He goes on to point out that if an acquirer has its own infrastructure and is willing to slash research and development expenditure, the company could easily be worth $180. Onyx is spending a lot of money building a new sales force and an acquirer with an existing sales infrastructure could easily achieved annual cost savings of $300 million by 2020. If the acquirer is able to achieve total cost savings of $540 million, a discounted cash flow valuation would provide a share price of $178. Amgen needs to come up with a more creative proposal has well as justify a higher price. Onyx shares were already trading more than 50% up at $132.75 in Monday's pre-market session. It is not uncommon for initial offers to be raised over time. For example, Sanofi (NYSE:SNY) first offered $69 per share for Genzyme but, after negotiations between the two companies, the final price was raised to $74 per share plus a contingent value determined by the performance of a particular drug. It is also likely that the $120 per share offer is a negotiating gambit and Amgen is unlikely to go away in a hurry.
The bottom line
Onyx reported revenue of $362 million in 2012 and the company's revenue is expected to be $624 million this year, $881 million in 2014 and $1.2 billion in 2015, according to consensus analyst estimates. The company is expected to show losses of $1.85 per share on an adjusted basis this year but show a profit of $0.51 per share in 2014 and $3.79 per share in 2015, according to consensus analyst estimates. Shareholders now have a choice between several difficult decisions. They could sell at the pre- market Monday price of $132.75. They could continue to hold in the hope that a third party makes a better offer. They could also continue to hold in the expectation that Amgen will improve its offer. Only time will tell which is the right decision.
Disclosure: I have no positions in any stocks mentioned, and no plans to initiate any positions within the next 72 hours. I wrote this article myself, and it expresses my own opinions. I am not receiving compensation for it (other than from Seeking Alpha). I have no business relationship with any company whose stock is mentioned in this article.