Even after declarations that the worst of the crisis was over and that investors have been returning to Greece, sentiment has shifted markedly in the past month, raising some doubts about Greece's ability to recover.
On June 7, the Hellenic Statistical Authority (ELSTAT) said that Greece's GDP fell 5.6% in the 2013 first quarter, worse than the 5.3% drop reported in its flash estimate on May 15. This marks the nineteenth consecutive quarterly decline in GDP. Consumption was down 8.3% year-over-year, while investment declined 11.4%.
The news was not all bad, however. Household consumption expenditures (including non-profit institutions serving households) were up 5% from the fourth quarter, while government consumption expenditures declined 12.9%. ELSTAT also reports that its new orders index for industry rose in April for the third consecutive month.
It is obviously too early to call this a turnaround. The IMF currently projects that Greece's GDP will fall 4.2% in 2013, before turning positive next year. The OECD, meanwhile, expects that Greece's GDP will fall 1.2% in 2014. Still, most economists agree that the rate of decline in Greece's economy is slowing and will eventually turn positive. The big debate seems to be over whether Greece's economy can rebound strongly enough to bring unemployment down meaningfully from its current level of 27% and restore the government's fiscal position sufficiently so that it can meet its debt service requirements on a sustainable basis.
In early June, the IMF issued a report admitting to major mistakes in its handling of the Greek bailout. Specifically, it suggested that it underestimated the potential negative impact of the austerity program on the Greek economy. A more accurate assessment would have prompted it to push for more significant concessions from private sector creditors upfront and perhaps for slowing the pace of fiscal consolidation (i.e. reducing the government's budget deficit by cutting expenditures).
Yet, the IMF also acknowledged that exogenous factors played a role in the worse-than-anticipated outcome. Market worries about the viability of the EU's banking system pushed European authorities to go lightly at first on creditor haircuts. At the same time, fears about a potential exit by Greece from the euro sparked a mass outflow of deposits from Greece's banks and a sharper than anticipated tightening of lending conditions.
While staff members acknowledged that the IMF might have done better and probably will make some adjustments in future workouts, they also argued that the basic thrust of actions taken by the troika were appropriate. Nevertheless, the anti-austerity brigade - led by influential economists and journalists such as Paul Krugman of the New York Times, Martin Wolf of the Financial Times and Simon Wren-Lewis of Oxford University - seized upon the report to criticize the restructuring program.
Some criticism may be fair, but I also think that Greece had to go through a period of sharp fiscal consolidation in order to root out inefficiency and restore its competitiveness before implementing any stimulus program. Otherwise, the stimulus would likely only postpone an inevitable retrenchment and therefore prove to be a waste of resources.
The news of the IMF's mea culpa has also helped anti-austerity advocates in Greece mobilize opposition to the implementation of the remainder of the government's fiscal consolidation program. Finance minister, Yannis Stournaras, has said that while Greece is about two-thirds of the way through its €13.5 billion program of spending cuts, achieving the rest may be tough because the country is exhausted. Any new push to cut costs and especially to throw people out of work is likely to meet strong resistance.
In mid-June, the government was met with fierce resistance after it shut down the state-run television broadcaster, ERT, putting nearly 3,000 people out of work. Greece's private broadcasters suspended their news coverage. Newspapers railed at the government for kowtowing to the troika. ERT employees attempted to defy the shutdown by broadcasting through satellite feeds over the internet.
Although the government said that it intended to reopen the broadcaster by summer's end after slimming down its operations. Most observers acknowledge that ERT had become bloated; but critics say that the government is largely to blame for the wasteful spending.
Even so, the squabble has weakened the coalition that is currently running the government. The coalition's junior partner, the Democratic Left, has withdrawn and has reportedly rejected a proposal by the government to hire back 2,000 ERT workers temporarily until the restructured broadcaster is back up and running. Without the Democratic Left, the two remaining parties, New Democracy (whose leader, Antonis Samaras, serves as Prime Minister) and Pasok hold a slim majority of 153 seats (out of 300) in Parliament. Perhaps with the help of a few of the independent members of Parliament, the two parties may still be able to govern. However, leftist members of Pasok have also threatened to leave. Mr. Samaras recently reshuffled his cabinet, giving more power to Pasok in a bid to strengthen the coalition.
There is a good chance that the ERT crisis can be resolved successfully, but the coalition has been weakened and remains vulnerable. If a deal is not reached and the economy does not show meaningful improvement within the next couple of quarters, the Democratic Left will probably join with the Coalition of the Radical Left, headed by Alexis Tsipras, and other disaffected members of parliament to force a new election. If Mr. Tsipras becomes Prime Minister, it is a good bet that he will seek to renegotiate the terms of the EU's bailout and austerity program and push for more measures to stimulate the economy. Polls indicate that 80% of Greeks still want to remain in the euro, but under a Tsipras-led government, Greece could leave the monetary union, if the economy remains moribund and Mr. Tsipras is unable to reach a new agreement with the troika.
Under these conditions, the economy obviously holds the key to Greece's future. On that score, there have been both positive and negative developments in recent months.
On the negative side, Greece's privatization program has suffered some setbacks in recent weeks. As part of its bailout plan, the country is trying to raise €1.8 billion by the end of September. If it fails to get its privatization program on track, the troika could step in to complete €15 billion of privatizations by 2016.
In late May, Russia's Gazprom said that it would not bid for DEPA, Greece's state-owned natural gas distributor. Some reports have speculated that Gazprom, which is apparently the only potential bidder, was driving a hard bargain; but a sale to Gazprom would have also have faced a challenge by the EU, which said that it would block the deal. Gazprom is already the main supplier of natural gas to Greece. As the owner of DEPA, it could quite easily block out other potential suppliers of natural gas to the Greek market.
On the other hand, SOCAR, Azerbaijan's national oil company, has reportedly agreed to take a majority stake in DEFSA, Greece's natural gas pipeline operator, as a result of a decision by the Shah Deniz II group, the developer of a major oil and natural gas field in the Caspian Sea, to build the Trans Adriatic Pipeline (TAP) through Greece on its way to serve the European market. The TAP project will reported invest €1.5 billion in Greece, hire some 2,000 workers and create as many as 10,000 indirect jobs.
In early May, Greece agreed to sell a 33% stake in OPAP, in its national gambling monopoly, to Emma Delta, a Czech-led private equity consortium for €682 million. The deal, however, is reportedly on thin ice due because Emma Delta wants to cancel contracts with Intralot and Scientific Games, which together with OPAP operate the state lottery. Meanwhile, the sale of Greece's state-owned railroad is also proceeding and an announcement could be made soon.
The Financial Times has also reported that decisions by several sovereign lenders not to rollover existing debt along with the potential shortfalls from the privatization program have potentially created a €3-€4 billion hole in Greece's budget in July 2014. Under IMF rules, Greece must maintain a projected surplus one year in advance in order to continue to receive funding; so the IMF could conceivably halt disbursements to the country in July 2013. However, if Greece and the troika (which includes the IMF) can agree on the next tranche of funding in the next few weeks, it may be able to get by for a few months without direct aid from the IMF.
Despite the ongoing tenuousness of the political environment and Greece's relationship with the troika, its economy is expected to show steady improvement in the months ahead. For one, business confidence has improved since the end of 2013.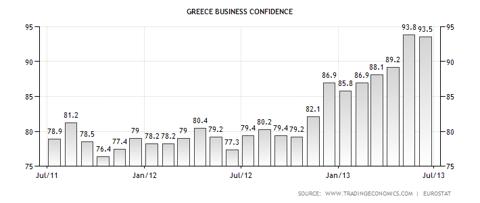 Source: Eurostat via TradingEconomics.com
In mid-May, Fitch upgraded Greece's debt rating from CCC to B- with a stable outlook.
The Economist reports that Greece is expected to see a record number of tourists this summer, especially from Germany and Russia. Tourist revenues could rise by as much as €2 billion. Work is also expected to resume on €6 billion of highway projects, funded by the EU. This could create as many as 30,000 jobs.
On June 27, COSCO, a Chinese shipping company said that it would invest €224 million to expand Dock III at the Greek port of Piraeus. COSCO is thought to be interested in purchasing the 74% stake in OLP, the Piraeus port authority. It is also trying to encourage other Chinese firms to invest in Greece and said that one may be interested in purchasing Ellinikon, the site of the old Athens airport to develop a new tourist resort and residential community. A Chinese company is also rumored to be among the potential bidders for Trainose, the state railway operator.
So while there has been progress, the continuing slump in GDP, the political flap over ERT and the IMF's recent mea culpa over the bailout plan have helped to dampen investor enthusiasm about the potential turnaround in Greece's economy over the past six weeks.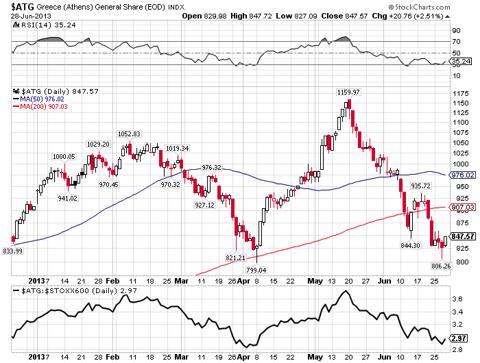 Courtesy of Stockcharts.com
The Athens general stock price index has fallen 26.9% from a high of 1159.97 on May 20 to last Friday's closing level of 847.57. By comparison, the Dow Jones Stoxx 600 index, a broad-based index of European stocks, is down about 8%.
A weekly chart, however, shows that the uptrend in the Athens general index off of the mid-2012 lows is still intact, but under pressure: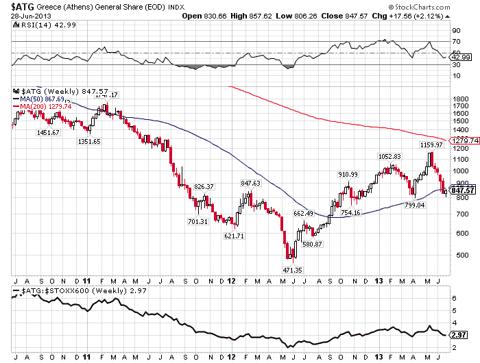 Courtesy of Stockcharts.com
The recent sell-off in the Greek stock market may be due in part to the decision by index provider MSCI in mid-June to reclassify Greece from a developed country to an emerging market starting in November. MSCI based its decision on the now smaller market capitalization of Greece's stock market. Greece will carry a 0.3% weighting in MSCI's Emerging Markets Index. It has been classified as a developed market since May 2001, when it adopted the euro. Some market analysts have noted that while the switch may be negative for Greece in the short-run, it might be better in the long-run, since Greece will carry a larger weighting in the Emerging Markets Index than it did as a developed market.
The sell-off in Greece has not been limited to stocks. Yields on Greece's sovereign debt have increased significantly in the past few weeks. After a steady slide from the peak of just over 27% during the June 2012 budget crisis, the yield on Greece's 20-year notes bottomed out in mid-May at 8.70%. Greece's bond yields have since moved noticeably higher in recent weeks, with new political concerns and uncertainty over the adequacy of the economic recovery. The 20-year yield moved to a recent peak of about 11% two weeks ago, but it has since fallen back by about a little over half a percentage point to 10.40%. In today's ultra low interest rate environment, that yield is still considered distressed, even though it is down sharply from year-ago levels.
Like the Athens stock exchange index, the share prices of Greece's remaining publicly-traded banks have been volatile over the past few months, as can be seen in the chart of National Bank of Greece (NBG):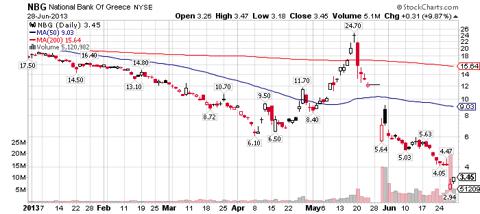 Courtesy of Stockcharts.com
This volatility has coincided with the Greek government's bank recapitalization program. Greece's banking system essentially went bankrupt as a result of losses sustained on its holdings of government bonds and loans. The country's bailout plan with the troika provided €27.5 billion to inject new equity into the surviving banks through the Hellenic Financial Stability Fund (HFSF). Three of the banks, Alpha Bank (OTCPK:ALBKY), Piraeus Bank and NBG, were required to issue new shares and warrants to raise proceeds equal to a minimum of 10% of the capital that they would receive from the HFSF. If they failed to do so, they would be nationalized.
The fourth bank, Eurobank, had been acquired by NBG in late November, but the HFSF decided in April to block the merger out of concern that NBG might have trouble meeting the 10% capital raise requirement for the combined ranks. It has also been reported that the troika was concerned that the combined banks might present too great a systemic risk for Greece's banking system. As a result of that decision, Eurobank has effectively been nationalized through its receipt of new capital from the HFSF, which now owns 98% of its outstanding shares. (NBG owns most of the remaining 2%.)
Last week, the HFSF appointed a new CEO for Eurobank. He is Christos Megalou, a former Credit Suisse investment banker. Mr. Megalou has been involved in a number of merger deals in Greece, including NBG's acquisition of Finansbank of Turkey. Eurobank also appointed Takis Arapoglou, NBG's former CEO, as a non-executive member of its board.
Mr. Megalou seems to have ruled out a possible merger with NBG. He said recently that Eurobank must chart an independent course, participating in the restructuring of Greece's banking system, perhaps including the roll-up of smaller banks into Eurobank. Despite his assertions to the contrary, it is also possible that Eurobank will seek to sell itself (or parts of its business) to other banks. For example, both Eurobank and NBG have significant operations in southeastern Europe (i.e. the Balkans), so a sale of Eurobank's operations there to NBG could still be on the cards.
In the lead up to the recapitalization and share offering, NBG completed a 1-for-10 reverse split. This reduced its share count from 1.22 billion to 122 million. Under the share issuance plan and the conversion by the HFSF of its remaining stake into common shares, NBG increased its share count by about 2.4 billion shares. This brings the total share count to 2.52 billion shares. At Friday's closing price of €2.50, the implied market capitalization of NBG is €6.3 billion.
The offering price was set at €4.29 ($5.50) for per share. Warrants have been issued, but it is difficult to determine how many of the warrants have been distributed to private investors and what, if anything, investors paid for them. A total of 245.8 million warrants have been listed on the Athens stock exchange under the symbol ETEW. Each warrant allows the holder to purchase 8.23 shares of NBG at an initial strike price of €4.29. The strike price on the warrant rises by 2% every six months in year one and then by a 0.5% increment each successive year (i.e. 2.5%, 3.0%, etc.) up to 4% every six months in year five.
The total number of underlying NBG common shares exercisable under the warrants roughly approximates the number of shares still held by the HFSF. Thus, exercise of the warrants provides a means for the HFSF to get back its investment. Alternatively, if the HFSF chooses to sell some of its shares on the open market, exercising the warrants could allow NBG to boost its capital.
The initial opening price of the warrants was €6.83. However, I have not yet been able to find a current price quote for them. They do not trade in the U.S. Last Thursday, NBG's shares fell 23% on the NYSE to $3.14, allegedly because the Greek government announced that it was going to lift its ban on the short selling of bank stocks in August. The warrants fell 79%, according to Kathimerini, a Greek daily newspaper.
According to my estimates, the total capital raise (including the HFSF's share) helped boost NBG's shareholders' equity (net of non-controlling interests and bank issued preferred shares) from a deficit of €1.97 billion on March 31, 2013 to a surplus of €7.79 billion. After deducting the net liquidation value of outstanding group preferred shares (adjusted for the recent U.S. preferred tender offer), the pro forma net book value attributable to NBG's common shareholders is €6.03 billion or €2.51 per share. So at Friday's (6/28) closing price of €2.50, the stock is effectively trading at its book value. Adjusting further for €2.16 billion of goodwill and intangible assets, the stock at Friday's close was valued at 155% of its tangible book value per share. This may not look cheap when compared against NBG's European and Greek peers; but the bank is now adequately capitalized, with a Tier 1 common ratio of 9.3%.
In its 2013 first quarter, NBG reported a profit of €26.8 million, compared with the prior year's loss of €730.6 million. Both periods included "non-recurring" charges, such as this quarter's €158.9 million impairment charge for Eurobank and last year's €466 million after-tax impairment charge for the Private Sector Involvement (PSI) restructuring of the Greek sovereign bonds that it held. Excluding these items, NBG reported recurring income of €186 million in the 2013 first quarter, compared with a loss of €265 million in the 2012 first quarter. It should also be noted that this quarter's performance benefited from a €276 million write-back of provisions against claims on the Hellenic Republic, which is included in recurring income.
Delinquencies on loans are still very high, but the rate of increase is decelerating. The Group reports that 19.8% of its total loan portfolio is 90 days or more past due. That is up from 14.4% last year, but a slower increase from 19.0% as reported for the 2012 fourth quarter.
Yet, the Group's loan loss reserves appear to be adequate at 10.2% of total loans and 51.4% of loans 90 days or more past due. It is likely that a high proportion of the Group's loans are secured and even though asset values are down sharply - for example, house prices are down 30%-40% - the loan loss reserve should cover expected realized losses. In fact, the provision will probably be reduced, if Greece's economy recovers.
Within its three primary geographic regions, NBG reported stable core income in Greece, a 23% gain in net income in Turkey and a small profit in southeast Europe.
Demonstrations in Turkey against the heavy-handed practices of the Erdogan government have raised concerns in recent weeks; but the government appears to have a significant base of support and so seems to remain firmly in control. Turkey's economic growth has been impressive over the past few years and the country has attracted a fair amount of "hot" money. NBG, which owns Finansbank, has enjoyed rapid growth in assets and profits over the past several years. That growth has helped to offset some of the extreme weakness in Greece and southeastern Europe.
NBG remains focused on reducing operating costs. Since the beginning of the crisis in the 2010 first quarter, it has achieved a cumulative reduction in domestic operating costs of 24%.
NBG's liquidity is also improving, as customers bring cash back into the country. The Group's loan-to-deposit ratio peaked at 116% in the 2012 second quarter and has since declined steadily to 104% in the 2013 first quarter. Management says that the bank's loan-to-deposit ratio of 95% in Greece is "best in class."
Potential investors in NBG should also be aware that, except for existing shareholders who participated in the rights offering, the recent share (and warrant) issue was only made available to "qualified" institutional and high net worth investors (who are sophisticated enough to understand the risks and presumably can afford to suffer a total loss, if required).
U.S. shareholders were effectively boxed out of the rights offering and cannot purchase the warrants, which are only listed on the Athens stock exchange. The rights were sold by the depositary, BNY Mellon, and proceeds were distributed to shareholders on June 17. Net of expenses, shareholders received $0.65 per post-reverse split share.
As a result of the reverse split and new share offering, I estimate that NBG's U.S. ADRs represent less than 1% of its total common shares outstanding. From a practical perspective, it would make sense for NBG to reduce costs by delisting and deregistering its shares. At this point, however, management says that it has no plans to do so.
Given the improving economic outlook in Greece, NBG's strong capital position, its improving liquidity and focus on reducing costs, the stock may have good upside potential, despite its current pro forma valuation which does not look especially cheap. The upside potential on the stock will likely depend upon what the bank's normalized earnings potential is, how quickly it can get there, whether and by how much NBG can reverse its €7.86 billion loan loss provision and whether it is able to acquire bank assets or operations (including part or all of Eurobank) at favorable prices. Obviously, there is still a significant risk that Greece could suffer a setback or perhaps fail to gain sufficient traction to dig its way out of its economic hole, but continued improvement in the U.S. combined with an eventual upturn in the European Union should underpin the country's and NBG's recovery.

Addendum

A previous version of this article had calculated NBG's price-to-book value and price-to-tangible book value ratios incorrectly by failing to take into account the estimated pro forma liquidation values of outstanding preferred stock issues. The text of the article has been changed. Comments before July 3, 2013 have not.
Disclosure: I am long NBG. I wrote this article myself, and it expresses my own opinions. I am not receiving compensation for it. I have no business relationship with any company whose stock is mentioned in this article.