Founded in 1973, The Men's Wearhouse (MW) is a specialty retailer of men's suits and a provider of tuxedo rental products in the US and Canada. On June 19th, 2013, the company's Board of Directors announced it terminated founder George Zimmer from his position as Executive Chairman. In light of the termination, the company also postponed its Annual Meeting of Shareholder's.
First off, even in the often unpredictable landscape of corporate America, it is somewhat unusual to fire your firm's founder. This is particularly strange for The Men's Wearhouse, as George Zimmer is the "face of the brand". The bearded Zimmer has appeared in the company's commercials since the mid-80s and is known for his catch phrase: "You're going to like the way you look. I guarantee it." Prior to his firing, the retailer had stated on page 17 of its Annual Report just last March how central Zimmer was to the company's public image and advertising. In the risk consideration section, the report states:
"George Zimmer has been very important to the success of the Company and is the primary advertising spokesman. Although we believe we have a strong management team with relevant industry expertise, the extended loss of the services of Mr. Zimmer or other key personnel could have a material adverse effect on the securities markets' view of our prospects and materially harm our business."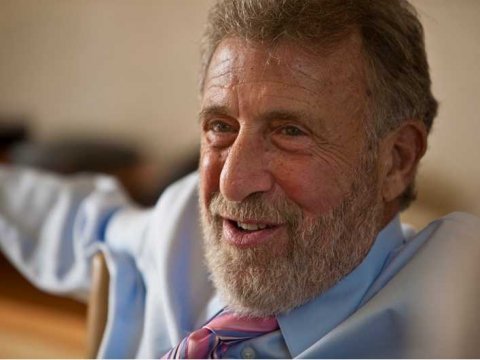 George Zimmer - The Face of the Men's Wearhouse Brand
Indeed, the stock's share price did initially decline after the announcement of Zimmer's ouster, but has since recovered and now trades close to its 52 week high. The share price has recovered in part, due to speculation that the company is now "in play" as an LBO candidate.
The War of Words
After his termination, George Zimmer issued a written statement that over the past several months he and the board of directors disagreed about the company's direction. He asserted "instead of fostering the kind of dialogue in the boardroom that has, in part, contributed to our success, the board has inappropriately chosen to silence my concerns by terminating me as an executive officer."
Behind the "face of the brand", George Zimmer could be viewed as a little eccentric. He brought in spiritual guru Deepak Chopra as a member of the company's board in 2004. Inspired by his mother's fight with cancer, he also lent considerable financial support to a failed proposition in California in 2010 to legalize marijuana. And Men's Wearhouse did not conduct criminal background checks on new hires because Zimmer believed everyone deserved a second chance.
The timing of the firing was odd, coming a week after the company reported strong earnings. Three months ago, the company announced it was hiring investment-banking firm Jeffries & Co to explore strategic alternatives for its K&G store division, an off-price retail chain featuring discontinued items, which it acquired in 1999. Apparently that was one point of contention between Zimmer and the Board.
The company's recent tone has been less than complementary to Zimmer. A long statement was issued on June 25th by the Board which in effect accuses Zimmer of being unable to relinquish control of the company. In addition, they revealed that Zimmer no longer supported the sale of K&G and was lobbying for the sale of the company to private equity - a move the Board did not support.
Zimmer fired back with an open letter on June 26th, rebutting the Board's assertion that his support of a private equity deal was motivated by ego and was a power-play. In his letter he states that the Board rejected the idea of going private without proper consideration:
"Rather than thoughtfully evaluating the idea or even checking the market to see what value might be created through such strategic alternatives, the Board quickly and without the assistance of financial advisors simply rejected the idea, refused to even discuss the topic or permit me to collect and present to the Board any information about its possibilities and feasibility, and instead took steps to marginalize and then silence me."
Even though Zimmer owns only 3.6% of the company's stock, he may indeed be planning a takeover of the company reminiscent of Best Buy's (BBY) recent saga in which founder Richard Schulze attempted to take that retailer private. That effort ultimately failed, but Schulze did eventually return to the company as Chairman Emeritus.
How Good Does an LBO Look?
In the case of Men's Wearhouse, all the classic elements of an LBO candidate appear to be in place. We have an ousted but experienced executive and company founder (Zimmer) who owns a stake in the company and supports a sale. The company is in turmoil, has a low valuation, with an EBITDA multiple of 5.3 times, and has no debt. Plus the company was already in the process of conducting a strategic review to explore the sale of one of its underperforming retail units.
However, there are still those skeptical of a deal. Stifel Nicolaus analyst Richard Jaffe issued a report after meeting with the retailer's CEO Doug Ewert, agreeing with the Board that a leveraged buyout transaction would be risky. He does not believe such a buyout is likely or that a bid is pending, suggesting that the recent price move to the upside on such speculation is unwarranted. According to the company's statement, the Board unanimously opposes a buyout. The company asserts that such a deal would be counter to the interest of shareholders due to the huge amount of debt created.
On the other hand, JP Morgan speculates that Zimmer will indeed look to team up with a number of private equity firms in order to retake control of the company. In the event of a successful buyout, Stifel estimates a deal would come in around $47 share. JP Morgan's analyst Brian Tunick estimates a deal closer to the $50 level based on recent retail buyouts.
According to Bloomberg, Men's Wearhouse's 5.3X EBITDA multiple is quite reasonable relative to the median multiple of 9.5 times among global specialty-apparel retailers with a market cap above $1 billion. The stock's cheap valuation makes the company look attractive from a private equity standpoint. Cowen analyst John Kernan also thinks the economics of a deal make sense. Besides citing the company's stable cash flow generation and low level of debt, he also highlights that there is not a lot of fashion risk associated with the company as it just sells suits and sportswear.
After years of tepid activity post the financial crisis, leveraged buyout activity is staging a slow and cautious comeback since its peak in 2006-2007.
Year-to-date, several specialty retailers have announced they were being acquired in private equity deals:
The fact is, that even prior to Men's Wearhouse's current leadership upheaval, the company was a rumored LBO candidate. As far back as 2011 it was listed as one of 27 potential LBO targets published in Barron's using a screen created by UBS' special situations team. UBS' screen required that the buyout shop could offer at least a 15 percent premium to the target's stock price and the target's total could debt could not be greater than six times cash flow. The market cap of the company also had to be below $15 billion. Using that same screening criteria today, Men's Wearhouse would still "look good" on the list.
The timing also appears to be right from an economic standpoint. Typically men's suit sales are highly correlated with employment trends, which do appear to be improving. The company's recent earnings results reported on June 12th were reasonably positive. The company's 1Q earnings climbed to $33.1 million or $.65 share, which was $.10 above the FactSet analyst consensus. Results were positively skewed by strength in the company's higher-margin tuxedo rental business, as an early Easter pushed prom season into Q1. The company failed to raise guidance due to the sales shift and weak sales for its Canadian Moore's chain, but the share price did increase on the positive earnings result news.
Another item of note: key competitor Joseph A. Banks Clothiers, Inc. (JOSB) revealed on June 22, that "it is considering strategic opportunities to enhance shareholder value, including seeking strategic potential acquisitions. Unlike Men's Wearhouse, it has been struggling. Its net profit declined 45% year-over-year, although its results were basically in line with analyst estimates. Could Men's Wearhouse be a target for Joseph A. Banks? Mark Montagna, an analyst for Avondale Partners, thinks the idea is "far-fetched" given the overlap in store bases and the value-sale strategy both brands employ. A private equity deal seems the more likely scenario, but a public merger with another complementary retailer might be another option as well.
Conclusion
The recent ouster of Men's Wearhouse founder George Zimmer has fueled speculation by investors that Men's Wearhouse will ultimately be acquired in a private equity deal or public merger. Given the stock's current share price around the $38 range, such a transaction would deliver significant upside if it were acquired in the $45 to $50 range. To the extent that the stock's valuation, strong fundamentals, and a positive economic environment make such a transaction viable, investors, private and public alike, just might like the way Men's Wearhouse looks.
Disclosure: I am long MW. I wrote this article myself, and it expresses my own opinions. I am not receiving compensation for it (other than from Seeking Alpha). I have no business relationship with any company whose stock is mentioned in this article.
Disclaimer: The opinions expressed above should not be construed as investment advice. This article is not tailored to specific investment objectives. Reliance on this information for the purpose of buying the securities to which this information relates may expose a person to significant risk. The information contained in this article is not intended to make any offer, inducement, invitation or commitment to purchase, subscribe to, provide or sell any securities, service or product or to provide any recommendations on which one should rely for financial, securities, investment or other advice or to take any decision. Readers are encouraged to seek individual advice from their personal, financial, legal and other advisers before making any investment or financial decisions or purchasing any financial, securities or investment related service or product.
Information provided, whether charts or any other statements regarding market, real estate or other financial information, is obtained from sources, which we and our suppliers believe reliable, but we do not warrant or guarantee the timeliness or accuracy of this information. Nothing in this article should be interpreted to state or imply that past results are an indication of future performance.