Timing Is Important
I am an infrequent writer even though I have always enjoyed the process of crafting an article and the research behind it. The last article I authored and submitted for publication was written on 12/29/07. It was titled "Calling Angelo - Countrywide CEO's Call For Increased Mortgage Limits Needs To Be Ignored." This was a response article to Angelo Mozilo's 12/05/07 WSJ editorial in which he implored congress to raise the loan limits it imposed on Fannie Mae, Freddie Mac, and the FHA. I firmly believed that the GSEs, who I suspected were the lynchpin behind rising housing prices and global liquidity, had exhausted the limits of their ability to securitize, meaning the pendulum was soon to swing back the other way in the broader housing market. While my editorial response was never published by the WSJ, the research behind it cemented my belief in the housing bubble and subsequent bust. Personally, I navigated this environment well, posting positive returns in 2008 when few did. Professionally, this capital allowed me to start my investment firm in the spring of 2009 (I resigned from my position as a senior analyst at one of the larger RIAs in the country). In retrospect, it was the best time to start an investment business since 1974-1975 in terms of valuations. A lesson was reinforced in my conscious and subconscious through this experience, and that lesson was: Timing is important. Right now, after two years and three months of underperformance by commodities and commodity stocks, I believe we are at the bottom in terms of valuations and prices for commodity stocks. And, by at the bottom, I mean that June 27, 2013 closing prices may turn out to be the low prices for many individual stock names in this cyclical bear market in commodity stocks, which is within a longer-term secular bull market in commodities and commodity stocks.
Historically Undervalued
Like most value investors, I have been early on this and it has been painful, yet the more research I do on a macro and company specific level, the more I am convinced that this is another generational opportunity (we have gotten several of these over the past seven years). Even better, I think the broader developed equity and bond markets are generally overvalued, so the undervalued commodity stocks have a strong probability of delivering positive returns in a negative to flat overall market for the other two major asset classes. I am anticipating that commodities will start to outperform stocks and bonds, and I have a particular focus on the commodity stocks as I believe that they have been in a much deeper cyclical bear market than the commodities themselves. An example of this is that over the past two years as of this writing, the GDX, an ETF basket of gold stocks, is down 54% while gold, as measured by the GLD, is down 18% over the same time frame. The chart below shows the degree of undervaluation (the ratio of the GDX to the GLD is below the 2008 panic low!) of the gold mining stocks relative to the price of gold: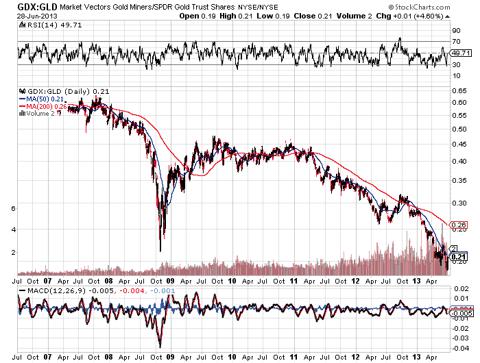 While I feel that many individual names in the commodity stock space are attractive, in my opinion, two broader sectors stand out in terms of valuation and current sentiment (the more negative the better from a contrarian viewpoint). Due principally to valuations and the accompanying negative sentiment, my current focus is honed in on the coal sector, with an emphasis on coal mining stocks, and the precious metals complex, with an emphasis on gold and silver mining stocks. I will have upcoming articles highlighting my thoughts on the precious metals complex as well as an article that examines the broader macro views impacting global liquidity, including an analysis of central bank activity and the velocity of money. Today, the remainder of this article will focus on coal and coal stocks.
Asset Sale = Catalyst
One of the catalysts that caused me to write this article was the announcement by Arch Coal (ACI) on June 28th that they had sold a group of thermal mines in Utah to privately held Bowie Resources for $435 million in cash (Bowie Resources LLC out of Louisville, Kentucky, is in a joint venture with Galena Private Equity Resources Fund to purchase the mines). I believe this transaction was significant for two reasons. First, it demonstrates that private equity and connected industry players (Galena is a unit of Netherlands commodity trader Trafigura Beheer BV) are finally interested in committing money to acquire coal assets at extremely depressed valuations. Secondly, even the depressed price paid suggests a higher valuation for Arch as a whole, and as this news is digested, it should provide a catalyst for Arch's common shares, which are off by over 90% from their recent highs as the following chart illustrates: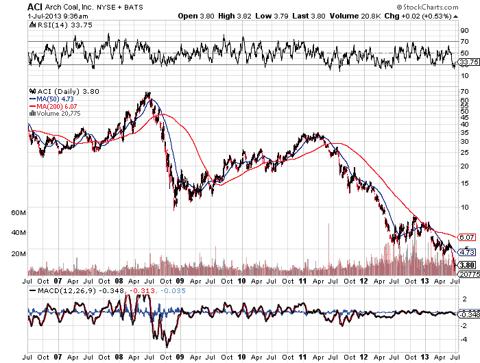 The above chart shows the damage that has been inflicted on coal stocks, and particularly Arch Coal. Shares are significantly below the panic lows of 2008/2009. With news of the sale on Friday, Arch Coal's common stock closed up 5% on the day, yet at the end of Friday; Arch's market cap was a mere $802 million. On the surface, Arch sold approximately 2% of their current coal reserves for cash equaling approximately 57% of their equity market capitalization! If you look at it from an enterprise value standpoint, including debt, which is a far more significant component of Arch's current capital structure, Arch sold 2% of their coal reserves for cash equaling 9% of the company's current value. In either case, the price paid by the buyers suggests a much higher equity valuation for the presently constituted Arch Coal. Now, admittedly, this is simplistic analysis, so let's dig a little deeper.
Sell-side analysts have been lukewarm in their commentary regarding Arch's sale thus far. The reason is that even though the Utah mines (Sufco, Skyline, and Dugout Canyon) that Arch sold represent only 2% of their coal reserves or 105 million tons out of 5 billion tons reserves, they represent a larger percentage of Arch's EBITA based on 2012's margins. In 2012, Arch's four Utah and Colorado mines had an operating margin of approximately $9 per ton, compared with approximately $1 per ton at Arch's Powder River Basin mines and $2 per ton at its Central Appalachian mines. So, looking at the transaction from this vantage point makes it appear that Arch is selling some of their best performing mines to further enhance current liquidity. While that may be the perception given the middling reaction to the sale thus far, I think that the reality is quite different.
First, the coal that the Utah mines supply is all thermal coal and it is sold primarily to utilities in the Southwestern United States. While it has been undeniably hot out west, the most optimistic analysts in the coal sector would say that the future for coal volume growth is in thermal exports and metallurgical coal volume growth. Further, the Southwest United States is uniquely suited for solar electricity, given the abundance of sunshine that California, Nevada, Utah, Arizona, New Mexico, etc. are blessed with on a near year round basis. Finally, as railroads increasingly give more flexibility in their shipment terms, Power River Basin coal, which is a bulk of Arch's reserves in the West, will likely ultimately cut into the margin of the Utah mines that Arch sold. Thus, while Arch may have sold some of their better performing assets over the past year and a half, I believe they are monetizing the Utah mines at an opportune time, at a high point in their relative valuation, in order to invest their capital in their Powder River Basin assets and their metallurgical focused Central Appalachian operations, which are at low points in their relative valuations.
After the sale, Arch Coal still owns one of the most diverse asset portfolios across the globally traded universe of coal companies. These assets are largely in the U.S., and the current political environment surrounding coal as a future energy source has certainly hurt valuations. This sentiment could change; however, as North America remains a relatively hospitable host compared to some of developing markets where global miners often operate. An example of this occurred recently when global mining powerhouse Rio Tinto (NYSE:RIO) suspended railway operations in Mozambique. Thus, while being domiciled in the U.S. has hurt asset values currently, this could be a long-term strategic advantage that actually helps share prices.
Asset Rich + Equity Challenged = Opportunity
U.S. coal companies remain asset rich, but they are relatively cash poor in an environment of depressed coal prices. Despite the price pressures over the past several years, the intermediate to longer-term outlook for coal in the global power mix remains robust. Arch is well positioned for future demand growth, as they have one of the largest and most diverse coal reserves of any of the U.S. producers. On this note, Arch retained the West Elk Colorado Mine, which has three times the reserves of the Utah mines. Applying a similar valuation to the Colorado reserves as the disposed Utah mines, values the West Elk mine at over $1 billion dollars. An additional catalyst is the upcoming commercial production of Arch's Leer mine (which is detailed very nicely in this Seeking Alpha article by author Elephant Analytics).
Despite the long-term bullish case that can be made for global coal demand, near-term sentiment has crushed the share price of U.S. coal companies. Arch Coal's equity presently trades at somewhere in the vicinity of 20% of book value. This is unusual based on its past relative history and relative to the market. I would go further and say this is absurdly cheap, a March 2009 type of valuation. While book value hovers around $13 per share, many analysts assume further write downs are in the future. In selling the Utah mines, however, Arch will book an approximate $120 million pre-tax gain. Could book value be understated given the write downs already taken and the tremendously depressed sentiment within the entire coal sector?
Coal Fundamentals Are Improving
Building on this, the domestic thermal coal appears to be normalizing, with reduced supply and increased demand from natural gas to coal switching in electricity generation. Natural Gas futures (NYSEARCA:UNG) have rallied significantly since hitting lows of $1.90 per BTU in April of 2012, and many prominent natural gas companies such as Chesapeake (NYSE:CHK) and Devon Energy (NYSE:DVN) have curtailed their gas drilling programs until gas prices recover even more substantially. The increase in gas prices and the decrease in coal prices have made it more economical for many utilities across the U.S. to burn coal versus gas. Coal inventories are finally being drawn down, with the EIA reporting a rare coal stockpile drawdown in the spring 2013 shoulder season. In March of 2013, there was a 16% drop in electricity generation by natural gas as reported by the EIA. Coal, meanwhile, saw a 14% increase in the first quarter of 2013. This drawdown is probably understated, as Seeking Alpha author Mark Hayes describes in this excellent article. For all of 2013, the EIA expects coal to regain a significant portion of the electricity generation it lost to natural gas in 2012 as shown in the following chart: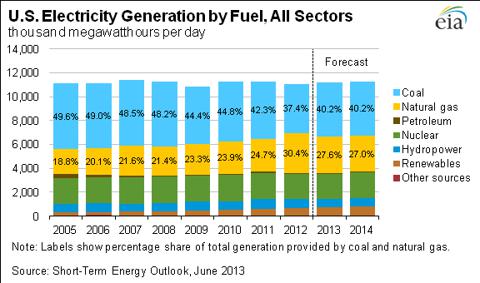 I have a high degree of confidence that we are likely near the end of the trough in operating profit margins across domestic coal basins, with an emphasis on the PRB and Appalachian basins. As time passes, analysts will look back and say that 2012 and 2013 marked the bottom of both the thermal and metallurgical coal cycles, with the Q3 and Q4 of 2012 and Q1 and Q2 of 2013 being the epicenter of destruction. This last wave of selling in May and June of 2013 likely marked capitulation among the first wave of value/contrarian investors that purchased the coal companies in 2012. All of the major coal companies, including Peabody (NYSE:BTU), Arch, Alpha Natural Resources (ANR), Walter Energy (NYSE:WLT), Consol Energy (NYSE:CNX), Cloud Peak Energy (NYSE:CLD), Alliance Resource Partners (NASDAQ:ARLP) and Natural Resource Partners (NYSE:NRP) have cut equipment and labor costs. As an aside, the coal names that have held up well due to long-term contracts, hedging and better management, like ARLP, will have very little upside relative to the depressed names. Arch is among the cheapest and I believe Alpha Natural Resources is the cheapest (this is another future article). Thus, when the rebound in pricing comes, and I believe we are close, a large part of the pricing improvement should fall quickly to the bottom lines. Coal companies have tremendous operating leverage on the upside…it just seems that almost everyone has forgotten this fact in the historic wave of negative sentiment.
Bottom Line: Historic Contrarian Opportunity
To conclude, commodity stocks have tremendously underperformed the broader markets since April of 2011, but the relative underperformance has reached an unsustainable extreme. From these price levels, a reversion to mean valuations will generate tremendous returns for commodity stock owners. A perfect storm of events including weaker economic growth, particularly in Europe and China, a stronger dollar (almost all commodities are priced in dollars), and an expansion of supply at exactly the wrong time torpedoed a majority of commodity stocks to the point that many are now selling below their panic low prices achieved in March of 2009. The coal stocks have been particularly hard hit, with many selling far below their previous lows made in the spring of 2009. For coal stocks, two perfect storms have hit. The first affected commodity stocks as a whole as described above. The second perfect storm surrounding coal involved record low natural gas prices, decreased global steel production, and an inhospitable political environment. These two perfect storms have driven sentiment to negative levels that I have rarely seen as a market historian, even below the negativity that surrounded the panic declines of 2008 and 2009. The current negative sentiment around gold stocks, which I don't think is quite as bad as coal…but it is close, is the only recent example where I have seen sentiment at such a negative extreme relative to the other sectors. It is hard to believe now, but just two short years ago in 2011, a majority of the coal companies made acquisitions, looking at a long-term coal super cycle driven by global demand growth for both electricity and steel. That long-term global demand growth has paused, especially as emerging markets from China to India to Brazil have struggled. Yet under the surface, coal power plants are still being built at a more rapid pace on a global basis than any other electricity source. Global steel production continues to increase as more people are driving cars, and more housing stock is being built. However, very few are paying attention. Rather, individuals and institutions are infatuated with hyper valued growth names including Amazon (NASDAQ:AMZN), LinkedIn (LNKD) and Tesla (NASDAQ:TSLA) and the solar companies (I would consider shorting all of these by the way…yet this is another article for the future). It is almost reminiscent of the late 1999 or early 2000, when whole sectors like REITs or small-cap value flew under the radar as everyone chased technology and telecom. Yet this time, the undervalued names are much fewer in number, with a higher degree of undervaluation. When the recent market capitalizations of four solar stocks, First Solar (NASDAQ:FSLR), Solar City (SCTY), SunPower (NASDAQ:SPWR), and SunEdison (SUNE), can eclipse the entire market capitalization of the U.S. coal sector, even when coal compromises over 40% (and growing) of the world's electricity generation, while solar contributes 1% (and growing) of the world's electricity generation, there is a historic, contrarian opportunity.
Disclosure: I am long ANR, ACI, WLT, BTU, CNX. I wrote this article myself, and it expresses my own opinions. I am not receiving compensation for it (other than from Seeking Alpha). I have no business relationship with any company whose stock is mentioned in this article.