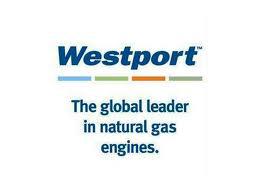 June was a volatile month for the natural gas transportation portfolio. A big drop in Cummins Inc (NYSE:CMI) was offset by a nice move up in shares of Westport Innovations (NASDAQ:WPRT). The year-to-date performance of the individual stocks is shown in the following chart: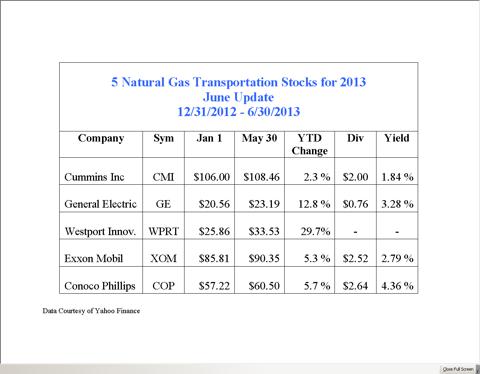 YTD Performance
Assuming equal weight investments, the portfolio's YTD return is +11.2%. That was practically unchanged from the previous month while the S&P500 was down -1.4% for the month. The weakness in the S&P500 can be attributed to normal seasonality but mostly to Fed Chairman Bernanke's stated intention of tapering off QE.
The total return of the portfolio, including dividends, is +12.5% YTD. In comparison, the S&P500 is up 12.6% so far this year.
Objective
Just to review, the portfolio's primary objective is to profit on the global natural gas transportation revolution by owning stocks that provide:
Exposure to the rapidly growing NGV market.
Exposure to natural gas production and refueling infrastructure.
Exposure to international and domestic natural gas markets.
Dividend income.
Dividend Payments in June
June was a good month for portfolio income with three stocks making payouts:
Cummins Inc: $0.50
Exxon Mobil: $0.63
ConocoPhillips: $0.66
The ExxonMobil (NYSE:XOM) Q2 dividend payment was an increase of $0.06/share over Q1. Dividend income is important to smooth out market volatility while providing investor income.
Newsworthy Company Updates For June
As mentioned previously, it was not a good month for Cummins Inc. The stock was down about $11/share on no particular news other than vague rumors of a slowdown in China and perhaps perceived weakness in industry peer Caterpillar's (NYSE:CAT) monthly sales statistics.
The down move in shares of CMI were offset by a 10% gain in shares of Westport Innovations. WPRT announced it is buying Clean Enegy Fuels' (NASDAQ:CLNE) BAF Technologies, Inc. and its subsidiary ServoTech Engineering for $25 million in Westport Stock. Westport and Clean Energy have also announced a $5 million joint marketing and sales program. With the acquisition, WPRT will create the largest product portfolio and market presence in the North American light duty NGV space. Specifically, Westport secures its position as Ford's (NYSE:F) largest partner under the QVM program, with over 10 products at roughly 150 Ford authorized dealerships.

Westport also announced the Canadian National Railway Company (NYSE:CNI) has ordered four of the company's LNG Tenders. Each tender can support two locomotives and has a capacity of 10,000 gallons of LNG. Nicholas Sonntag, Executive VP at Westport, had this to say:
There is growing consensus around the enormous potential of using LNG as a fuel for locomotives and there is a clear path for the industry to achieve this shift to a cleaner, cheaper and domestically available fuel. The Westport LNG Tender leverages our substantial expertise in LNG storage, cryogenic systems, and natural gas fuel delivery for mobile applications to create a product that will immediately help railroads to validate the value of LNG in their operations today, with a built-in upgrade pathway to the next-generation locomotives coming over the next few years.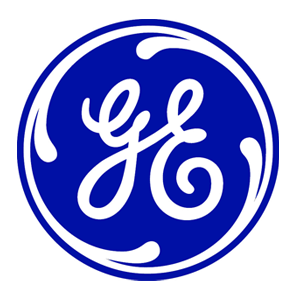 Portfolio component General Electric (NYSE:GE) announced a joint venture with Rosneft (OTCPK:RNFTF) to modernize Russian oil and gas infrastructure. One of the goals is to monetize Russia natural gas assets by turning natural gas into commercial products including large and small scale liquefied natural gas (LNG), compressed natural gas (CNG) and gas-to-liquids (GTL). In support of these goals, a contract was signed for GE to supply two 77-megawatt 6F 3-series gas turbines that will provide reliable power for Rosneft's largest production project at its Vankor oilfield in Siberia.
GE is also providing gas turbines to power a new floating production, storage, and offloading platform in Brazil as well as subsea equipment for StatOil's (NYSE:STO) Snøhvit carbon dioxide (CO2) injection project.
Exxon announced strategic cooperation agreements with Russian enegy company Rosneft to:
Form joint ventures for Kara Sea and Black Sea projects
Finalize agreements on seven Arctic license areas in the Chukchi, Laptev and Kara seas
Establish a foundation for joint venture to implement West Siberia tight oil pilot project
Move to the next planning phase for an LNG project in Russian Far East
In addition, XOM is making progress with partners BP (NYSE:BP), ConocoPhillips (NYSE:COP), and TransCanada on the Alaska South Central LNG project.
Notable Natural Gas Transportation News
According to a forecast by Boulder-based Navigant Research, a total of 34.9 million NGVs are likely to be on roadways worldwide by 2020, up from 18.2 million this year. In the report, the research company said that growth in use of NGVs is being driven by a combination of low-cost and cleaner natural gas and sustained higher prices for gasoline and diesel.
Summary and Conclusions
The economic, environmental, and national security fundamentals supporting natural gas transportation could not be stronger. It is steady-as-she-goes for the natural gas transportation portfolio. Although the portfolio has traded roughly inline with the S&P500 over the first half of the year, I expect the excellent growth prospects for the natural gas transportation revolution will propel the portfolio ahead of the S&P500 by the end of the second half of 2013.
Disclosure: I am long COP, STO, XOM. I wrote this article myself, and it expresses my own opinions. I am not receiving compensation for it (other than from Seeking Alpha). I have no business relationship with any company whose stock is mentioned in this article.