Frequent contributor Sprewell sends along a link to an interesting article from last October titled "The Crucible of the Phone Market." Here are a few comments:
1. The graphic below shows how fast the "Schumpeterian gales of creative destruction" reversed the market shares of BlackBerry (BBRY) and Android phones. In just 2.5 years from December 2009 to June 2012, BlackBerry's share of smartphones went from about 42% to 8% -- in raw numbers that's 11 million users who switched to another smartphone. Over that period, it looks as if the Android share of the U.S. smartphone market went from about 6% to almost 50%. Quite a Schumpeterian reversal of market share in a very short period of time.
2. It's also interesting that according to the trends identified in the article, the U.S. has now taken the global lead in smartphone technology and is at the forefront of smartphone innovations and apps -- despite representing only 6% of all smartphone users worldwide, as Sprewell points out in an email.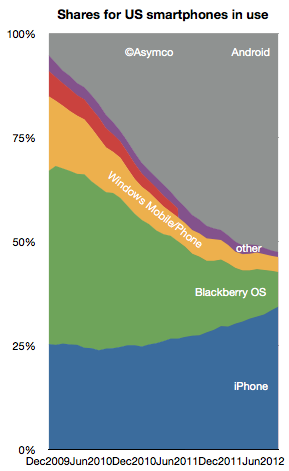 Here's an excerpt from the article:
In December 2009 only 17% of Americans used a smartphone as their primary phone. As of August the total reached 49.8%. By today the U.S. is effectively a majority smartphone usage country and it looks like there is no slowing. We might very well see the U.S. reach saturation with 80% smartphone usage in another two years.

That means over 115 million smartphone users in one market. As a result, the U.S. has become the crucible of the whole smartphone market. It's where platforms are most concentrated in use and therefore the most sensitive to the effects of that usage. That leads to more innovation, more discovery of new use cases and more ecosystem growth. Quite simply, it's where competition is most heated. This prominent position implies that the U.S. could now be seen as a leading indicator of global trends.

In addition to device and operator trends, most smartphone apps originate in the U.S. and the major social media platforms are all American-based. In other words, the modes of usage are being conceived in the U.S.
As Sprewell suggests, perhaps it's the relatively open and free markets in the U.S., along with being one of the most lucrative consumer markets in the world, that provides an environment where technological innovation in devices like smartphones can flourish, which has helped bring the U.S. to the forefront of the global smartphone market in recent years.