With markets near their all time highs, it is difficult to find good value and income opportunities. High volatility and macro economic uncertainties further combine to make identifying opportunities difficult today. Nonetheless, bargains exist in many sectors. Today we examine some of the elites of the beverage industry, the Beverage Aristocrats.
The Coca-Cola Company (NYSE:KO) has long been a favorite of professional investment advisors and income investors. However, as shown in my earlier article, its performance has been mediocre compared to some of its alternatives. The chart below compares the 5 year performance of the major aristocrats of the beverage industry along with the beverage index. The clear leaders are Formento Economico (NYSE:FMX) and Ambev (ABV).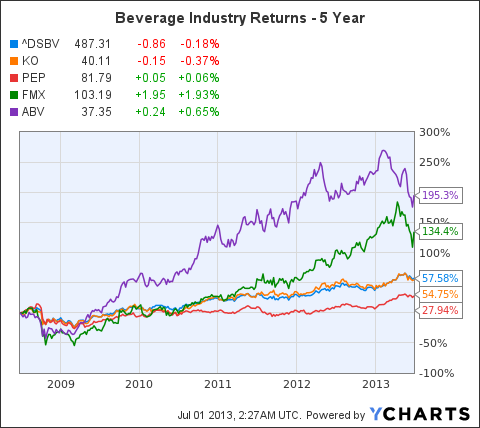 A 3 and an 1 year performance comparison show similar results as shown in the next 2 charts. These performance results and trends present a clear pattern and are not short term nor ephemeral. Clearly the past, present, and future for these beverage giants is found outside the U.S. shores.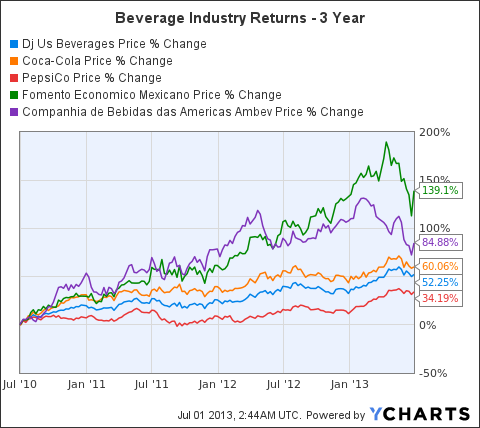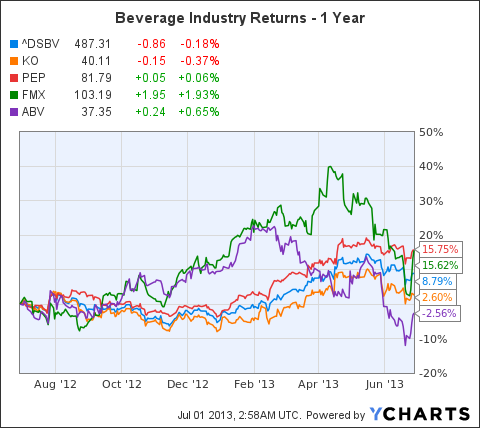 Dividends show that the leading performers offer competitive yields and growth also.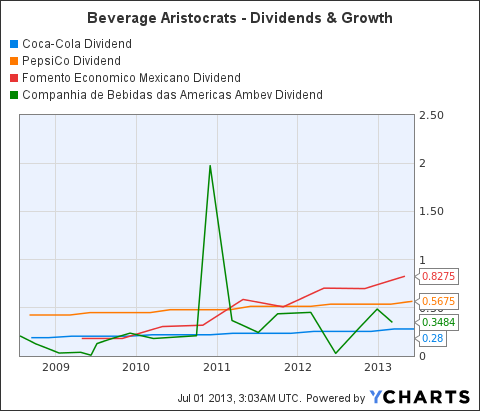 KO Dividend data by YCharts
Yield rate is linked to share price by the inverse mathematical relationship Y = D/P (Y:yield, D:dividend distribution, P:Share price). For a more complete discussion of YDP charting and analysis, see my previous articles discussing this topic. The relatively flat yield rate trends while dividend distributions and share price have grown indicates that investors price the shares based on this YDP relationship. Recent acceleration in the yield rate trends of FMX and ABV indicate that investors expect growth to slow (and they are willing to target yields competitive with the historic slower growth KO and PEP) or that share price has drifted out of synch to dividend growth and is currently under priced. Either situation is a plus, indicating share prices have considerable room to rise for FMX and ABV.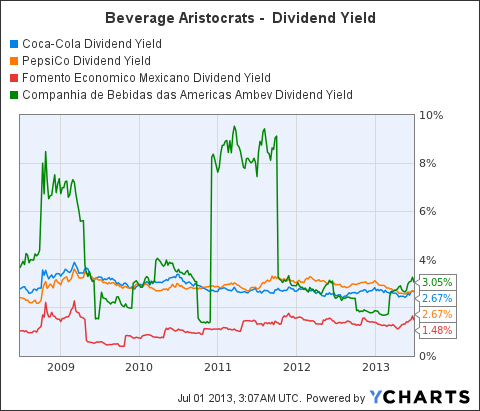 KO Dividend Yield data by YCharts
Share price movements the past two weeks show that FMX and ABV have not only quickly recovered from the large pullbacks this month but have established upward momentum, reversing the downward trends begun back in May.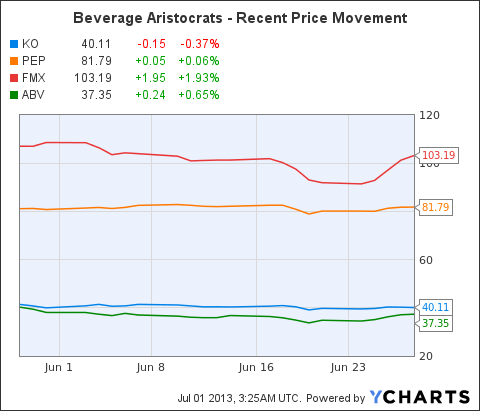 FUNDAMENTAL VALUATION METRICS:
Tangible book value per share is a good measure of the value of hard assets of shareholders. A look at these Beverage Aristocrats shows strong performance by FMX and ABV. Traditional professional advisor favorites KO and PEP exhibit rapid erosion of this fundamental value metric, falling faster than their respective share price growth.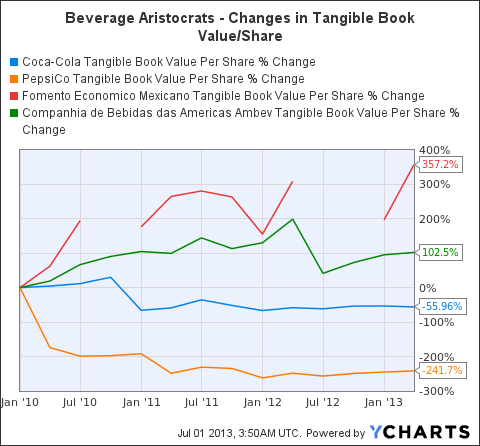 KO Tangible Book Value Per Share data by YCharts
Net income shows a history of growth for all the Aristocrats. This metric shows that traditional KO and PEP are the gorillas in the mix but ABV is steadily closing the gap. FMX trails the others in size but is the most diverse in product mix and markets, counting not only beverages but grocery wholesale and retail also in its mix and with a footprint covering Mexico and South America and expanding.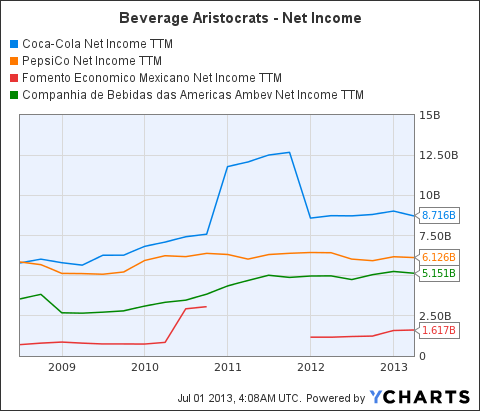 KO Net Income TTM data by YCharts
In fact, if we change to a look at the net income data on a percent change basis instead of absolute U.S. dollar amounts, we find FMX back on top, outperforming its peers.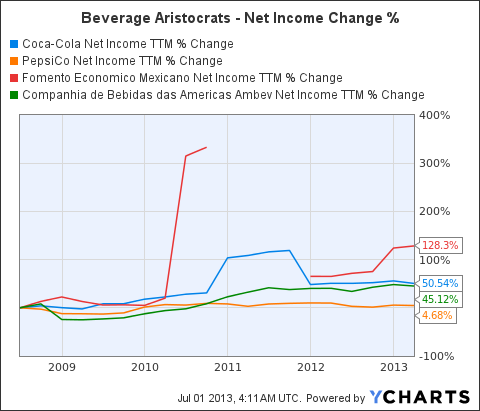 KO Net Income TTM data by YCharts
Operating margin performance and trends show that all of the Aristocrats handily beat the industry operating margin of 8%.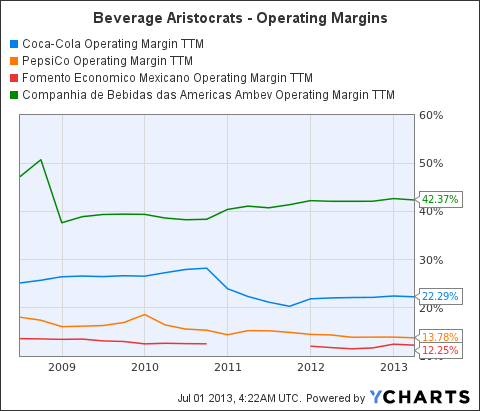 KO Operating Margin TTM data by YCharts
P/E ratios show the Aristocrats trade in line with the industry peer average of 20.96 with the exception of FMX. The high growth trend of FMX accounts for its 63.03 ratio even as it raises a warning flag that this multiple will be hard to sustain. FMX share prices could be particularly vulnerable to a dip in growth metrics.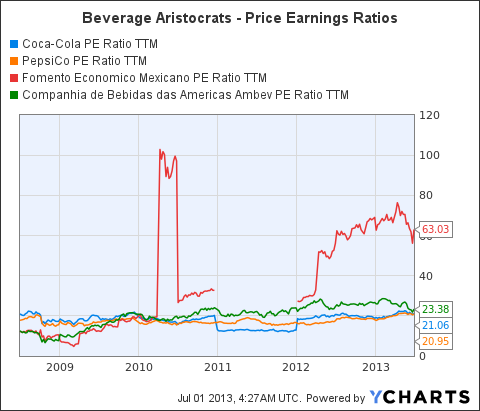 KO PE Ratio TTM data by YCharts
A look at the operating margins and P/E metrics charted in relationship to each other further reinforces the view offered above.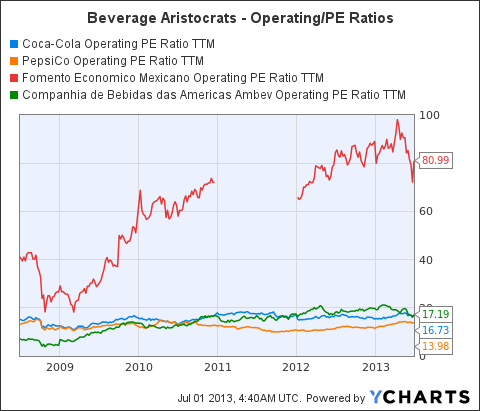 KO Operating PE Ratio TTM data by YCharts
Price/book value for the Aristocrats easily outperforms the industry average.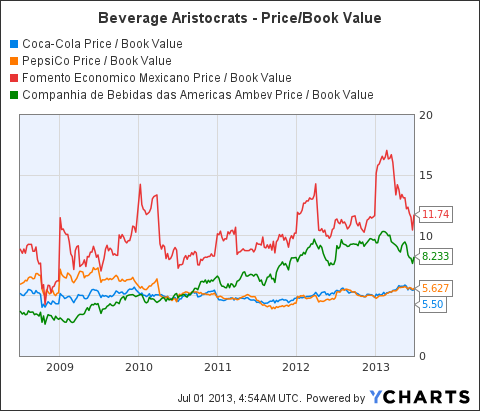 KO Price / Book Value data by YCharts
Other valuation metrics for each of these Aristocrats generally offer a favorable position compared to the industry also.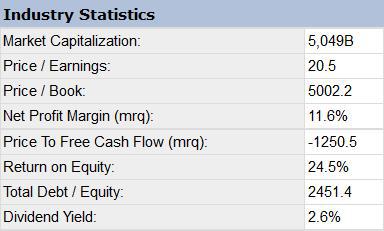 (Source: finance.yahoo.com)
ANALYST OPINIONS:
Coca-Cola: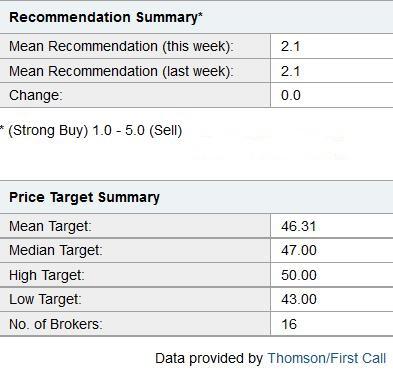 Pepsico (NYSE:PEP):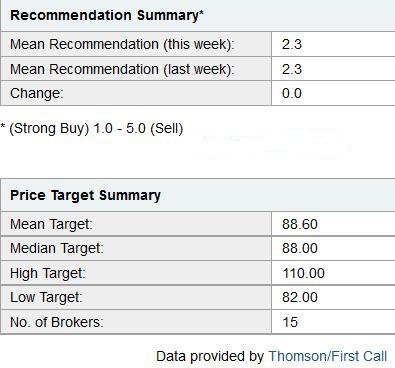 Formenco Economico: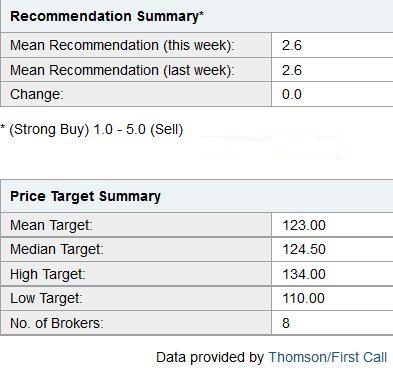 Ambev - Companhia de Bebidas das Americas: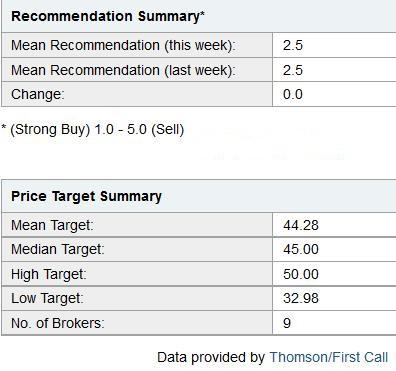 MACRO ECONOMIC ENVIROMENT:
Both FMX and ABV have shown weaker results and performance this year due to a softening of the economies where they operate. This translates primarily to Mexico and Brazil. While these economic spheres slowed their growth rates from the prior year, they remain strong compared to most of the world. Mexico in particular is one of the star performers in the current global economic environment. While its growth has slowed in 2012 and continues to slow in 2013, it still remains one of the fastest growing per capita GDPs on the planet. After generations of stagnation and a stunted middle class, Mexico is repeating the success story of many of the BRICs.
The GDP chart documents that progress and shows its resiliency with its post 2008 recovery from the global financial recovery. Mexico remains closer linked to the U.S. economy than Brazil but continues to diversify and expand its global trade footprint. The growing middle class and its rising disposable income make Mexico a bright spot for investment. Companies that rely on the internal consumer demand there are positioned for rapid growth. FMX, with its mix of wholesale and retail distribution networks, coupled with ownership of grocery stores, drug stores, beverage bottling, and other consumer goods and services, is on track for continuing outstanding performance.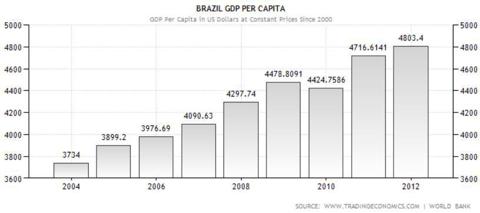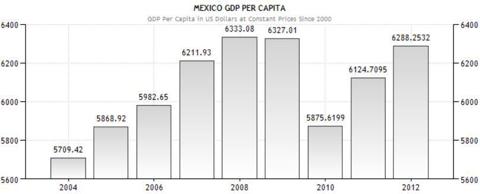 The global currency wars currently being waged by the United States have been taking a toll on the Brazilian real and Mexican peso. This creates a weaker performance picture for FMX and ABV, both of which see the majority of their sales in these currencies and very little in $USD.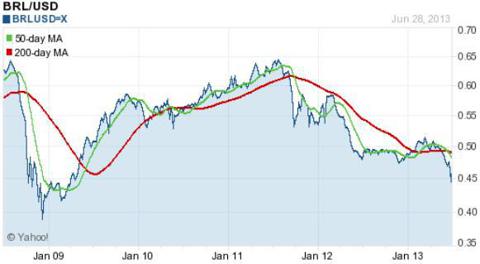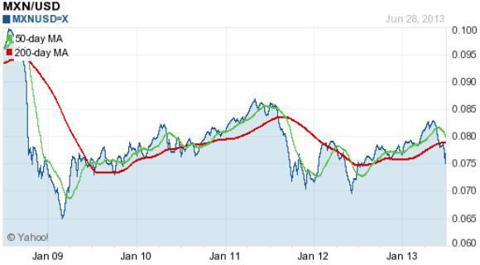 These macro economic trends in GDP and currency exchange rates are the major external factors impacting FMX and ABV. Even with results negatively impacted by the exchange rates, both these Beverage Aristocrats have still outperformed their traditional U.S. counterparts, KO and PEP. Demographic trends in population growth, rising disposable income, and prospects for improving future currency exchange rates give these south of the border choices the potential for significant asymmetrical upside returns for investors with a long term horizon.
Current value metrics, dividend yield and growth trends make the shares of all these Beverage Aristocrats attractive at their respective current market price. FMX remains the past and current trend setter for the group. However, its high multiples make it vulnerable to trading range volatility and a significant downside pullback on signs of weakening growth. Investors should consider equal weighting FMX with ABV for up to 3% of their total long term portfolio. An additional 3% allocation of the long term investment funds, equally split between KO and PEP, should be considered by investors seeking dividend income and growth with large upside share price potential. Targeting these international directed shares provides exposure to currency hedges, geographic, economic, and political diversification along with favorable demographic trends. The focus on domestic consumers in Mexico and South America help insulate FMX and ABV from U.S. economic trends and the companies linked to those variables.
Fund investors might wish to look at the Consumer Goods Gems ETF (NYSEARCA:GGEM) which has its top two holdings in the Ambev Brazilian exchange shares ABV.SA (9.69%) and FMX (7.63%). EGshares Emerging Markets Domestic Demand ETF (NYSEARCA:EMDD) also offers holdings in FMX.MX (6.14%) and ABV.SA (4.82%).
I am not a licensed securities dealer or advisor. The views here are solely my own and should not be considered or used for investment advice. As always, individuals should determine the suitability for their own situation and perform their own due diligence before making any investment.
Disclosure: I am long FMX, ABV. I wrote this article myself, and it expresses my own opinions. I am not receiving compensation for it (other than from Seeking Alpha). I have no business relationship with any company whose stock is mentioned in this article.