The first half of 2013 has come and gone. Six months have passed so far this year, and generally speaking, they were good ones for the US stock market. Back when 2013 started, I discussed ten growth and ten value names to watch this year. With the first half of 2013 finished, it's time to see how these stocks did. Here, I'll discuss the performance of the 2013 growth portfolio so far, examine why these names have risen or fallen, and discuss what to look forward to in the second half of 2013. Here are the links to the original two articles.
Overall performance:
The following table shows each name's performance for the first six months of 2013. Start prices are adjusted for dividends as per Yahoo! Finance, and the current price is last Friday's close to end the 1st half.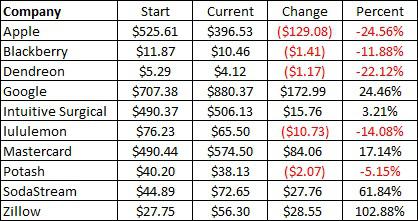 Five names out of ten, half of the portfolio, were up in the first half. That doesn't seem very good. However, an equal-weighted portfolio of these ten names returned 13.18% for the six-month period. Obviously, that has to do with the spectacular returns in Zillow and SodaStream. This is what you get when you look at growth names that are high-beta stocks. Without those two leaders, the average performance was down more than 4.1%. This is why diversification in any portfolio is crucial. If you put say 20% into Apple here, which would have seemed logical at the time, you probably did not have as great of a return, unless you threw a lot into Zillow or SodaStream as well. Interestingly enough, Apple and Google essentially cancelled each other out.
I mentioned in the past that for the benchmark, I was using the iShares Russell 1000 Growth Index ETF (NYSEARCA:IWF). While some of the names in my growth portfolio are international and may not be in the R1000 Index, it is a benchmark I've used in the past for growth names. For consistency, I'm using it again. During the first six months of 2013, the IWF gained 11.43%. That means that an equal-weighted portfolio of the 10 names outperformed the benchmark by 1.75%, or 175 basis points. That's a decent return over the benchmark, and it was more than that recently. Remember, BlackBerry shares lost nearly 28% on Friday, which put a dent into some of these gains.
Why did these names move?
Let's now examine why these names have moved and where they may go from here. I'll start with Apple, and not just because it is the biggest name on the list. It also happens to be first alphabetically.
Apple lost nearly a quarter of its value in the first half of 2013. The key reasons are listed below.
No major product launches
Lower selling prices
Shift to lower margin products
Apple did not launch a new iPad in March this year, meaning there hasn't been a major product launch since last fall's mega launch. That has led to a couple of quarters of very low growth or flat revenues. I detailed in my latest Apple article how expectations have come down tremendously. When calendar 2013 started, Apple analysts expected $191.62 billion in revenues this fiscal year (ending September) and $48.81 in earnings per share. Current expectations call for $171.15 billion and $39.51, respectively. With revenue growth widely missing past expectations, and lower margin products like the iPad mini reducing profits, Apple has taken a hit. The second half of calendar 2013 could be a turnaround period, but it could all depend on what Apple launches and when. Another weak quarter could push the stock further lower before it goes higher.
If I had published this article with stock prices from Thursday's close, BlackBerry would have looked much better. BlackBerry, formerly Research in Motion, shares were actually up 22% year-to-date as of Thursday's close. However, shares plummeted on Friday after the company's Q1 earnings report showed BlackBerry 10 sales were off to a slow start. The BB10 launch, awaited for quite a while, is the key to this company's future, and initial sales were disappointing. If Q2 is not good, BlackBerry as we know it might not exist too much longer. However, with a strong balance sheet and a large short interest, this name could easily rocket higher if this company can just meet expectations. Remember, this name was over $18 earlier this year on the promise of BB10. Now it barely trades for more than $10.
The biotech name behind the prostate cancer treatment Provenge is down more than 22% year-to-date. Dendreon shocked the Street with a huge drop in Q1 revenues. Dendreon needs a $100 million revenue quarter to be cash flow positive in the US. Until then, the balance sheet gets worse each quarter and the chances of the company needing to raise money (probably through equity at this point) rise. Going into 2013, analysts were looking for about $385 million in revenues this year, meaning a $100 million quarter looked very possible. Current estimates call for less than $319 million this year, putting into question whether they can hit the magical mark. Dendreon recently received a positive opinion in Europe on Provenge, but it could be several months before a final recommendation comes. A product launch would follow after that, so don't expect too much help from European sales this year. I've always discussed Dendreon as a speculative or lottery ticket like investment. So far this year, Dendreon has been one of the biggest losers.
I mentioned above that Google and Apple basically cancelled each other out. As Apple has fallen, investors have thrown money into Google, which should be the primary beneficiary of Apple's struggles. Microsoft (NASDAQ:MSFT) also jumped more than 31% in the first half of 2013. Investors like Google now because it provides more growth than Apple. With Apple now paying a dividend and having a large buyback, Apple is becoming more of a value name. Google is really the last major large cap technology growth name. Google is also trying to innovate and drive revenues, even if it hurts margins at times (think Motorola Mobility). The big question I have for Google is how will the stock fare once we get the next few earnings reports. Google's revenue growth was boosted by that Motorola Mobility acquisition, and this Q2 period will be the first one where we have a Motorola comparable quarter. With Google's revenue growth about to slow down significantly, will its stock gains as well?
Intuitive has been a favorite of mine for some time now, and in recent years, this has been one of the market's best performers. The company usually crushes estimates, which it did again in Q1. Shares have had some trouble bouncing on the good news, as there have been a series of negative reports on the company's da Vinci system. I expect that the company will continue to beat both revenue and earnings estimates, but additional questions on the company's products could hold up shares in the near term. Intuitive's 3% rise so far this year can be categorized as disappointing, but the stock has basically doubled since the start of 2011.
Like BlackBerry, another Canadian name on my list lost its gains after a recent earnings report. The apparel retailer lululemon got trounced in March after a "pants problem" caused them to pull back some of its product and lower revenue and earnings guidance. The stock did shake off the problem, producing a solid quarter. However, the resignation of CEO Christine Day has sent shares spiraling downward yet again. For those that believe in the company's products and solid results, the dip may have provided another decent buying opportunity. Shares have already bounced about $6 off the recent low.
Coming out of the financial crisis, investors were very skeptical about the financial industry. It was very tough to recommend buying bank stocks, so credit card companies have been seen as a safe haven. MasterCard is up 17% so far this year, and the stock has doubled in the past two years. One thing that has helped so far this year is the raised dividend and new buyback. MasterCard is still expected to show double digit revenue growth this year and next, with solid earnings growth as well. One analyst recently upped his price target to a Street high $790, which is another roughly 35% upside from here.
I was looking for some sort of industrial/material name for my list, and Potash fit the bill at the time. I'll admit that I haven't followed this name as closely as some of the others, and it is down 5.15% so far this year. At least I didn't choose a gold miner for this space! The company did have a decent Q1, and maintained yearly earnings guidance. However, Q2 guidance was a little light. At this point, Potash is becoming more of a value name, with a dividend yield around 3.70%.
SodaStream shares have skyrocketed this year as results have been excellent and many are now calling for a buyout. When this year started, I was calling for more than $525 million in 2013 revenues, a number higher than any analyst on the Street and well above the $498 million consensus. I have since raised my estimate twice to $565 million, and current estimates call for $558.5 million. Recently, shares have been propped up, to a bubble at times, on rumors of a potential buyout. It's funny how people have been calling for a buyout at $60 to $70 for a stock that traded at half that in late 2012. A large decline in short interest has also helped. SodaStream is one of the main reasons why the growth portfolio has performed great.
Zillow has been the best performer in the group, more than doubling so far this year. Part of the reason is that the stock was beaten down way too much in late 2012, going from $45 to $23 as investors questioned the company's growth potential. Well, those concerns were alleviated when the company provided spectacular guidance at the Q4 report. Shares are up nearly 50% since then, and they are still about $7 off their 52-week high. Between investors looking for growth and a potential housing rebound, Zillow has become an investor favorite. I don't think this stock will double in the second half, but it surely has been a great pick so far.
Final Thoughts:
It's been a good first half of 2013 for the markets, and you can see that in my growth portfolio above. But that comes with an asterisk, or a disclaimer. How do you structure your portfolio? If you went with an equal-weighted group of the ten names above, you beat the R1000 benchmark by 175 basis points. If you went with 20% in Apple and 80% spread out evenly in the other names, you made about 9% instead of 13.2%. This list of growth stocks was to show which names had potential in 2013. Some have lived up to the hype, while others have disappointed so far. But I also did this to show you how diversification was key. Throwing all of your eggs in one basket only worked if you were in Zillow or SodaStream. With some of these names being more volatile than the average market, it's better to spread out your money, as some will hit and some will not. I hope investors have learned a lesson here.
Disclosure: I have no positions in any stocks mentioned, and no plans to initiate any positions within the next 72 hours. I wrote this article myself, and it expresses my own opinions. I am not receiving compensation for it (other than from Seeking Alpha). I have no business relationship with any company whose stock is mentioned in this article.
Additional disclosure: Investors are always reminded that before making any investment, you should do your own proper due diligence on any name directly or indirectly mentioned in this article. Investors should also consider seeking advice from a broker or financial adviser before making any investment decisions. Any material in this article should be considered general information, and not relied on as a formal investment recommendation.