Sensient Technologies (NYSE:SXT) has lagged the S&P 500 so far this year, with shares up just 7%. Despite rising revenues and increasing profit margins, this maker of colors, flavors, and fragrances has not managed to keep up with its competition. For example, International Flavors & Fragrances (NYSE:IFF) is perhaps the closest comparison to Sensient and is up about 15% so far in 2013. Does this mean that Sensient is one of the bargains in this industry, or would investors be better off putting their money in one of the alternatives?
About Sensient
As mentioned, Sensient is a manufacturer of various products related to colors, flavors, and fragrances. The company's operations are categorized into two segments, the Flavors & Fragrances Group and the Color Group.
Flavors & Fragrances include products that are meant to enhance or alter the flavor or aroma of a customer's products. Most of this segment is geared toward the food industry, but also produces flavorings for the pharmaceutical business. Products made by the segment include flavor-delivery systems, essential oils, natural and artificial flavors, aroma chemicals, and the company's dehydrated flavors business, Sensient Dehydrated Flavors. The dehydrated products include onion and garlic-based seasonings as well as a line of other spices and dehydrated vegetables.
The Color Group produces a variety of colorings for beverages, processed foods, confections, pet foods, cosmetics, and more. The group operates under several trade names such as Sensient Food Colors, Sensient Pharmaceutical Technologies, Sensient Paper Colors, and Sensient Cosmetic Technologies.
Growth
After a small contraction in revenues brought on by the recession, Sensient has grown its revenues every year since 2009 and is projected to grow by 5% this year. Additionally, profit margins have been widening in recent years, and this trend is also projected to continue due to increased demand for their products which leads to greater pricing power. The company is expecting operating margins of 17.2% this year, up from 17.0% in 2012.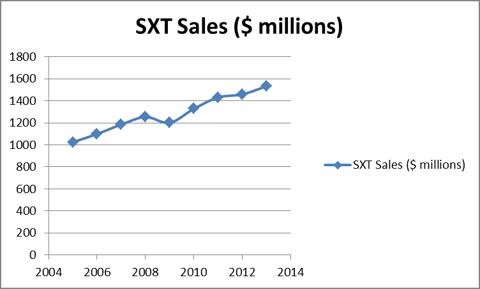 Sensient's recent trend is toward more natural colors and flavorings, recognizing the changing desires of consumers. Currently, the company produces a mix of natural and synthetic products and has expressed its intention to invest significant capital in research and development over the next few years in order to make this transition, as well as to increase its production capacity as global demand grows.
Looking at the chart above, other than the peak recessionary years, Sensient's growth actually seems very linear (and maybe even predictable). If you believe (as I do) that the economic recovery will continue for the next several years, there is no reason to think this growth pattern will change, especially with increased R&D spending. A further increase in sales should also lead to further improvement in Sensient's profit margins, which will translate to a very nice earnings growth rate.
Valuation and alternatives
Sensient currently trades at a significant discount to its competitors. Shares trade at 15.3 times last year's earnings, which due to the previously mentioned combination of higher revenues and wider margins are expected to grow by just over 6% this year. However, the consensus estimates call for earnings growth to increase significantly beyond this year, as current R&D efforts begin to pay off. The median estimates are $3.00 and $3.27 per share for 2014 and 2015, respectively, for annual earnings growth of 11.1% and 9%.
Also worthy of consideration is the company's relatively low debt load, which has been reduced by 25% since 2008. In fact, Sensient's debt-to-capital ratio is just 23.9%, far below the industry average of 38.3%, which is one of my favorite indicators of financial strength. In contrast, International Flavors & Fragrances has a far less attractive ratio of 43.7% and trades at a more expensive P/E of 19.2 times last year's earnings with similar growth projections as Sensient.
The largest name in the space is McCormick (NYSE:MKC) which produces spices, seasonings, and flavorings under several well-known brand names. McCormick is about four times the size of Sensient in terms of both market cap and sales. While McCormick trades at a much higher valuation of 21.8 times earnings, it is growing more rapidly due to the higher pricing power and brand marketing ability that comes with being a sector leader.
Risks
The most obvious risk would be a slowdown or reversal in the U.S. economic recovery. Companies like Sensient tend to perform in line with the overall economy, as can be seen in the chart above.
Other risks include increased competition and increased pricing pressure from larger companies. In my opinion, one of the worst things that could happen for Sensient would be for one of its rivals to get taken over by a large food company with deep pockets such as General Mills or Kellogg. On the other hand, if Sensient continues to grow at such a consistent and attractive rate, it could very well become a takeover target itself.
Conclusion
Sometimes in a business like this, the best way to find bargains is to look at the smaller, less well-known names like Sensient. With better financial strength and cheaper valuation than its competition, as well as solid growth and increased investment in evolving its product line, Sensient is by far the most attractive name in the flavorings and fragrances business. Over the next few years I would like to see the company try to grow the retail size of its business. Just think of how much of a household name McCormick is. Sensient needs to strive to become this kind of brand name in order to jump to the next level.
So where do I think Sensient could go? Assuming that the current P/E doesn't change, which is a conservative assumption based on the valuation of its peers, shares could easily reach $50 next year if the company performs to expectations, an upside of about 20% over current levels.
Disclosure: I have no positions in any stocks mentioned, and no plans to initiate any positions within the next 72 hours. I wrote this article myself, and it expresses my own opinions. I am not receiving compensation for it (other than from Seeking Alpha). I have no business relationship with any company whose stock is mentioned in this article.