This article, about Southern Copper Company (NYSE:SCCO), is a companion to my article of June 28, 2013, Freeport-McMoRan, Risks, Opportunities and Alternative Actions. The section of that article, "Supply and Demand Issues" is equally applicable to this copper producer and the reader is referred there for industry and market insights not duplicated here.
Southern Copper Company is among the world's largest producers of copper, with production topping 650 kt in 2012. It has the distinction of having the largest proven reserves of any copper company, at 67 MMt, as well as being the lowest cost producer.
A Transition Point
The company is in a time of transformation. While in the past its free cash flow was returned to shareholders in the form of large dividends, one wonders if that will continue. It is now committing substantial financial resources toward expansion, with production slated to nearly double to 1,181 kt in 2016. This is in a time of softening copper prices, with other miners cutting back on capex and shelving expansion plans. Past industry expansion has pushed supply ahead of lagging demand as Chinese growth slows. What do these changes mean for the investor in Southern Copper? What actions should one take?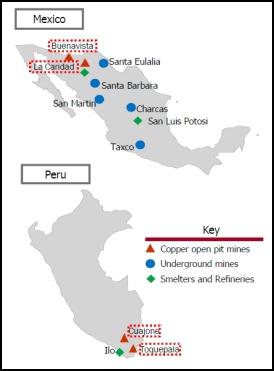 Southern Copper's primary copper resources are 4 large long life open pit mines with significant expansion potential. Two of these mines are in Mexico and two are in Peru; it is the largest copper producer in both those countries and number 5 in the world. In addition, it has a large project underway at the Tia Maria site in Peru. There are ongoing exploration efforts in Mexico, Peru and Chile. The total reserves of 67 Million Tonnes compares to Coldeco's at 63 Mt, Freeport-McMoRan's (NYSE:FCX) at 41 Mt and BHP Billiton's (NYSE:BHP)/(NYSE:BBL) at 34 Mt.
Production
The sales by product and production by mine for 2012 is shown below.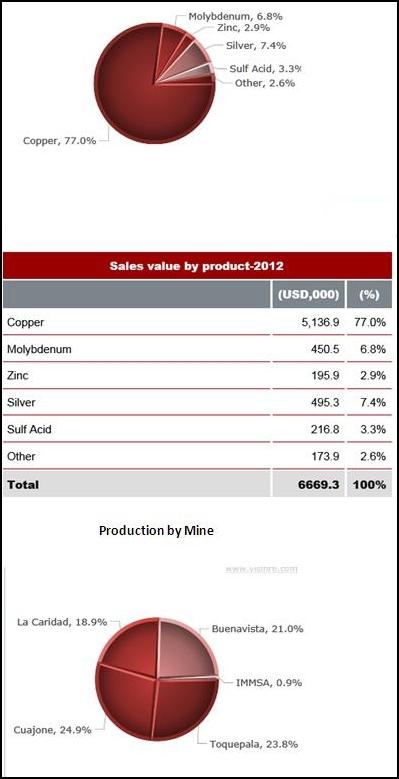 Planned Expansions
Southern Copper has ambitious plans to nearly double production in the next three years. In recent years, the volume of product has increased on an annual basis through slow organic growth which required little capex. This is an entirely different matter. About $6.0 Billion in capital expenditure will be required. This is a departure from the previous use of cash; formerly most of it went to dividends. From 2007 to 2012, the payout ratio averaged 84%.
The company recently made this statement, "Our dividend policy continues to be reviewed at our Board of Directors' meetings, taking into consideration the current intensive capital investment program and expected future cash flow generated from operations."
Finance
The company is conservatively managed with an exemplary amount of cash on hand and is without an unmanageable amount of debt. Its parent company, Grupo Mexico, has an S&P rating of BBB and Southern Copper is rated BBB+ by Fitch. As well as having other mining interests, Grupo Mexico owns the largest railroad network in Mexico and has an infrastructure and construction company. There is little doubt that they will be successful with their plans.
As one of the world's lowest cost miners, Southern Copper has been profitable, year after year, paying large dividends out of ample cash flow. Miners had a terrible year in 2012. Rio Tinto had a loss for the year and BHP Billiton lost money in the 4th quarter. Both of those firms had large asset write-downs and fired their presidents. Southern Copper did not perform as well as in the past, but did a lot better than its peers. The below is financial snapshot as of June 28, 2013.
Ownership and Management
It is important to understand that the public float of SCCO is a little less than 19% of the shares. Grupo Mexico, for all practical purposes, owns the company. Mining is the principal source of income for the company, from SCC Peru and from Minera Mexico.
A construction company and railroad companies provide additional revenue and support the mining effort. Ferromex is the largest railroad network in Mexico and it has connection with 5 US border points, four ports on the Pacific and two ports on the Gulf of Mexico. The construction business does public and private infrastructure projects, the construction of hydroelectric dams and storage, roadways, railroad and mining projects.
The roots of the business came out of the Larrea family construction business. Germán Larrea (German Larrea Mota Velasco) founded Grupo Mexico and is the Chairman of the Board of Directors, President and Chief Executive Officer. He and his family control 51% of Grupo Mexico. Forbes puts his worth at over $16 Billion, and ranks him as the 40th richest man in the world, and 3rd richest in Mexico.
The fact that Southern Copper is part of a family business is cause for concern by the minority shareholders. Are decisions in the best interests of the stockholders? Minority stockholder issues have become litigious in the past. This is a concern especially during this time of change. Will the historic high dividends continue? ISS Investor services rates the corporate governance of SCCO at 7, where 1 is the highest score and 10 is the lowest. The pillar scores are Audit: 1; Board: 10; Shareholder Rights: 1; Compensation: 7.
Analysts are not enthusiastic about the firm. The current consensus estimate is a rating of 2.8.
Risks
· The company has a history of difficult labor relations. A strike in 2008 caused a drop in revenue of over $1 Billion.
· In Both Mexico and Peru, the government owns the mineral resources. Peru has a history of intervention in the mining industry.
· A looming oversupply of copper will tend to lower prices, currently at a three-year low.
· There is no assurance that minority shareholders will get equitable treatment and little recourse if they do not.
· Environmental activists, possibly encouraged by NGOs hostile to mining, have the ability to halt projects.
One would think that there would be no objection from environmentalists or locals to the location of a mine in this desolate place. Think again.
Rewards
· Southern Copper has immense mineral resources, which assure a supply of ore for many years to come.
· Much of their expansion will come from brownfield expansion, which has a high success rate.
· Costs to produce ore and refine it will rise, but Southern Copper will remain the lowest cost major producer.
· While Mexico and Peru carry more country risk than the US, Canada, Australia or Scandinavia, it is much less than that in Mongolia, Indonesia, South Africa and the Congo where the competitors have major production. In general, the governments of Peru and Mexico are supportive of Southern Copper.
Action
This is a sound company with well-considered plans to gain significant increases in production from the resources they manage. Earnings will be negatively impacted short term because of low commodity prices. The timing of the expansion is questionable; it remains to be seen if it is brilliant or an error. Certainly, the long-term prospects for the company are very good.
This stock is not currently a good choice for the income investor. Dividend payment for the whole year ending December 31, 2013 will be telling. The dividends paid in February and May have been 0.24 and 0.20, the smallest since 2009. Dividend payments have been erratic.
I would add to a position or initiate a new position at $20/share or lower. At that price, I believe, there would be a margin of safety commensurate with the risks. Global need for copper will increase for the foreseeable future and prices should rise starting in early 2016. Southern Copper will be a beneficiary. SCCO closed at $27.62 on Friday, June 28, 2013.
Related mining articles by Bob Johnson include:
Disclosure: I am long BBL. I wrote this article myself, and it expresses my own opinions. I am not receiving compensation for it (other than from Seeking Alpha). I have no business relationship with any company whose stock is mentioned in this article.