Intel to make Atom the Core of its new Strategy
The new Intel (NASDAQ:INTC) CEO has made big changes to the company's strategy and organization structure in the last couple of months. The company has focused on launching new products for emerging computing markets such as wearable computing. The company is also placing more emphasis on mobile devices, which are rapidly cannibalizing the existing PC and laptop segments. Intel has been investing heavily in the mobile semiconductor space and has already managed a major design win with Samsung (OTC:SSNLF). However, the real test of the company will come with its launch of the new Atom architecture chips during the end of 2013. The company has upgraded the Atom architecture after 5 years and will start making the new chips on its leading-edge 22 nm node. Intel's current mobile chips suffer from both a communication disadvantage as well as a technology disadvantage. Its "Clovertrail+" chips are made on the 32 nm node as compared to Qualcomm's (NASDAQ:QCOM) top-end "Snapdragon" chips, which are made on the 28 nm node. However, all this will change as Intel starts making the new "Merrifield" and "Baytrail" chips on the 22 nm node. Intel has also developed 4G/ LTE communication chip, which it will integrate with its new mobile chips.
Intel will be a force to reckon with in mobile processors as it focuses on Atom
I have already written how Intel could revolutionize the mobile industry as it launches technologically superior chips in the next one year. These chips could have a big advantage in both performance and efficiency over the existing ARM (NASDAQ:ARMH) based chips. The mobile device industry is growing at a tremendous pace with tablets expected to grow by more than 60% and smartphones by more than 30%. In comparison, the PC and laptop market could decline by more than 10% this year. It is imperative for Intel to capture a big part of the mobile processor market as more and more money is moving from PCs to mobile devices. The new CEO also realized the importance of Intel's transition. He made a statement that from now on Intel will increase its efforts on the Atom line of chips as compared to the Core chips. The Core chips are high performance and high cost processors, which are used in laptops, PCs and servers. Intel used to concentrate on its Core line and leading-edge nodes would see only Core chips being manufactured. Intel hinted that Atom chips could be produced ahead of Core chips at leading-edge nodes from now on. The Atom line of chips never got too much love from Intel, which started the low-power, low-cost Atom chips to protect the erosion of its high-margin, high-priced Core chips from low-end chips.
However, Apple (NASDAQ:AAPL) has radically changed the market with its custom made "A" series of chips made using ARM designs. Other players such as Nvidia (NASDAQ:NVDA), Qualcomm and Mediatek too became major processor makers using ARM designs. Intel knows that it has to become a major mobile device processor player to retain its position as the world's No.1 semiconductor company. While the prices of mobile processors are much lower than PC processors, the sheer number of mobile devices being sold has made this into a large lucrative market. Intel has got tremendous semiconductor expertise and its factories make the world's best semiconductor chips. The recent statement by Intel reinforces my earlier view that Intel is going to rip apart ARM players as it uses its manufacturing edge to capture a large share of the mobile processor market. Intel's existing 32 nm chips are already competing on almost equal terms with ARM processors. As it migrates to a new architecture and 22 nm, the company should gain a lead on the competition.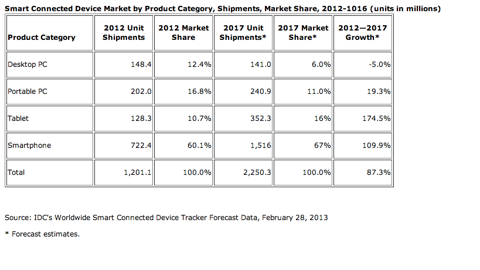 Krzanich and James said that under their leadership, Intel will give much more priority to its Atom mobile chips. In the past, Intel's most cutting-edge manufacturing resources were reserved for making powerful PC chips, with Atom chips made on older production lines."We see that Atom is now at the same importance, it's launching on the same leading edge technology, sometimes even coming before Core (Intel's line of PC chips)," said Krzanich."We are in the process of looking at all of our roadmaps and evaluating the timing of some of those products. It's fair to say there are things we would like to accelerate."… James said

Source - Reuters
Intel opens the door wider for Apple
Intel recently started a "foundry" business under which other companies can produce chips at Intel factories using their own designs. Intel has already won some customers such as FPGA vendors like Altera (OTCPK:ALRT), Microsemi (NASDAQ:MSCC) as well as networking giant Cisco (NASDAQ:CSCO). However, Intel has repeatedly said that it will not allow its fabs to be used as a foundry for rival designed chips (read ARM). Intel wants to expand this business according to the Reuters interview. The company also opened the door a bit wider for Apple to use its cutting-edge fabs. The CEO said that he would not mind allowing Intel factories to make chips using rival designs if the price was right (read Apple's massive $5-10 billion in foundry orders). Apple has recently announced that it would move its processor orders from Samsung to TSMC. Apple will start producing its next-generation "A" processors on the 20 nm planar node at TSMC in 2014. Intel is trying to lure Apple to its foundry services. Note an Apple win could increase Intel's revenues by almost 10% with an equal rise in profits.
Intel would grow its small contract chip manufacturing business, a potentially significant source of revenues. As did his predecessor, Krzanich left open the possibility of opening Intel's factories to customers making chips designed with architectures that compete against Intel's own.

Source - Reuters
Intel's CEO seems to be having second thoughts about its TV venture
Intel's CEO is also having second thoughts about its TV venture. I too have voiced grave misgivings about Intel's TV venture. It might be good for Intel to get out of this venture without wasting too much. Intel is an enterprise technology leader and it would be foolish for it to enter a new consumer technology segment in which it has little expertise. I think it's a good thing that the CEO is having doubts about this venture as it did not make much sense to me.
Stock Performance and Valuation
Intel's stock has given a good return in 2013 and it is now consolidating in the $24-25 range after climbing from its $20-22 range. The stock is still cheaper than the overall market with a forward P/E of ~ 12x. Analysts had feared the worse due to the PC shipment slowdown and the stock went up when the fears were found to be false. Intel also gives a very handsome dividend yield of ~3.5%, which makes the stock one of my favorite picks in the technology industry.
Summary
I have already written that Intel could jump two Moore generations ahead of its competitors in the next one year. This will allow the company to gain a big performance per watt lead over its competitors. The other companies might suffer as foundries such as TSMC and Global Foundries might not be able to transit to the next smaller node in reasonable time. Intel is all set to capture a big slice of the mobile processor market through its manufacturing lead in the coming year. If Intel keeps upgrading its mobile chips (as the CEO's statement implies) then it is not inconceivable that Intel might establish a quasi monopoly position in mobile devices as it has done for PCs and servers. I remain highly bullish on Intel stock given its high competitive barriers and upcoming foray into the mobile processor area.
Disclosure: I have no positions in any stocks mentioned, and no plans to initiate any positions within the next 72 hours. I wrote this article myself, and it expresses my own opinions. I am not receiving compensation for it (other than from Seeking Alpha). I have no business relationship with any company whose stock is mentioned in this article.