We have included a chart in the 'Chart of the Day' section to highlight the big moves in the cable system operators. Everyone but Comcast has moved higher because thanks to John Malone everyone but Comcast is in play to be bought out. At the center of all of this is Time Warner Cable (TWC) which either will be bought out by a smaller player or shall continue to be a consolidator in the industry. Our bet is it continues to be a consolidator, but when dealing with John Malone one never knows. He has a tendency to surprise the market.
Chart of the Day: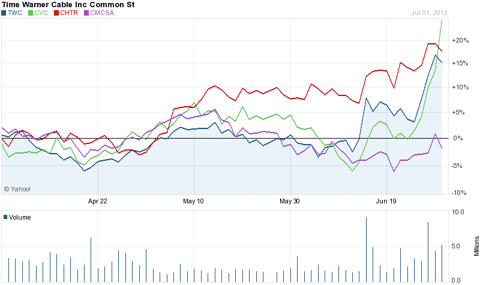 Source: Yahoo Finance.
We have economic news due out today, and it is as follows:
Factory Orders (10:00 a.m. ET): 2.0%
Auto Sales (2:00 p.m. ET): N/A
Truck Sales (2:00 p.m. ET): N/A
Asian markets finished higher today:
All Ordinaries -- up 2.57%
Shanghai Composite -- up 0.57%
Nikkei 225 -- up 1.78%
NZSE 50 -- up 0.91%
Seoul Composite -- down 0.04%
In Europe, markets are lower this morning:
CAC 40 -- down 0.50%
DAX -- down 1.05%
FTSE 100 -- down 0.38%
OSE -- down 0.01%
Technology
The big news yesterday was that the chief of Microsoft's Xbox division was leaving the company to become the new CEO at Zynga (NASDAQ:ZNGA) (see Reuters story here), a coup for Zynga as it shows that people in the industry still think that it has a future. We have been bears of Zynga for some time now and although the ride lower has been bumpy, the direction has been correct. Yes, fresh blood can sometimes turn the tide in situations such as this, but we still think that the company has already reached its peak and lost its focus. Yesterday's news was good, and the market liked it as well as it pushed shares higher by $0.29 (10.43%) to close at $3.07/share on the session, however readers still need to be cautious here and wait for signs of a turnaround. In this case it would be better to buy on the news rather than the rumor.
Insiders seem to have sold the company at the perfect time. The peak for investor demand for social media stocks and the peak of their business. We included this chart so as to show yesterday's big move being but a tiny blip in the big picture.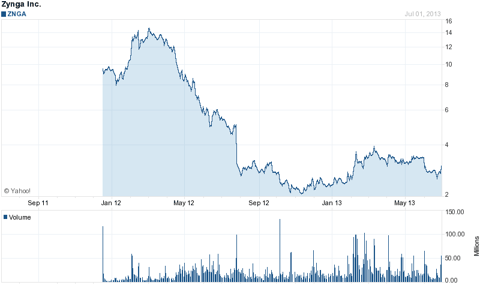 Source: Yahoo Finance.
One of the other social media stocks to have come public during that craze, Pandora (NYSE:P), has seen its performance at the opposite end of the spectrum. Lately the company has been receiving recommendations from analysts who were either bearish of the shares or simply not bullish enough over the recent bull run and this has laid the foundation for the next leg higher. Best of all, this is not a rally based on chatter and word of mouth, but improving numbers and a business model which is really coming together. Yes there are going to be some new entrants to the field, but Pandora has a major leg up on the competition and with analysts still joining the party we could see more of the same here.
Pandora shares are at fresh 52-week highs. It has been quite bullish here as the business continues to improve and the service is monetized.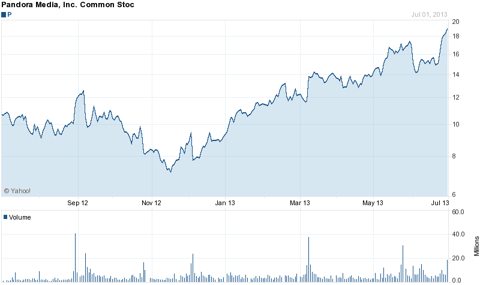 Source: Yahoo Finance
Retail
Best Buy (NYSE:BBY) shares continued their push higher yesterday after Credit Suisse upgraded the company. Shares rose $2.41 (8.82%) to close at $29.74/share on volume of just over 12 million shares on the news. This was a company on the brink that has been brought back to life and yesterday the stock hit a new 52-week high, even more impressive is that shares also traded at 2-year highs on the session. A turnaround is underway at the retailer, but we are left to wonder how much of it is due to new CEO Joly and how much is due to the improving housing market. Obviously both are playing a part in this turnaround, but we think that the improving housing market may not be getting its due here.
Manufacturing
Tesla (NASDAQ:TSLA) continues its march higher after taking a brief rest as investors booked profits. With shares now at $117.18/share the focus for momentum traders shifts to $120/share and should that level be taken out then the $130/share. This is very much like the momentum trade we pointed out in Celgene not long ago where we were able to give readers nearly a 50% profit and reach the exit at nearly the ideal time. The market has a funny way of enabling trends in stock prices and this is another one we see developing. Remember, the capital being allocated towards Tesla should not be retirement, college or emergency funds, but rather risk capital.
Disclosure: I have no positions in any stocks mentioned, and no plans to initiate any positions within the next 72 hours. I wrote this article myself, and it expresses my own opinions. I am not receiving compensation for it (other than from Seeking Alpha). I have no business relationship with any company whose stock is mentioned in this article.