Leap Wireless International (LEAP) is a digital wireless service provider in the U.S. While you might not recognize the Leap name, you probably know the Cricket name, which is what it offers service under. Much of the talk surrounding wireless service providers has been about Sprint (NYSE:S) and Clearwire (CLWR), both of which have been some of the best performers recently. I believe that Leap is a potential takeover target and represents an excellent value right now.
Rough Past
There are two types of special situations that are almost always painful for investors. One is when a company restates earnings, almost always to the downside. The other is when an expected buyout or merger falls through. Unfortunately for Leap shareholders, both of these happened to Leap during the same month in 2007. In September 2007, MetroPCS announced a merger with Leap that valued the company at $75 per share although Leap never actually considered the offer.
The most likely reason was because shares reached an all-time high of $95 a share in July of 2007. In November of 2007, however, Metro PCS withdrew the offer and then a short time later, Leap announced that it would restate earnings from 2004 to 2007. Since then, the stock has fallen on hard times, and has been trading under $10 since 2011.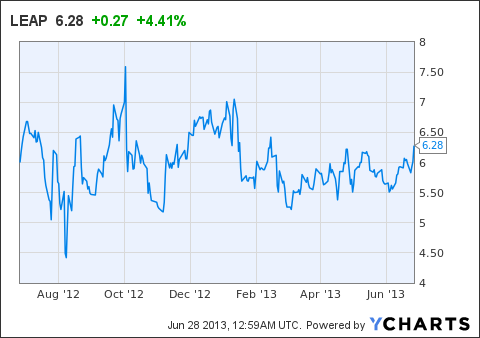 User Base, Is It Safe?
Most consumers in the prepaid and pay-as-you-go phone markets have lower incomes than average consumers. In the case of Leap, the majority of its subscribers earn less than $35,000 annually. This is a negative in the sense that it weakens pricing power. Although, Leap users do average 1,450 minutes per month which is significantly higher than the average of 800 minutes per month. The company's user base is also significantly younger. This is something of a double-edged sword for the company because although this market is faster growing, it does have a much higher churn rate.
While its user base target is growing, Leap is losing subscribers, something you really don't want to see.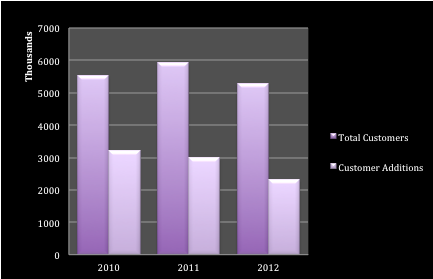 As you can see, its total users measured at the end of period has declined from 2011 while it has also been adding less and less users since 2010. This suggests to me that the company is seeing users leave the company and is also becoming less able to attract users to its brands. Combine this with the cash cost per user going up, and the user picture doesn't look as great for Leap.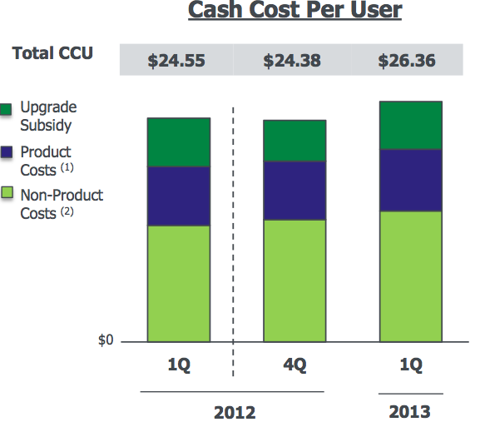 Leap, however, has been generating more revenues per customer. This has been driven by a reduction in PAYGo users and better churn performance in the core wireless segment.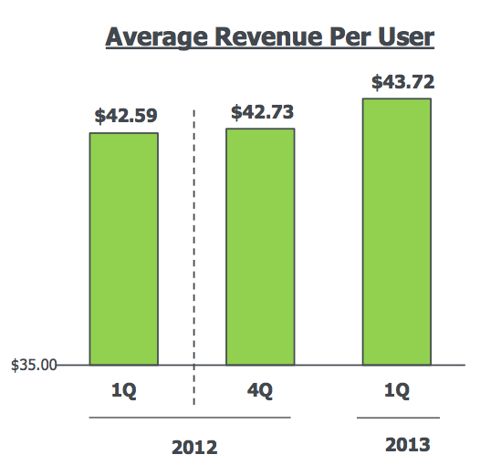 Spectrum and Assets
In the worst case scenario of a bankruptcy or liquidation (Leap filed for bankruptcy in 2004) it would still have value. Its spectrum, network assets, and customers are worth around $5 billion, yet the stock has an enterprise value of $3.1 billion. Its market cap is even less than the cash it has in the bank, with a current market cap of $496 million and $667 million cash in the bank.

Here are the rest of its assets which pertain more to its wireless services business.

There is usually a reason a company is a deep value. In this case, the management has made a series of mistakes. While others in its field were merging all over the place, Leap had refused to do so. This, combined with weakening fundamentals - which I will discuss below - has driven the share price lower.
Weak Fundamentals
Margins have been weakening recently, with gross quarterly profit margins in a steady fall since 2009.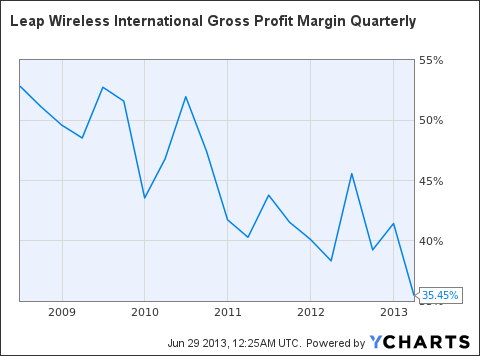 LEAP Gross Profit Margin Quarterly data by YCharts
As I talked about earlier, the management hasn't been great. Leap trails the industry averages in traditional measures of management's performance and has especially performed poorly compared to MetroPCS.

Is It A Buy Now?
Things can change pretty quickly in this sector. You don't need to look further than the bidding war going on over Clearwire. Now that Dish (NASDAQ:DISH) pulled its offer for Clearwire, I think that it could be looking for other targets. T-Mobile (NASDAQ:TMUS) is one potential target but I believe Leap could be another potential target. Since much time has passed since management scared off suitors by refusing to consider the MetroPCS offer, those suitors could begin returning, especially given the recent consolidation in the sector. Even without a takeover, I believe that there is decent growth potential with Leap.
Disclosure: I have no positions in any stocks mentioned, and no plans to initiate any positions within the next 72 hours. I wrote this article myself, and it expresses my own opinions. I am not receiving compensation for it (other than from Seeking Alpha). I have no business relationship with any company whose stock is mentioned in this article.