If currency markets are a leading indicator for risk taking in world financial markets then we had a significant confirmation of the risk seeking "mood" of the market on Friday with the USD Index breaking to a multi-week low (closing below 78.50).
In support of a breakdown in the USD Index has been the behaviour of emerging market currencies. As a whole, emerging market currencies (using the ETF CEW as a proxy of an emerging market currency index) broke to another multi-week high against the USD on Friday.
We believe that the behaviour of emerging market currencies is very significant. This is due to emerging market currencies sensitivity to capital flows and their relative illiquidity. Flight to risk aversion more often than not shows up first in emerging market currencies before being felt in equity markets. It seems that the risk seeking mood of the market is a lot broader than just a weak USD. The high yield "proxy" ETF DBV also broke to a multi-week high on Friday.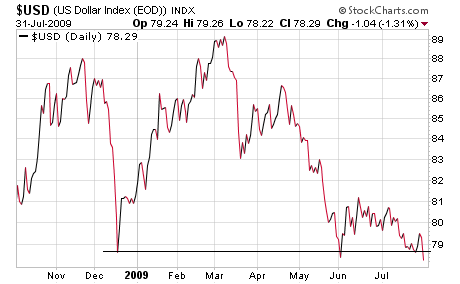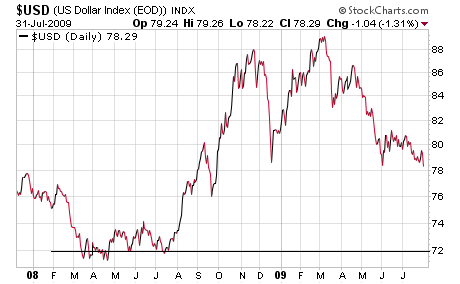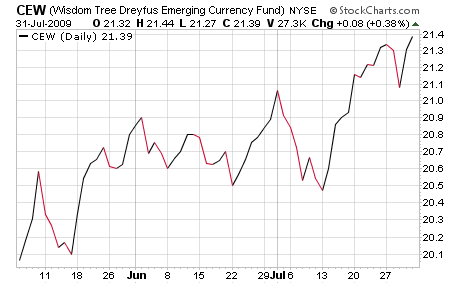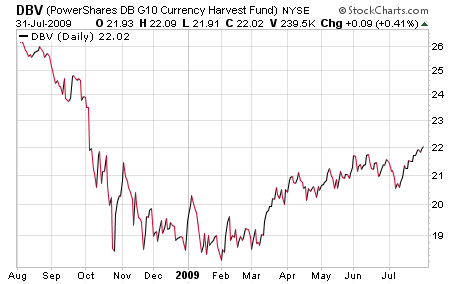 Yes it seems that world currency markets are hell bent on repairing the damage done last year, and we would not be surprised to see all the gains made in the USD and JPY in 2008 reversed in entirety by the end of this year. That transpires to the AUD and Canadian reaching parity against the USD, the USD Index trading below 72, the Cable trading at 2, and of course the list goes on.
This anticipated behaviour has very bullish ramifications for commodities, corporate bonds, and equities, and very bearish implications for US Treasuries.