Despite its multi-year run higher, Bank of America (NYSE:BAC) is still a casualty of the 2008 financial crisis. Of the top five U.S. banks by assets, Bank of America has the second-worst equity performance over the past five years - second to Citigroup (NYSE:C). During this time, BAC has shed nearly 48 percent, compared with declines of 72 percent in Citigroup and 13 percent at Goldman Sachs (NYSE:GS). Conversely, J.P. Morgan (NYSE:JPM) has gained 51 percent since mid-2008, while Wells Fargo (NYSE:WFC) is higher by 72 percent.
Of course, that is not surprising - as BofA and Citi were the worst hit in the financial crisis. And, BofA's decision - whether coerced or not - to buy Countrywide Financial has prevented the stock from recovering as substantially. This is also potentially why, year-to-date, Bank of America has underperformed its colleagues - rising by less than 11 percent compared with more than 20 percent gains in the other top banks. On Friday, Bank of America closed at $12.86, $1 below its 52-week high at $13.99, but still well above its 52-week low at $6.90.
1. Valuation
Bank of America is undervalued relative to its major competitors on a price-to-book basis.
Below is a chart of key statistics for each of the major five banks in the order that I would consider important. First, is the price to book. Because earnings for banks can be particularly volatile, I prefer looking at the price-to-book value first.
| | | | | | |
| --- | --- | --- | --- | --- | --- |
| | BAC | JPM | C | GS | WFC |
| Price/Book | 0.64 | 1.01 | 0.77 | 1.02 | 1.46 |
| PEG | 0.57 | 1.42 | 0.70 | 1.63 | 1.52 |
| Forward P/E | 9.82 | 8.97 | 9.03 | 10.05 | 10.70 |
| Trailing P/E | 40.19 | 9.54 | 18.04 | 10.59 | 11.86 |
BofA has a price/book of 0.64, below Citi's 0.77 and well below J.P. Morgan, Goldman Sachs and Well's Fargo, which are all above 1. With a book value per share of $20.19, BAC would gain 57 percent before it reached the same valuation. Citi, on the other hand, would only gain 27 percent to reach a price/book of 1.
Additionally, while the price-to-earnings growth - PEG - ratio might better value equities with less volatile earnings, it does demonstrate why BAC is overvalued relative to its Trailing P/E but fairly valued with its Forward P/E. To put it simply, it's all about the earnings growth.
$5.20 (December 2011) to $13.99 fibo gain.
2. Capital is Safe, Deposits are Growing… Dividend Increase is Coming
Business at Bank of America is getting better. Over the past year, the company has grown deposits and cut its non-performing loans to better position itself. With capital sured up, it is now well positioned to further grow its book value.
Bank of America has over $1 trillion in deposits, which ultimately provides a robust base for revenue and profit growth. At present, BofA has a loan-to-deposit ratio of nearly 80 percent, with non-performing loans accounting for 2.53 percent. That figure is still high, but the company was able to lower this number by 17.8 percent year-over-year.
The better capital position will ultimately mean that BAC can return capital to shareholders in the form of a higher dividend. Currently, as a result of its poor performance in the financial crisis, the stock yields a paltry 0.3 percent. JPM and WFC yield around 2.86 percent and Goldman yields 1.3 percent. Moving to a 3 percent dividend would be a notable increase - from $0.04 annually to $0.40. And, since the dividend increase would need approval from regulators, such an increase would be tacit approval of the bank's future.
3. Countrywide Financial Still Overhangs
Despite doing its best work, Bank of America has not been able to move past the complete blunder that was the acquisition of Countrywide Financial. The company has proposed an $8.5 billion settlement with mortgage investors, including AIG. Just last month, BofA Chief Risk Officer Terrence Laughlin noted that if the settlement is not approved, BofA might push Countrywide into bankruptcy.
But, AIG is the only major objector to the settlement deal. In May, BofA convinced insurer MBIA to drop its opposition, while Bank of NY Mellon, BlackRock and PIMCO also support the deal.
The looming Countrywide Financial settlement is the predominant reason that BAC shares lag - but investors just want certainty. Early last month, when the matter returned to court, the judge had to temporarily halt proceedings as a result of scheduling conflicts. Last week, Reuters reported that Bank of America rejected AIG's offer to resettle.
This case, which was initially "settled" in 2011, has weighed on BAC ever since. And, with good reason.
Looking at the possible outcomes, it seems likely that the current deal will either be accepted or slightly altered, which may result in additional losses. However, ultimately, the certainty that comes with that decision will benefit BAC - eliminating some of the looming Countrywide hangover.
Conclusion
Since its recent lows in December 2011, Bank of America has had strong trend-line support, as well as support from the 100-day moving average. These should provide targets for where to buy into a full position.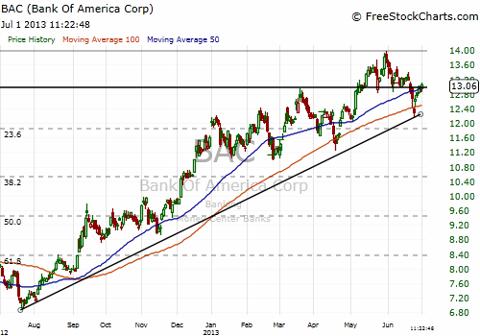 As a long-term buy, I expect Bank of America to return to a price-to-book ratio that is in line with its industry. That could send the stock higher by more than 50 percent in the coming years. I would recommend working into a position by buying 25 percent of the overall stake around current levels, and continue to build that position as prices fluctuate - buying more when prices dip to the 100-day moving average.
Disclosure: I have no positions in any stocks mentioned, and no plans to initiate any positions within the next 72 hours. I wrote this article myself, and it expresses my own opinions. I am not receiving compensation for it (other than from Seeking Alpha). I have no business relationship with any company whose stock is mentioned in this article.