Amgen's (NASDAQ:AMGN) proposal to acquire Onyx Pharmaceuticals (NASDAQ:ONXX) sent the stock to $130 on July 1, 2013. Since Onyx rejected the offer and started soliciting potential suitors for the company, we decided to perform an analysis on ONXX in a three-part report to determine how much the company is worth. In Part 1, we reviewed Onyx's business model, its key products, and risk factors associated with the company. In Part 2, we will review Onyx's various partnership agreements and present a five-year projection for its total revenues. Onyx's revenues come from three sources: Kyprolis sales by the company itself, Nexavar revenues from collaboration with Bayer (OTCPK:BAYZF), and royalty revenues from net sales of Stivarga co-developed with Bayer. We estimate that total revenues for Onyx will be $409M (2013), $553B (2014), $766M (2015), $995M (2016), and $1.4B (2017). These revenue numbers will be used for a stock valuation in Part 3.
Nexavar (sorafenib)
Nexavar was co-developed with Bayer and was approved for the treatment of the treatment of renal cell carcinoma in 2005-06 and for hepatocellular carcinoma in 2007. Onyx shares 50% net profits from the sales of the drug. In 2012, net sales of Nexavar reached $820M (excluding Japan) while Onyx recorded revenues from collaboration of $288M (as per the ONXX 10-K for 2012). This revenue stream has been stable for the past three years. This translates to ~33.35% of net sales. We will use this ratio for revenue projection.
Onyx and Bayer are conducting several Phase III trials to evaluate the usage of Nexavar in adjuvant or combination therapies for advanced liver cancer and kidney cancer patients. These trials will add incremental revenues to Nexavar sales.
More importantly, both companies are conducting clinical trials to expand the market for Nexavar in thyroid cancer and breast cancer areas. In January 2013, Onyx and Bayer announced top-line results from the DECISION trial in patients with locally advanced or metastatic radioactive iodine (RAI)-refractory differentiated thyroid cancer. The study met its primary endpoint of improving progression-free survival. Full results are expected to be presented at an upcoming medical meeting. The companies anticipate that this data will form the basis for regulatory submission of Nexavar in the treatment of metastatic thyroid cancer.
The companies are also conducting a Phase III trial to evaluate Nexavar in combination with capecitabine for the treatment of patients with locally advanced or metastatic HER2-negative breast cancer. The primary endpoint of the study is progression-free survival. Results of this trial may become available in 2014. They also initiated several Phase II trials on Nexavar alone or in combination with other drugs as potential front-line or second-line treatments for breast cancers.
With the progress of these clinical trials, we estimate that Nexavar sales may increase more significantly after 2014. As mentioned earlier, Bayer and Onyx shares 50% net profits from Nexavar sales. In 2012, Onyx recorded the revenues from collaboration of $288M, or ~33.35% of Nexavar net sales reported by Bayer. Going forward, we estimate that the sales for Nexavar will be $950M (2013) to $1.38B (2017). These translate into about $316M (2013) to $462M (2017) revenues from collaboration for ONXX.
Click to enlarge images.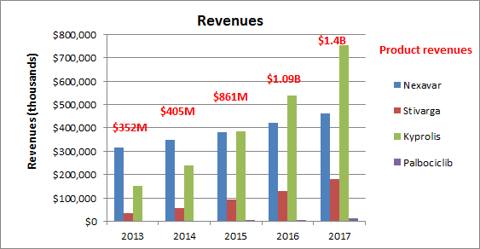 Stivarga (regorafenib)
Stivarga is a Bayer compound, and Bayer is responsible, at its sole cost and expense, for the development of Stivarga worldwide. Through the partnerhip agreement, Onyx will receive 20% of global net sales as royalty revenues. Stivarga was approved for metastatic colorectal carcinoma in September 2012 and for the treatment of metastatic unresectable gastrointestinal stromal tumors (GIST) in February 2013 in the U.S. Bayer will continue filing for regulatory approvals in Japan, EU, and other countries.
As part of a broad development program, Bayer has communicated plans to initiate two Phase III trials in 2013, in second-line hepatocellular carcinoma (HCC) and in CRC following resection of liver metastases (as per the ONXX 10-K for 2012). Onyx received $19M in royalties from Bayer on Stivarga sales from September 2012 to March 2013, indicating the sales of $95M over the half-year period. With the expansion of this drug into global markets and new indications, we estimate that Stivarga sales will be $180M (2013) to $900M (2017). These translate into about $36M (2013) to $180M (2017) royalty revenues from Stivarga for ONXX.
Kyprolis (carfilzomib)
Kyprolis is a proteasome inhibitor, which was approved in the United States as a third-line treatment for relapse and refractory patients with multiple myeloma. Onyx is executing a broad global clinical development plan for Kyprolis across lines of treatment for multiple myeloma. These include several Phase III clinical trials (CLARION, ASPIRE, ENDEAVOR, FOCUS) evaluating Kyprosis as front-line and second line of treatment in multiple myeloma. The interim results may be reported in the second half of 2013 and beyond, thus we can expect these events as potential catalysts for ONXX stock movement.
Multiple myeloma is the second most common hematologic cancer and results from an abnormality of plasma cells, usually in the bone marrow. It has a total market size of $10B ($2.3B for third-line drugs). Therefore, it is important that Onyx fully maximizes Kyprolis' market potential across lines of treatment either as monotherapy or in combination with other agents. Kyprolis product sales were $64M for a six-month period after its approval in July 2012. We estimate that sales will be $150M (2013), $240M (2014), $384M (2015), $538M (2016), and $752M (2017).
As mentioned earlier, Kyprolis was acquired through the acquisition of Proteolix Inc in 2009. Onyx paid a total $396M for the Proteolix acquisition and milestone payments between 2009 and 2012. Under the Merger Agreement, Onyx may be required to pay up to an additional $365.0 million in up to three earn-out payments upon the achievement of certain regulatory approvals for Kyprolis in the U.S. and Europe within pre-specified time frames (between 2013 and 2016). Using a straight-line average, we estimate that the milestone payments (cash outflows) will be about $92M per year from 2013 to 2016. We will incorporate the potential cash outflows into our financial projection in Part 3.
Palbociclib
Palbociclib is a CDK4/6 kinase inhibitor that is currently under development by Pfizer (NYSE:PFE). Pfizer initiated a Phase III clinical trial on breast cancer. The preliminary data looked promising and the drug has received FDA breakthrough designation, which suggest an expedited path for approval if data are superior. Onyx received two milestone payments (total $4.5M) related to Palcociclib thus far. Onyx could receive additional up to $11.5M in milestone payment, if Palbociclib is approved by the FDA in the future. Then, Onyx will be entitled to 8% royalty of net sales from this drug. We estimate that the royalty payments will contribute $3.2M (2013) to $11.5M (2017) for ONXX, based on revenues of $50M in 2013 and 8% royalty rate.
Projection of Total Revenues
Adding together the product revenues from Kyprolis, royalty revenues from Stivarga, and revenue from the collaboration for Nexavar, we estimate that total revenues for ONXX will be $409M (2013), $553B (2014), $766M (2015), $995M (2016), and $1.4B (2017). These revenue numbers will be used for a stock valuation in Part 3.
Disclosure: I am long ONXX, AMGN. I wrote this article myself, and it expresses my own opinions. I am not receiving compensation for it (other than from Seeking Alpha). I have no business relationship with any company whose stock is mentioned in this article.