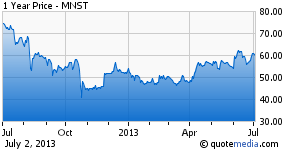 Something doesn't quite add up if you are shorting shares of Monster Beverage Corporation (NASDAQ:MNST). In spite of the company missing analysts' projections on the top and bottom line in Q1 2013 and the bottom line in each of the last three quarters respectively, the stock has actually responded rather positively in the face of such poor results and poor consumer sentiment. So let's take a look at some of those Q1 2013 results before we move forward.
The company continued to make progress in the first quarter and achieved record first quarter gross sales up 7.3% to $555 million, with net sales up 6.5% to $484.2 million. Operating income was down 15% to $107.3 million. Diluted earnings per share decreased 10.4% from $0.41 per share in the first quarter of 2012 to $0.37 per share in the first quarter of 2013.
Gross profit margins achieved in the first quarter of 2013 were 52.1% versus 53.1% in the comparable quarter in 2012, but higher than the gross profit margin achieved in the fourth quarter of 2012 of 51.7%. So what caused the YOY decrease in gross profit margins again? Let's take a closer look:
Geographic mix.
Increase in raw material costs.
Exchange rate especially that including the Japanese Yen.
Excess freight charges due to cessation of production at Texas plant.
Increase in selling expenses primarily attributed to increased social media and Internet marketing costs, premiums, sponsorships and point of sale.
Damages mostly attributable to sales in Japan and Korea.
But costs didn't just increase in these areas, which affected gross profit margins as general and administrative expenses seem to be ever increasing for Monster. The increase in general and administrative expenses was primarily attributable to increased payroll expenses and, in particular, increased professional service costs for legal, accounting and other professional costs. These costs, net of insurance reimbursements, were $4.9 million higher than in the comparable quarter of 2012. Additionally, travel costs were substantially higher in the first quarter than in the comparable quarter last year. Naturally, travel costs were considerably higher as the company continues to fight litigation while it continues to expand its market reach.
Now let's take a look at why the company has been witnessing weaker than anticipated results. In the first quarter of 2013, the beverage market continued to experience softness in general. In particular, the carbonated soft drink market remains weak and getting weaker each and every quarter. Most recently, a report released by Beverage Digest noted a 7.7% decrease in CSD volume in the U.S. during the first half of the second quarter. CEOs for the major CSD providers have all noted the weakness in the CSD market in their recent quarterly updates and Rodney Sacks, CEO of Monster Beverage, noted the very same issue plagued the company during Q1. During the Q1 2013 conference call with analysts and investors, Sacks stated the following:
"The softness in the energy drink market that I alluded to in my previous conference call on February 27, 2013 continued through the first quarter of 2013, we believe, partially due to the ongoing negative publicity that continues to appear in the media, questioning the safety of energy drinks and suggesting limitations on their ingredients, including caffeine and/or the levels thereof and/or minimum age restrictions for consumers. In some of our international markets, the energy drink category also appears to have slowed in the quarter."
Taxation is another factor hurting the CSD market and energy drinks are included in this market category. France brought in a duty of 6p a liter on all drinks with added sugar or artificial sweeteners a year ago. The tax rises to 40p a liter on energy drinks. Great Britain is also expected to evoke a new tax on sugar-sweetened drinks in the near future. Governments around the world are all pushing for some type of sugar sweetened tax that will stem the tide of childhood obesity which is the latest epidemic plaguing both the U.S. and Great Britain alike. What does this mean for Monster Beverage Corporation? Well, if the company's products fall under the umbrella of such a tax like it does in France, Hungary, Mexico, Belgium and Finland, the company essentially has to raise its prices for goods sold which usually results in lower sales volumes. We're not sure how much the latest U.S. federal rules will have on Monster, but it surely can't be good for market share gains. New federal rules will limit the amount of fat, salt, and sugar in school lunches. Vending machines will be limited to 200 calories per item and 12-ounce drinks cannot exceed 60 calories, which will cut out many products from soda companies.
The energy drink sector is still popular in spite of the current headwinds facing the sector. Competition is ever increasing and Red Bull's recent flavor additions have served to impact sales of Monster Energy drinks. Competition as a variable of Monster's business will likely serve to increase for years to come.
There's no quit in Monster as it struggles to overcome a litany of problems it has been faced with over the last 5 quarters. Call it growing pains if you will, but these are extraordinary growing pains. In spite of the scrutiny surrounding both CSD and energy drinks, the company is continuing to expand its global presence. MNST launched Monster Energy in Romania and Albania in April 2013 and is planning to commence sales in India shortly. Additionally, the company is planning to launch Monster in additional countries in Central and Eastern Europe later this year.
As the company continues to grow regionally, it also launches new products periodically. In the most recent quarter, the company has launched several new products. In March, the company launched a new Monster Ultra Blue line extension, as well as a Kona Cappuccino line extension to the Java Monster line. The company launched a new line of 3 energy shakes called Muscle Monster that contain 25 grams of protein in 15-ounce cans, as well as the new Tea + Pink Lemonade + Energy Monster Rehab line extension. Additionally, the company launched Monster mini take-home 12 packs, containing 8-ounce cans, as well as Peace Tea take-home 12 packs containing 8.4-ounce cans. Some of these new product launches that investors would otherwise see as a net positive for Monster's business have actually come at the expense of the company's existing business. Rodney Sacks noted during the Q1 2013 conference call that the new Monster Ultra line was cannibalizing its existing line. What is clearly being indicated by these results is that the variation of products being developed by Monster is less than that of which consumers are demanding. However, the new line of Muscle Monster protein drinks is selling quite rapidly in its newly engaged product category. Capital Ladder Advisory Group has collected numerous channel sales indicating sharp sell-out rates for the new line of protein shakes. Of the three flavored shakes, the Vanilla flavored protein shake is currently selling the fastest with retailers indicating they have the product on back order with Monster. With this new product line, the company may have found a new winner on its hand and a way to diversify its product line.
We would caution investors with emphasizing the importance of Nielsen data at this time. Logically, it matters little that Monster continues to see market share gains in an otherwise declining market. Sure, it is great to see Monster leading the pack of energy drink providers, but they are all seeing sales volumes decrease as consumers seek alternative beverage products, thus, we will not be emphasizing the Nielsen data for near-term analysis.
So now that we have taken a look back at Q1 2013 results and understand the obstacles, which litter the landscape of the energy drink category for Monster Beverage, we still have to recognize that shares of MNST have fared reasonably well, albeit with the help of a very strong market. One thing is for certain, the consistent share repurchase program has definitively helped to maintain the strength of MNST shares. During the 2013 first quarter, the company purchased an additional 0.3 million shares of its stock at an average purchase price of $51.99 per share, which exhausted the availability under the then current repurchase plan. Subsequent to quarter end, the Board of Directors approved a new repurchase plan of $200 million. The company has not repurchased any of its shares pursuant to the April 2013 repurchase plan. The problem with artificially stimulating your share price through buybacks comes when free cash flow begins to slow and the balance sheet starts showing less and less cash on hand. Monster has been able to sustain a reasonable share price despite its serial quarterly disappointments in part because of its share repurchase program, but investors will need to see greater sales performance and operational success for future share price appreciation.
Disclosure: I have no positions in any stocks mentioned, and no plans to initiate any positions within the next 72 hours. I wrote this article myself, and it expresses my own opinions. I am not receiving compensation for it (other than from Seeking Alpha). I have no business relationship with any company whose stock is mentioned in this article.