Wright Medical Group, Inc. (NASDAQ:WMGI) is a global orthopedic medical device company that designs, manufactures, and markets devices and biologics for extremity reconstruction. After barely squeaking past 2012 with a 1% profit margin, the company has made some bold moves to highlight its strengths and sell off its weaknesses.
During FY 2012, every segment of Wright's revenues fell, with the exception of foot and ankle products. The OrthoRecon segment includes knee and hip replacement products. The company's overall revenue fell 5.7%. If you remove the OrthoCon segment loss, the company would have recorded a 6.5% increase in revenues for 2012.
| | | | |
| --- | --- | --- | --- |
|   | 2012 | 2011 | % Change |
| OrthoRecon: knee, hip and other | $269.7M | $302.2M | (10.8)% |
| Upper Extremity | $25.0M | $27.7M | (10.0)% |
| Biologics | $60.5M | $69.4M | (21.8)% |
| Other | $5.7M | $5.9M | (2.2)% |
| Foot and ankle | $122.9M | $107.7M | 14.1% |
| Total sales | $483.8M | $512.9M | (5.7)% |
Trimming the fat
On June 19, 2013, Wright announced the sale of OrthoRecon to China's MicroPort Medical (OTCPK:MCRPF). I don't think any shareholders will bemoan the amputation of OrthoRecon, but I doubt they're happy with the price it fetched. The Shanghai based company picked it up for just $290 million, or about 1.08 times 2012 sales.
Much louder than complaints from Wright shareholders over OrthoRecon's sale price will be US based competitors. MicroPort Medical will maintain the business' headquarters in Arlington, Tennessee. Analysts are already expressing concerns over the Chinese flooding the US market with cheap replacement products through an OrthoRecon portal.
Doubling down on feet and ankles
Augment Bone Graft is an injectable formulation of recombinant platelet-derived growth factor [rhPDGF] in a collagen matrix. The biologic is currently marketed in Australia, New Zealand and Canada. Augment is used to aid healing of fusion surgeries involving the foot and ankle, Wright's only growing segment.
On March 1, 2013, Wright completed the purchase of Augment's owner, BioMimetic Therapeutics (NASDAQ:BMTI). For each share held, BioMimetic shareholders received $1.50 in cash, 0.2482 shares of Wright, and a Contingent Value Right [CVR]. The CVRs effectively shifted a portion of Augment's FDA approval risk to BioMimetic shareholders. If the US regulator approves Augment Bone Graft, and other milestones, the CVRs could be worth up to $6.50 each. On March 4, 2013, the Nasdaq exchange listed the CVRs for trading under the symbol (NASDAQ:WMGIZ).
A rough start for bone growth biologics
In June 2011, the Spine Journal published some tough words regarding Medtronic's (NYSE:MDT) biologic bone growth promoter, Infuse. Investigators not receiving any form of payments from Medtronic, claimed that the clinical studies leading to the FDA's approval of Infuse conveniently omitted data that suggested it's use exposed patients to a higher risk of complications, including male sterility.
On June 18, 2013, the results from a pair of independent reviews were finally published. The independent researchers challenged the efficacy of Infusion's bone growth promoter, called recombinant human bone morphogenetic protein 2. They claimed it was no more effective for spinal fusion than standard bone grafts. The criticism didn't stop at efficacy, the independent researchers also contradicted the product's existing risk profile. Both teams found the product slightly increased patients risk of cancer.
Augment is not your father's "recombinant human bone morphogenetic protein 2"
For Wright investors the important takeaway here is that the FDA approved Infusion, a biologic bone graft, in 2002, based on clinical data that, perhaps, overstated efficacy and understated risks. It is not about to make the same mistake twice, even if has to force all biologic bone graft applications to jump through extra hoops. Augment may be based on pure recombinant human platelet-derived growth factor [rhPDGF-BB], a completely different compound than Infuse, but it will certainly be subjected to extra scrutiny.
Submit, wait, respond, wait
In January 2012, BioMimetic received a Pre-Market Approval [PMA] response letter from the FDA. The the regulator's independent advisory panel voted in favor of Augment Bone Graft for use as an alternative to autograft in hindfoot and ankle fusion procedures [PDF]. Nevertheless, the FDA sent the steak back to the kitchen. The regulator basically wants reams of data on the issues it embarrassingly missed when it approved Medtronic's Infuse.
In July 2012, BioMimetic submitted an amended PMA that hopefully responded to all of the FDA's requests for additional information. BioMimetic, and now Wright, expect a regulatory decision between now and January 2014. During Wright's Q1 2013 earnings call, CEO, Robert Palmisano, insisted that the company is "regular contact" with the FDA, and the regulator hasn't asked for any additional information.
What it's worth
If Augment Bone Graft wins approval for use in foot reconstructions, i think we can expect a slew of applications for new indications. In January 2013, Biomimetic initiated a second Phase 2 clinical trial for Augment. This new trial is aimed at tennis elbow instead of foot and ankle reconstructions.
EvaluatePharma estimates sales of Augment will begin at $17 million in 2014 and reach $245 million by 2018. In 2012, the extremities segment -- now the only segment -- recorded sales of $214.1 million. Wright provided full year revenue guidance of between $235 and $240 million for the extremities segment.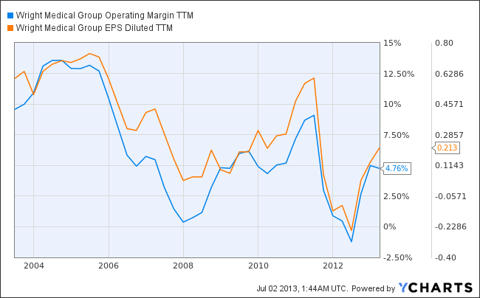 Wright's margins have been sliding over the past decade and since 2007 have flirted with negative territory. The cleaving of the lackluster OrthoRecon segment, coupled with the possible addition of Augment sales should be enough to boost Wright's overall profit margin to a steady 8%, possibly higher.
Conclusion
In a conservative scenario, Augment, if approved, could pull in the estimated $245 million and all other sales could reach $250 million during 2018. At an 8% profit margin, net income would be 39.6 million in 2018. If average outstanding shares stays at 42.14 million that's an EPS of about $0.94.
At the recent price of $26.99 Wright looks awfully expensive, and that's assuming Augment wins approval. There's a lot of optimism baked into Wright's share price. If I were already holding shares, I wouldn't let go of them, but I wouldn't recommend starting, or adding to, a long position at its recent price either.
Disclosure: I have no positions in any stocks mentioned, and no plans to initiate any positions within the next 72 hours. I wrote this article myself, and it expresses my own opinions. I am not receiving compensation for it (other than from Seeking Alpha). I have no business relationship with any company whose stock is mentioned in this article.