Soligenix (SNGX.OB) is an up and coming biotech company with a large pipeline focusing on bio-therapeutic pharmaceuticals as well as bioterrorist/bio-warfare vaccines and treatments. In my last article on Soligenix we took a look at the company's current product pipeline and near-term catalysts. Since then SNGX has been picked up by Zack's Investment research and issued a "Buy" with a $4.50 price target over the next 1-3 months. As well the company has secured a new $7.1M in capital and is continuing to push full force ahead into new 2013/2014 catalysts. In this article we will take a look at the current upcoming trial milestones, partnerships and insider activity, which could be signaling investors to take a better look at this emerging biotech.
Insider Buying + Stellar Management
In SNGX's recent 6/21/13 capital raise, what was of particular interest were the individuals who participated in the stock offering. The first person of interest in the offering was pharmaceutical billionaire entrepreneur R.J. Kirk. Mr. Kirk, who made his initial $2.4B fortune by selling his prior companies to Shire (SHPG) and Forest Laboratories (FRX), has a phenomenal track record for building and selling biotech companies at billion dollar valuations. What may wind up becoming Mr. Kirk's biggest win yet is his newest company Intrexon (www.dna.com) which has established a worldwide collaboration with SNGX for the company's drug addressing Melioidosis. Melioidosis, which is listed as a top 5 high-priority threat in the HHS2012 public health emergency medical countermeasures enterprise (PHEMCE) strategic plan is of particular interest to the governments of China, Thailand, India and Australia. That being the case I see a good possibility that at least one of these governments could likely initiate a contract with SNGX in the near-term future.
The second point of interest in the stock offering was inclusion of certain members of the company's management and board. Being that SNGX's management brings experience from companies such as Merck (MRK), Bristol-Myers Squibb (BMY), GE Healthcare (GE), Wyeth Ayerst and more, I see these individuals as having expert knowledge on whether or not to invest in an up and coming pharmaceutical biotech/company. As well as management, on the board of directors for SNGX is also the Chief Medical Officer of Celgene (CELG), Dr. Jerome Zeldis. Whether or not Celgene is looking at SNGX as a potential takeover target cannot be known for sure, but we can gather that SNGX is certainly on Celgene's radar now. With such a strong background of individuals leading SNGX on its course, I am only further convinced that the company is poised to see great success in its future.
Cash
In terms of SNGX's future funding I see a high likelihood that the company has sufficient cash to make it to 2015 based on the following:
Recent $7.1M capital raise
No debt
Possibility of multi-million dollar BARDA contract before year-end
Past track record receiving multi-million dollar grants from NIH and FDA
Actively pursuing multiple multi-million dollar contracts currently
Market Potentials
In looking at SNGX's current pipeline the worldwide market valuations can be viewed on the graph below. In total the company is addressing a $2.27B+ total market not including the company's therapy for Melioidosis. Considering that the company will have a significant degree of potential marketing and taxation advantages resulting from the numerous orphan drug designation awards, a high earnings per share income could be inferred for the future if its therapies continue to advance to market.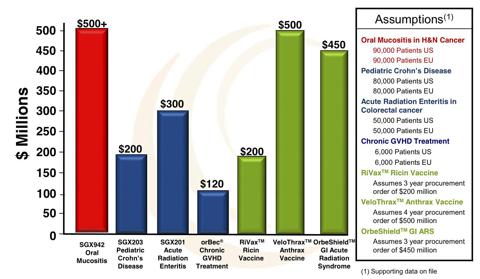 Upcoming Catalysts
For the remainder of 2013 numerous catalysts are currently in store for SNGX. Investors can expect a decision regarding the company's BARDA funding application for Orbishield™ (likely prior to the summer's end). It appears that numerous advantages exist for Orbishield™ including being in pill form rather than injectable, not needing refrigeration (due to utilizing SNGX's Thermostability platform) and having prior shown efficacy and safety as an active ingredient in animal studies. Following the contract decision, in the later half of the year we can expect the start of Phase II trials for SNGX's Oral Mucositis, the start for Pediatric Crohn's Phase II/III trials and the start of Phase II cGVHD trials. Between SNGX's large pipeline of pharmaceuticals and biodefense candidates coupled with the overwhelming amount of orphan and fast track designations received, I see SNGX as a highly diversified biotech with a great chance of success in the future.
Disclosure: I am long SNGX. I wrote this article myself, and it expresses my own opinions. I am not receiving compensation for it (other than from Seeking Alpha). I have no business relationship with any company whose stock is mentioned in this article.