Below you will find three charts: Brent oil, WTI crude oil and the Brent/WTI spread. Both contracts are 1,000 barrel contracts so when calculating a profit or loss on this spread every $1 move is a gain/loss of $1,000. As always trading one commodity against another should be viewed as two separate transactions and though the margins are decreased on a recognizable spread the risk is no lees and in some instances it can be a more aggressive strategy. As traders we can be wrong on both legs of this spread. I will leave that debate for another one or my pieces.
August Brent oil: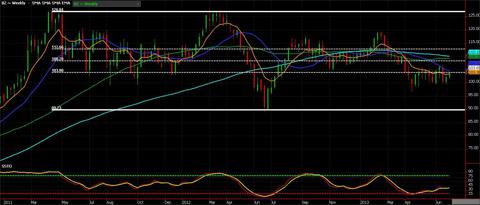 Brent has been sideways for the last 2 months, trading around the $103 level and not wandering too far off its 8 day MA (orange line). It would appear that trade above that pivot point and the 18 day MA (dark blue line) could get Brent moving in an upward trajectory. The reason why I like bullish exposure in Brent is the recent shift in sentiment. In a survey last week we experienced the most dramatic cut since June 2012 with speculators slashing their exposure dramatically. This cut in length countered a trend of increasing optimism that had been present since April.
August WTI crude oil: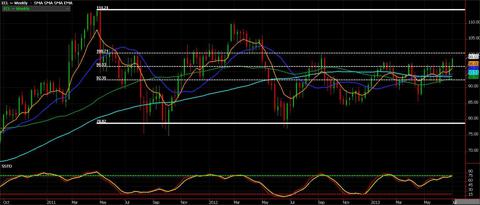 The $100 level that has acted like a floor in Brent has acted as ceiling in WTI. Crude in the last two weeks has gained nearly $7/barrel and is trading under $99/barrel as of this post. In 2013 - on all attempts - prices have failed around these levels. Past performance is not indicative of future results. I see futures in the coming weeks backing off and trading back to the lower $90s.
August Brent/WTI Spread: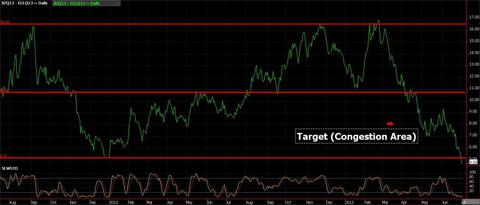 The price differential between Brent and WTI remains narrow - in fact its narrowest range in 19 months. Of late WTI has been supported by a somewhat upbeat economy, decent refinery runs with additional capacity coming on line and steady draws in Cushing inventories ... but still futures have been unable to retake $100/barrel. Fade this rally as I think all the bullish news has been factored into current pricing. Production growth outside of the US continues to disappoint as tightness on the supply side of the oil market should persist. Brent should stay well supported at the psychological $100/barrel level in my opinion.
Trading the August spread gives traders just over two weeks time. Daily and weekly charts of the spread are extremely overstretched and like a rubber band I expect a snap back. Getting into the spread under $5 makes sense to me as I anticipate the spread to expand to the recent congestion area identified in the chart above. In terms of risk put in a stop if the spread continues to narrow. Remember every $1 move is a gain/loss of $1,000.
Risk Disclaimer: This information is not to be construed as an offer to sell or a solicitation or an offer to buy the financial products herein named. Trading futures, options and Forex involves substantial risk of loss and is not suitable for all investors. Past performance is not necessarily indicative of future results. This report contains research as defined in applicable CFTC regulations. Both RCM Asset Management and the research analyst may have positions in the financial products discussed.
Disclosure: I have no positions in any stocks mentioned, and no plans to initiate any positions within the next 72 hours. I wrote this article myself, and it expresses my own opinions. I am not receiving compensation for it. I have no business relationship with any company whose stock is mentioned in this article.