Background: Michael Dell and Silverlake are proposing to take Dell (NASDAQ:DELL) private for $13.65/share. Carl Icahn and Southeastern management are proposing an alternative LBO deal with a $12 per share dividend and a $1.65 equity stake for investors to keep. In addition, hedge fund titan Jim Chanos has also announced his short position on Dell (who famously shorted Enron as well).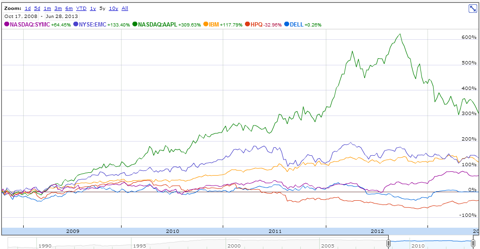 (Courtesy of Google Finance)
Thesis: Weakening fundamentals, but enough upside for investors to profit
Warren Buffett used to compare investing cheaply in a deteriorating company with smoking a discarded cigar butt, extracting any remaining value by taking a free puff. Dell is such a company for reasons that its fundamentals are declining, but it is also selling low enough to warrant a buy. While Dell hasn't been able to capture any meaningful market share with tablets, there are certainly people and strong enough reasons to own Dell at $13.65. In addition, Dell has been aggressively buying back stock ($2.7B FY2012), while Icahn and other investors are threatening to sue management for failing to maintain its stock price, and are now taking advantage of their investors by buying the whole company on the cheap.
PCs demise and the rise of enterprise:
Most of the concerns and focus has been on Dell's consumer PC business (~50% revenue), and its tremendous failure to anticipate the influx of tablet demand. Dell has been downplaying this, while aggressively acquiring its way into enterprise solutions since 2009 e.g. servers, networks, cloud computing etc.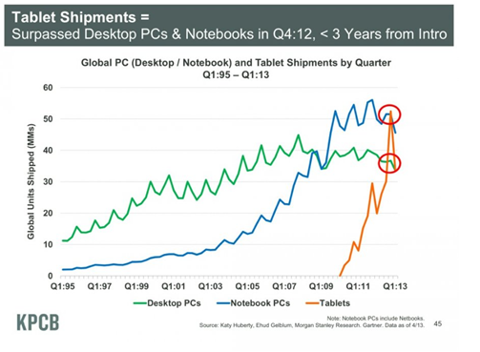 The counterargument to that claim of optimism is that other companies such as IBM and Oracle have already been building up strong market share in that category, with fatter margins and higher returns on invested capital [ROIC] in the double digits. Meanwhile, Dell has recently allowed their ROIC to fall to their single digit (or low double digit) for the fiscal year of 2013, which is indicative of a deteriorating economic moat. What good is a just-in-time manufacturing competitive advantage if fewer and fewer people want to buy a PC?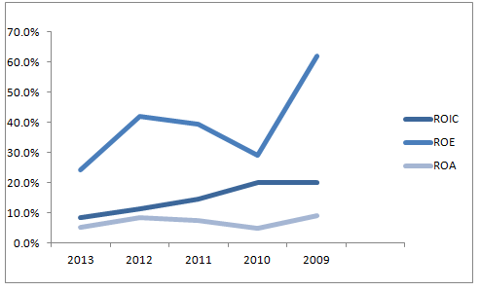 Nevertheless, Carl Icahn is still sold on Dell's future in enterprise solutions. Forbes:
…while Dell missed the tablet boom, it did see the coming of cloud computing and invested roughly $14 billion into the sector. Icahn says that Dell estimates a 15% return on that investment-a return that has not yet hit the balance sheet. Icahn thinks that Michael Dell wants take his company back cheaply before that new cloud-computing investments start paying off…..
Whether this is true is beyond the scope of this article. However, there seems to be some anticipation of its innovative enterprise solutions while its product line continues to fall in sales (down 4.5% YoY) according to its FY2014 Q1 results.
Operating cycles are taking longer
Dell has also been slower at completing their operating cycle of taking raw materials and converting them to cash. According to my assessment, it took about 39 days in 2008 to 53 days in 2013 to complete this cash cycle. This is due to an unsurprisingly lower inventory turnover and higher days as well to collect receivables. However, Dell has also been able to increase their time to pay their vendors from 73 days to about 95 days, which is either a sign of negotiating power or the 'fluid' yet competitive nature of its contracts. Two years ago, Dell's vendor for servers in Taiwan had also began selling their own servers. In addition, Dell has been pursuing legal action against some of its vendors for past pricing actions according to its 10-K, and even gained $320M from settlement (FY2013), which also drove a wider gross margin. I suspect this may have affected its days payable in its favor.
Valuation: Why Dell is worth buying
The main reason why I think Carl Icahn is relentless in acquiring Dell is their current valuation. Based on reasonable assumptions using the three common methodologies by investment bankers as shown below, Dell is priced on the low spectrum. I believe this is due to its lower return on invested capital, which is correlated with valuation i.e. P/E. The bars represent the minimum to maximum price that Dell should be selling at with respect to its financial model and valuation metric.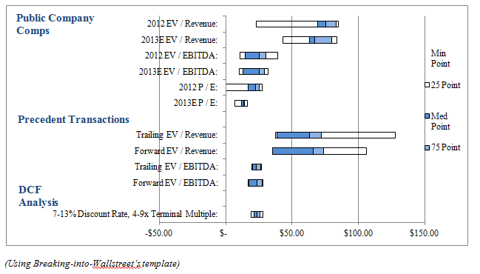 (Breaking-into-Wallstreet's template)
Using Public Company Comparable* (comparing Dell's valuation with industry peers) we can see that $13 per share for Dell is on the low end of the spectrum when benchmarked against its peers. Using Precedent Transactions** (comparing Dell's valuation with similar target companies from takeovers) in the last three years, Dell may be worth $16-20. And finally, the Discounted Cash Flow (discounting Dell's future free cash flow to arrive at an intrinsic value) allows me to confirm that Dell is cheap. This model indicates that the low end is just under $20. I've assumed the next five years of revenue stays flat, with a 7x EBITDA multiple for the terminal value. If I had used the Gordon Growth model with a 3% perpetual growth rate instead, the implied per share would be about $41. While this model is extremely sensitive to assumptions, even conservative estimates are suggestive of undervaluation.
Conclusion: Based on my financial models, Dell is priced much below its real value. However, Dell will be much more leveraged under Icahn, with many uncertainties surrounding its future role in PCs. Jim Chanos also cited a weak balance sheet and "plummeting" cash flow for his short position which isn't an unreasonable proposition. On July 18th , shareholders will vote on Dell's future between the two competing bids.
Recommendation, take Icahn's deal: Icahn's deal would give investors some upside in its already battered stock. I'd like for investors to have the opportunity to benefit from any subsequent restructuring that may occur, may it'd be spin-offs, a change in culture, financial restrucuturing etc. In addition, the shares are priced much below its intrinsic value even with assumptions with little to no revenue growth for the next few years, which is probably how long it'll take to turn around this PC behemoth. However, a long-term or sizable investment of one's portfolio may be out of the question given the uncertainty under Icahn's control. Industry experts remain unconvinced that Icahn can do anything differently, but perhaps (I speculate) Icahn is just cashing in on its low valuations relative to its upside, but we'll let him speak for himself.
*Public Company Comps Peers:
Company Name
Symantec Corp
EMC Corporation
Apple Inc.
IBM Corp
Hewlett Packard Company
**Precedent Transactions M&A:
| | | | |
| --- | --- | --- | --- |
| | | | Transaction |
| Acquirer Name | Target Name | Date | Value |
| Google Inc. | Motorola Mobility Holdings Inc. | 8/15/2011 | $ 13,552 |
| Lam Research Corp. | Novellus Systems Inc. | 12/14/2011 | 3,512 |
| Thoma Bravo | Blue Coat Systems Inc. | 9/12/2011 | 1,243 |
| The Carlyle Group LLC | CommScope Inc. | 10/25/2010 | 2,716 |
| The Carlyle Group LLC | Syniverse Holdings, Inc. | 10/28/2010 | 2,265 |
Disclosure: I have no positions in any stocks mentioned, and no plans to initiate any positions within the next 72 hours. I wrote this article myself, and it expresses my own opinions. I am not receiving compensation for it (other than from Seeking Alpha). I have no business relationship with any company whose stock is mentioned in this article.