In terms of risk, Leggett & Platt (NYSE:LEG) has to be on the low end of the ladder. Leggett & Platt is a manufacturer of components for bedding and furniture, steel wire, tubing and various other diverse products. The company is a cash cow, with massive amounts of free cash flow, or FCF. Leggett & Platt has committed itself to returning capital to its shareholders via dividends and stock buybacks while also maintaining flat to 5% revenue and EPS growth. Leggett & Platt currently offers a $0.29 per share quarterly dividend and yields about 3.70%.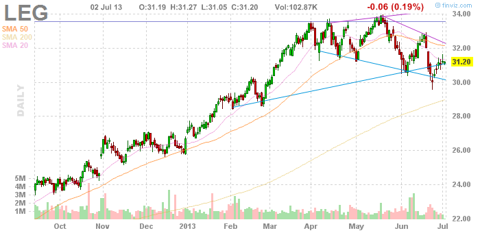 Overview
Leggett & Platt is the leading US manufacturer of components for residential and office furniture, bedding components, bedding industry machinery, carpet underlay, adjustable bed bases, drawn steel wire, and thin-walled titanium and nickel tubing.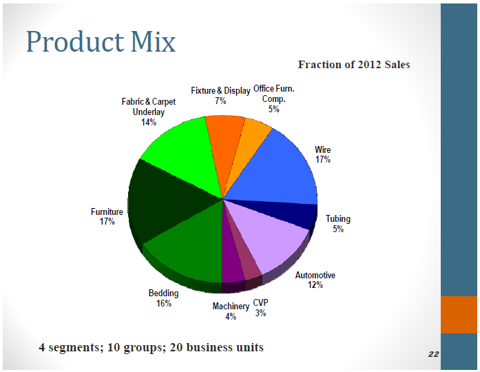 Leggett & Platt's business is divided into four separate segments: residential, commercial, industrial and specialized components. Each of these segments cater to diverse range of customers. The largest segment for Leggett & Platt is its residential unit, which contributed 47% of 2012 revenues.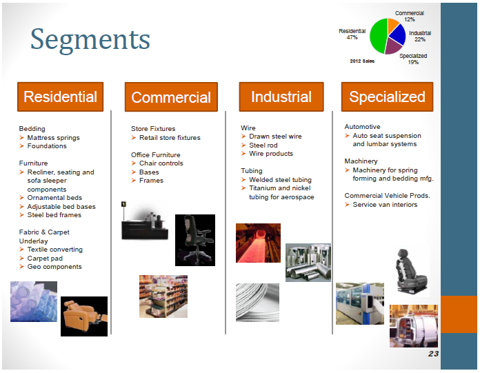 Operating Metrics
While declining sharply a few years back due to the housing crisis, Leggett & Platt's revenues and earnings have mostly recovered. During Q1 2013, the company reported revenues of $936M, down 1% from last year. On the other hand, Leggett & Platt's earnings have actually increased. For Q1 2013, Leggett & Platt posted EPS of $0.33 per share, a 10% increase from last year, largely thanks to margin gains. When using the midpoint of Leggett & Platt's 2013 guidance, the company expects revenues to increase 4% to about $3.85B and EPS to range from $1.50 to $1.75.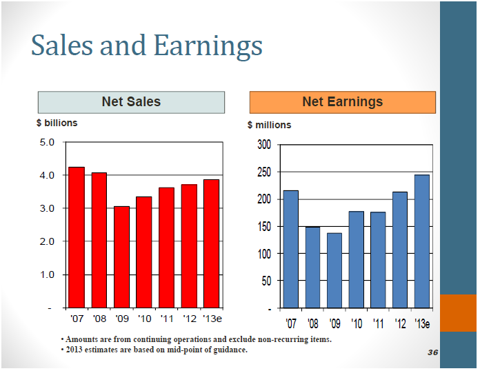 As noted above, Leggett & Platt's revenues are still below pre-crisis levels but its EPS had recovered. This can be explained by Leggett & Platt's growing margins. The company has been engaged in a multi-year turnaround. Since 2007, Leggett & Platt has been improving its efficiencies by lowering costs, reducing personnel levels and selling off struggling business units. The results can clearly be seen in Leggett & Platt's margin improvements. EBIT margins increased 60 basis points to 8.5% in Q1 2013. For FY 2013, Leggett & Platt guides that these margins will show further increases.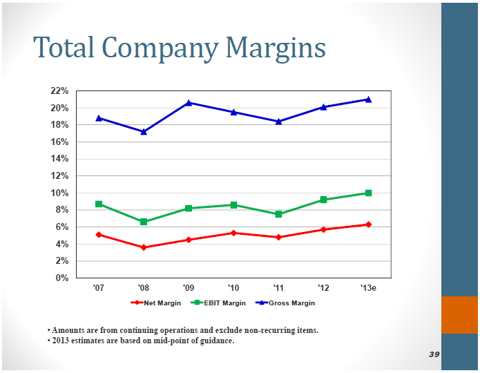 Another example of Leggett & Platt's relatively stable business is by looking at its ROE. Leggett & Platt's ROE has slowly increased, and is now above pre-crisis levels. Leggett & Platt's ROE shows that the company has been able to increase profitability organically, without levering itself with extra debt.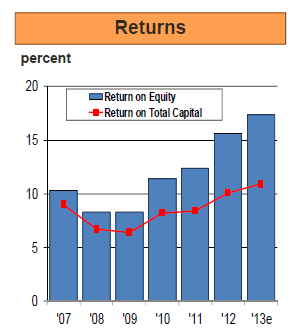 Dividend, Cash Flow and Share Buybacks
In addition to its improving operating performance, Leggett & Platt has also been generous to its shareholders. Leggett & Platt is a true dividend-growth stock. The company has managed to increase its dividend for 42 consecutive years with a CAGR of 13%. In addition, the company has bought back its stock aggressively, reducing its share count by over 12% since 2008.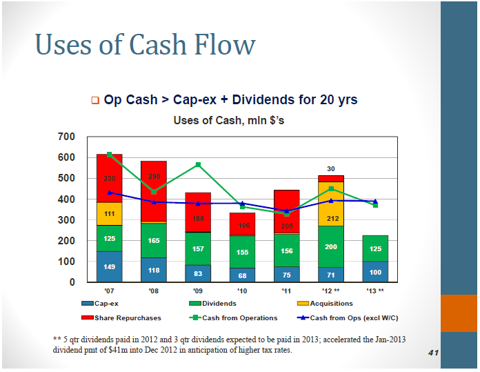 Leggett & Platt has targeted a long-term dividend payout ratio of about 50% to 60% of net income. However, short-term, this payout ratio is expected to be slightly higher. Leggett & Platt's current payout ratio is about 70% of earnings and 60% of FCF. Do note that Leggett & Platt's 2013 FCF is expected to decline slightly as a result of increased capex.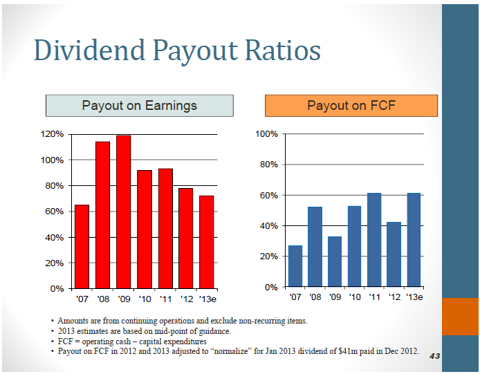 Housing Recovery Provides a Strong Catalyst for Growth
Leggett & Platt is likely to receive an outsized benefit due to the improving housing market. Its business units are highly correlated to consumer spending as it provides many components that are used in consumer goods, such as furniture and bedding. Consumer confidence has been growing this year and is now at a six-year high. As the economy grows, people are finally able to afford new houses. Home sales have substantially improved and are up nearly 30% YTD. When a new house is purchased, one of the first major expenses for the new homeowners is often furnishing the house, with products often made with Leggett & Platt's components. As a result, Leggett & Platt is well positioned to take advantage of both growing consumer confidence and the improving housing market.
During the Q1 2013 conference call, Leggett & Platt's President and COO Karl Glassman was asked by Daniel Moore of CJS Securities about the housing market, its effects on Leggett & Platt, and if there was a "lag" time. Below is his quote:
Daniel Moore - CJS Securities, Inc.

If we look back to prior housing recessions and recoveries, do bedding and furniture tend to lag recovery and housing starts? And if so, generally by how long?

Karl G. Glassman - President, Chief Operating Officer and Director

Dan, this is Karl. Yes, there is certainly a lag. I need to take out the housing recovery of 2004, '05 and '06 because it was truly an outlier of anything that we've seen in the past. There was more speculation and more people in homes that, as we've seen retrospectively, couldn't afford those homes so they weren't fully furnished. So that we were criticized in the market or certainly questioned as housing was booming during that time frame, how come we weren't seeing a significant uplift in bedding and furniture sales? And like I said, we found out the consumer couldn't afford the house, much less the furnishings. So going prior to that, there's generally a lag of about 6 months to 1 year. As housing recovers, there's a higher correlation actually in consumer confidence. So as housing recovers, consumer becomes more confident, jobs are gained at a greater rate. And all of that rolls together in above-average GDP growth in the recoveries of those businesses. Knowing also that post any economic downturn because those - the purchases of those products are deferrable, there is a little bit of pent-up demand and we believe that it's out there and we've yet to experience it.
Note that Mr. Glassman mentioned that it takes from 6 months to a year for Leggett & Platt to get the full positive impact. He also mentioned that the company has yet to receive any benefit from the recovery. The housing market has only really caught fire early this year. This points towards Leggett & Platt receiving a boost to its earnings in the later quarters of 2013.
Conclusion
My only concern with Leggett & Platt has been its valuation on the recent run-up. The stock has increased about 15% YTD, though it was down 7% for the quarter. This increase in share price has led it to have a rather high PE of 18 and a 60% premium to its Graham number. For the short-term, I would wait for a 5-10% pullback in share price or stronger than expected Q2 2013 results. However, for those with a long-term time horizon, Leggett & Platt seems like a winner. It has great fundamentals, strong cash flows and shareholder friendly dividend and capital return programs. Plus Leggett & Platt is very unlikely to make any brash acquisitions while also only focusing on internal growth.
Disclaimer: The opinions in this article are for informational purposes only and should not be construed as a recommendation to buy or sell the stocks mentioned. Please do your own due diligence before making any investment decision.
Disclosure: I have no positions in any stocks mentioned, and no plans to initiate any positions within the next 72 hours. I wrote this article myself, and it expresses my own opinions. I am not receiving compensation for it (other than from Seeking Alpha). I have no business relationship with any company whose stock is mentioned in this article.