John Fredriksen's Empire: Part I. Marine Harvest (OTCPK:MNHVF)
Introduction
There is a large following here on SA of John Fredriksen and of his companies, but only a few are regularly written about and only one article a few years ago took a stab at putting all of those pieces together. Thus, this article and the ones to follow will present a complete picture of JF's shareholder-friendly business empire. This series begins by examining the smallest of JF's holdings, Marine Harvest Group (MHG:Oslo). Small, however, is a relative term insofar as the company in this article has a market value of $3.9 billion. This is only the beginning as we will discuss his larger holdings in future articles.
John Fredriksen's Empire
As many are aware, John Fredriksen is a Norwegian-born shipping magnate, with a broad and diverse business empire estimated to be worth roughly $12 billion. Within the Seeking Alpha community, his most frequently discussed holding is Seadrill Limited (NYSE:SDRL). (And, I would add, some contributors, such as PowerHedge, do a fantastic job (see here) keeping the community informed about Seadrill.) There is, however, much more to this empire than Seadrill and, therefore, it is worth examining all of his empire, both to (possibly) understand Fredriksen's vision and to evaluate it to see if the other pieces warrant your investment dollars.
Fredriksen's wealth is owned indirectly through his holdings companies, Hemen Holdings and Meisha, as well as a myriad of interlocking entities. His larger holdings consist of his shipping entities, Frontline Ltd (NYSE:FRO), Golar LNG (NASDAQ:GLNG), Golar LNG Partners LP (NASDAQ:GMLP), Golden Ocean Group Ltd. (OTCPK:GDOCF), and Seatankers Management Company Ltd (a subsidiary of GDOCF); his drilling holdings, including Seadrill Limited , Seadrill Partners LLC (NYSE:SDLP), and North Atlantic Drilling Ltd (NATDF.PK); and various incidental entities such as Deep Sea Supply PLC (OTCPK:DSSPF) and Marine Harvest. This series begins with a discussion of Marine Harvest, an aquaculture company, which may be considered the oddest of JF's holdings.
The Aquaculture Industry
Aquaculture is the farming of aquatic organisms such as fish, crustaceans, mollusks and aquatic plants under controlled conditions, as compared to commercial fishing, which is the harvesting of wild fish. Particular kinds of aquaculture include fish farming, shrimp farming, oyster farming, algaculture i.e., seaweed farming), and the cultivation of ornamental fish. The most important fish species used in fish farming, in order, are: carp, salmon, tilapia and catfish, although there is significant farming of other stocks, including tuna, cod, halibut, yellowtail, barramundi, trout, and sturgeon (in the caviar business).
At the outset, it must be noted that there are several criticisms leveled against aquaculture: It can be more environmentally damaging for local ecosystems due to concentrated wastes; and some stocks such as salmon, which are carnivores, requires more protein in the form of forage fish than they actually produce. Still, as the world's population continues to increase (from its current 7 billion to roughly 8 billion in 2025, and 9 billion by 2045), and China's and India's burgeoning middle classes grow, there is an ever increasing demand for protein, including especially fish stocks, and as the oceans become depleted of wild fishstocks, aquaculture is one means by which demand can (hopefully) be met. And where there is demand, there is opportunity.
There are aquaculture entities across the globe, from micro-companies to multi-billion dollar enterprises, with varying degrees of success. The largest salmon producer and the subject of this article is Marine Harvest Group. Other large companies include Nutreco (Dutch-based), Norsk Hydro, and StoltNielsen. Some of the smaller ones include Clean Seas Tuna Ltd. (ASX: CSS) and The Organic Salmon Company.
History of Marine Harvest
MHG was originally started in 1965 by Unilever (NYSE:UL), an Anglo-Dutch multinational consumer goods company (Euronext: UNA, LSE: ULVR). Through a series of buyouts and mergers, including the 2006 merger between Pan Fish Holding ASA and Fjord Seafood (later de-listed from the Oslo Stock Exchange) and a name change of the former entity to Marine Harvest, MHG came to be a part of Fredriksen's empire.
MHG farms several aquatic species, including Atlantic salmon, halibut and white fish, although salmon is its primary focus (54% Q1 2013) and it is the world's largest producer. The company has an integrated value chain, with the company making its own broodstock in freshwater, followed by growth and maturing in seawater, harvesting, manufacturing in processing plants, and distribution.
Marine Harvest's Financial Picture
MHG trades on the Oslo Exchange (MHG:Oslo). There are currently 3,748,341,597 shares outstanding on the Oslo Exchange. Trading Tuesday of roughly NOK 6.34 ($1.04), Marine Harvest had an estimated market value of $3.9 billion. Marine Harvest's ADRs also trade on the NASDAQ (OTCPK:MNHVF). Investors can purchase either the Norwegian shares or the ADRs. (The author owns ADRs, but other SA members have commented that buying/trading through the Oslo Exchange is preferred.)
MHG is a lot sounder today, with a brighter picture, than it was over the last few years. In the preceding few years, the company's operations were severely affected by biological issues in its Chilean and Norwegian operations. As discussed below, MHG has taken steps to address these issues, with varying degrees of success.
Like all of JF's holdings, an overarching goal of MHG is to return income to investors through dividends. As the company website states, "Marine Harvest will target a net interestbearing debt/equity ratio of less than 0.5x When target level is met, at least 75% of the annual free cash flow after operational and financial commitments will be distributed as dividend." Unfortunately, this goal has only marginally benefitted shareholders in recent years, as the company has had a spotty dividend history.
In 2008 and 2009, no dividends were paid, in 2010 MHG paid NOK 0.60/share, and in 2011 it paid NOK 0.80/share, however, in 2012 no dividends were paid. In April 2013, its Board proposed an extraordinary dividend of NOK 0.10 ($0.02), which was paid in June. Importantly, following the unsuccessful gambit to acquire Cermaq, discussed below, Marine Harvest announced that it is "likely to lead to a reintroduction of a quarterly dividend."
The company farms fish in Norway, Chile, Canada, Scotland, and Ireland. The outlook for these fisheries and MHG's bottom line looks bright; albeit, with the exception of Chile. Overall, for 2013 Q1, MHG reported a profit of NOK 753 million ($124 million) as compared to 2012 Q1 profit of NOK 402 million ($66 million). Several factors led to this increased profitability, including higher spot prices (although MHG continued to be locked in to contracts under market price), an improved harvest (of 5.2%), stronger demand in U.S. markets, and improved performance in breeding/growth.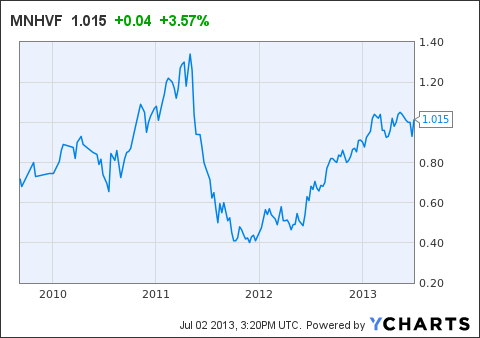 This improvement has led to a near doubling of MHG's share price in the last year, from a low of NOK 3.75 in July 2012 to a high of NOK 6.37 in May 2013 and the recent close of NOK 6.30. This share price history also applies to MNHVF, shown above, with a low near 0.40 and currently around 1.05.
MHG, however, has faced several challenges over the last few years, and not all of those difficulties are fully behind them. The principal problem included an outbreak of infectious salmon anemia (ISA) in Chile, which caused the death of millions of fish, and which caused MHG to sell some facilities, to fire more than a thousand employees, and to look toward moving its facilities further south. The impact of this outbreak (and other biological difficulties in Norway) severally impacted MHG's bottom line, and in large measure the reason for the share's low in July 2012.
Unfortunately, biological issues continue to threaten MHG and other companies' Chilean operations. As its 2013 Q1 report stated:
"The biological development remains a concern, especially after ISA has reemerged in the Chilean industry. The reported incidents are in Region XI where Marine Harvest currently has no fish. Marine Harvest's precautionary stocking plan, with low densities and an extended monitoring program, will mitigate the spreading of the disease. Additional monitoring has been initiated to ensure that all mortality is screened for signs of ISA. It has also been decided to maintain ocean logistics internally, to take control with the transportation routes and disinfection of the wellboat. The actions taken will result in higher costs, and mitigate, but not eliminate the risk of ISA at Marine Harvest sites. The sea lice load at the end of the quarter was higher than at the corresponding time in 2012. The full cost per kg gutted weight has increased sequentially over the last quarters, and in the first quarter the full cost was approximately USD 4.90 per kg.

"Marine Harvest believes that the new proposed regulations will restore the foundation for sustainable fish farming in Chile, provided that they are enforced and supports the authorities in their strict measures with regards to immediate harvest of sites with ISA outbreaks."
MHG's Norwegian operations also suffered biological problems in 2012; specifically, sea lice, and it continues to spend significantly on sea lice mitigation, including NOK 30 million ($4.95 million) in this past quarter.
In partial response to its problems (and as part of JF's continuous machinations to expand his empire), in 2013 the company took steps to expand several aspects of its operation, some successful and some less so. In April, it acquired an additional 38.6% of Morpol ASA (Morpol: Oslo), the world's leading processor of salmon and a market leader in smoked salmon, and it now owns 87.1%, worth roughly NOK 1,682 million ($277 million). In June, it sought to purchase Cermaq ASA (CEQ:Oslo) to expand its fishfeed business while adding Cermaq's salmon farms in Chile, Canada and Norway. This past week, however, the effort was staved off as Norway purchased a controlling interest in Cermaq. The upside to this rare defeat for Fredickson is that MHG divested itself of its Cermaq holdings (about 5 million shares) for a gain of NOK 133.5 million ($21.9 million).
Notwithstanding the difficulties MHG had (and continues to have) with its operations in Chile, and to a lesser extent the sea lice eradication program in Norway, recent action by insiders and the Board support a conclusion that MHG's future is favorable.
As to insiders, Fredriksen (through his various trusts and holding companies) owns approximately 70 million shares, and in June 2013, he purchased an additional 2.5 million shares. In June 2013, MHG's chairman, OleEirik Lerøy, also purchased a large number of shares (500,000). Subsequent to this transaction, Lerøy and his affiliates' own approximately 41 million shares, or roughly 1.1% of the issued shares.
Moreover, the Board is currently evaluating a listing of the Company=s share in the US market (that is, a direct listing of MHG rather than MHNVF's ADRs.) (Readers will note that JF is planning a similar move for North Atlantic Drilling.) As the company's Q1 report stated, this proposed listing, "is intended to make Marine Harvest shares more readily available to international investors and give Marine Harvest a more liquid, credible and effectively priced equity currency to support further growth and consolidation."
Conclusion
MHG appears to be headed for improved profitability. As they resolve their biological issues (on which the entire industry is focused) and possibly get listed on an American stock exchange, for those who have followed and continue to follow John Fredriksen's companies, MHG may prove to be another high-yielding stock.
Disclosure: I am long OTCPK:MNHVF. I wrote this article myself, and it expresses my own opinions. I am not receiving compensation for it (other than from Seeking Alpha). I have no business relationship with any company whose stock is mentioned in this article.