It is very hard to find new opportunities on the long side, since most of the quality stocks are incredibly overextended... as are a lot of "not so quality" stocks. Thursday, Riverbed Technology's (RVBD) competitor Blue Coat Systems (BCSI) took a beating - I can find no discernible news, but the stock fell back to its 20 day moving average. Even finding interesting stocks in an uptrend anywhere near their 20 day moving average has become difficult ...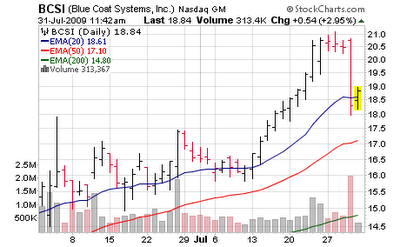 Since the overall market could obviously continue upward, I am continuing to hedge my bets and this gives us a better entry point in a name I am familiar with. If we are ever allowed an actual correction, we can jump ship from a much lower floor than those who bought the stock in the previous week. We last exited Blue Coat in February 2008 ($10 higher than it is priced today) after a very rough patch where the company was performing well but its competitors' ills were constantly causing investors to rush out.
I suppose I have a pairs trade on here as I'm short Riverbed [Jul 30, 2009: Short Riverbed Technology] and now long Blue Coat. Both compete in the WAN (Wide Area Network) optimization area, but Blue Coat also has a more mature (slower growth) security segment; so they are not directly apples to apples and hence hard to compare on valuation. But even after the swan dive from Riverbed, it is valued at over 30x forward estimates, whereas Blue Coat is under 20x. (BCSI has always traded at a discount as long as I have been following both names.) Both are potential takeover candidates - and have been for years.

Friday, we restarted the name as it bounced smartly Friday morning and regained the 20 day moving average. I wanted to make sure it would not have a 2nd day of free fall before making an investment. We're entering in the $18.80s with a 2.8% allocation. I'll be stopping out on any sharp move down below the 50 day moving average (currently low $17s and rising) Of course, we wonder why the sharp drop out of the blue on such high volume - could be a precursor of "someone in the know" getting out. We'll watch this one closely for more signs of weakness.

Since the company reported in early June, I can purchase this now without any earnings risk for at least 6 weeks, unlike a lot of other names I have been considering which still are to report in the next few weeks.
The security hardware and software maker said it lost $3.5 million, or 9 cents per share, in the three months ended April 30. That compares with a profit of $12.5 million, or 32 cents per share, in the year-earlier quarter.
Sales climbed 29 percent (not organic growth) to $113.6 million from $88.2 million, helped by the company's acquisition of Packeteer

Inc. last year. But operating expenses also grew, climbing 35 percent to $80.3 million from $59.5 million. Excluding items, Blue Coat said its earnings came to $8 million, or 19 cents per share. Analysts polled by Thomson Reuters expected 21 cents per share on sales of $114.3 million.
Blue Coat forecast adjusted fiscal first-quarter earnings of 20 cents to 25 cents per share on sales of between $114 million and $119 million. Analysts are looking for 21 cents on $115.6 million.
They have acquired a company called Packeteer since I last owned the stock, so the face of the company has changed a bit more. I don't think business is doing "great" at Blue Coat by any means, but fundamentals mean very little now, it's all about charts. The fact they asked workers to not come to work for a few days tells me it cannot be all roses over at BCSI. But - I just follow the program traders and their microchips nowadays since it's all become a computerized video game.
Blue Coat Systems (

BCSI

) late last week sent an e-mail to all employees suggesting they extend their July 4 holidays by two days, according to

JMP

Securities analyst Samuel Wilson. The analyst writes that the goal appears to be to reduce operating expenses for the fiscal first quarter ending July.
I've also been looking to re-enter F5 Networks (FFIV) even as I was not *that* impressed with earnings but these names are all in similar niches...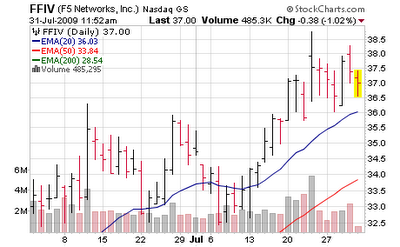 Speaking of a world reliant on government handouts, we wrote a piece on the broader "sector" in April.
[Apr 8, 2009: Stimulus Fire Hydrant (Worldwide) Should Benefit Networking Companies/Broadband]
[Oct 25, 2007: Networking peers keep hitting Blue Coat Systems].
[Nov 20, 2007: A Damn Shame - Blue Coat Systems]

Disclosure: Long Blue Coat Systems, Short Riverbed Technology in fund; Short Riverbed Technology in personal account