Company Overview
Franklin Covey Co. (NYSE:FC) provides training and consulting services globally in over 140 countries through the company itself and licensee partners. The company operates four regional sales offices in the U.S. that sell B2B, one office that specializes in sales to government entities, and three in Australia, Japan and the UK. Sales are also generated through international licensee partners.
The company's products mainly aim to improve productivity, time management skills and happiness on a professional level. Much of the company's courses and products are based on the teachings of Benjamin Franklin and Stephen R. Covey's The 7 Habits of Highly Effective People.
Opportunity in Size
The main reason I decided to research Franklin Covey is the company's size and low institutional ownership. The company is too small to get much attention from Wall Street and so it's much more likely that there is a price-value discrepancy to be exploited for small retail investors like myself. The company is worth a little over $200M and only about $800K of stock changes hands per day.
The Potential
The company currently has 137 "client partners," direct salesmen for our purposes, on board and expects to have 150 by FY13 end. The company expects to double its salesmen numbers in the next few years and points to 500 salesmen as a future goal, all of which could be supported through the company's 8 existing sales offices.
According to Training Magazine's 2012 Training Industry Survey, the total size of the U.S. training industry is estimated to be $55.8 billion. The company's sales represent only .3% of the training services market. Though the market is declining as the US government and larger corporations reduce discretionary spending on training, FC's market share is so small that the potential for growth is huge.
The company estimates that it could potentially do about 5 times as much business as it does now in the future based on the number of schools and 200+EE companies out there.

Further, the company's business model has proven itself to support sustainable growth. After the damage from the 2008 crash and resulting corporate discretionary spending cuts was done in early 2009, the company's FCF was -$6M. A little over 4 years later, FCF has recovered to an impressive $11.75M.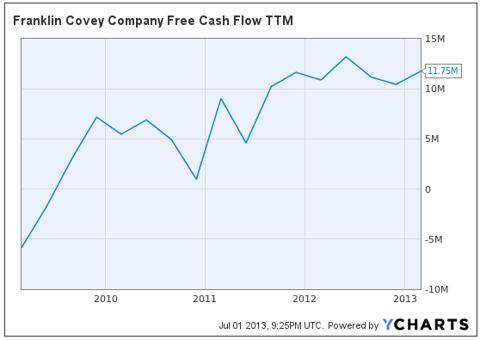 In the same time period, revenues have increased about 42%. Licensee royalties tripled to $12M from 2004 to 2012.
Performance is expected to continue in the next few quarters. The company will continue to expand its sales base and the company's pipeline or backlog is 13% higher than it was this time last year.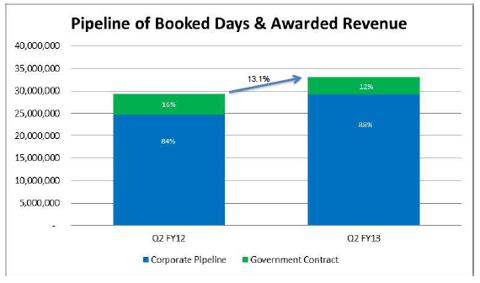 Why the Model Works
If what I've described so far sounds like a pyramid scheme, I apologize, it's not. For the company to achieve all these sales goals it's putting out there, the product has to be good, real good. Apparently it is, and that's what's driving the sales growth. To know if a product is good, we can look at renewals. Have the salesmen that have been at the company for a while been able to sell to existing customers while continually adding to their sales base every year? The answer even surprised me.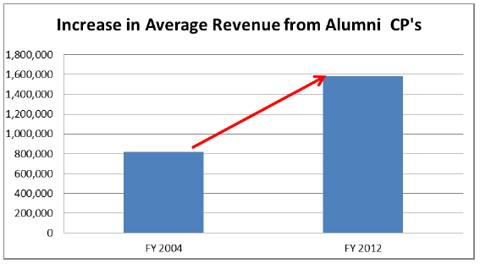 The old-timer salesmen are selling double what they did in 2004. That's impressive. That's almost like same-store sales at a retailer doubling.
Now that the company is hiring salesmen again, we should see some serious growth over the next few years as sales "ramp up." That just means that it will take them a while to learn the business and become really productive at selling.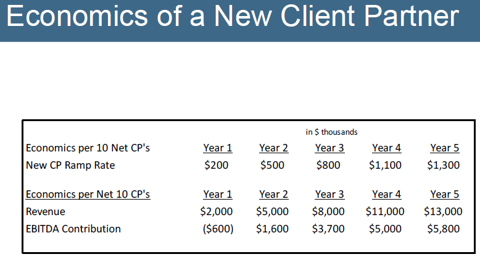 The 30 salesmen who were brought on this year will be contributing 10x as much to profits in 5 years as they are now.
I've worked in sales and I can tell you that this product must be quality. The incredible ramp up rate means the vast majority of customers are renewing which means customer satisfaction is extremely high. A good product sells itself.
Macroeconomic Outlook
Franklin Covey's sells its products and services to businesses and government entities. The businesses and government entities purchase the products to improve productivity in employees and as an organization as a whole. This spending is generally of low priority to the company's customers. When the economy gets bad and companies and the government have less money to spend, they must find ways to cut costs. Usually training expenses are the first to go. This all makes FC's business highly correlated with the health of the US and global economies.
The shaded regions in the graph below show how revenues fared in recession times.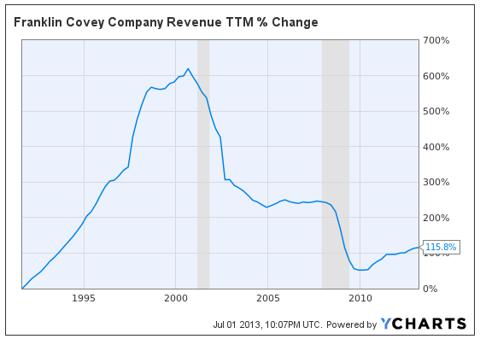 Investing in Franklin Covey is largely a bet on a continued economic recovery like many other asset classes. For example REITs are also an economic recovery play. The difference though is that a bet on FC does not come with the interest rate baggage that a REIT bet does.
Valuation
FCF at Franklin Covey currently sits at $11.75M. According to Yahoo Finance, 3 analysts cover the company and consensus growth estimates looking forward 5 years are 20% annually. Based on the potential growth of the company's sales base and a possible recovery of revenues to the pre-2008 levels, 20% growth is definitely attainable. Assigning a multiple of 20, the company is worth $235M. Market cap currently sits at $230M. The company has $15.5M cash and $1.3M debt for an enterprise value of $215.8M, 9% lower than fair value. So the shares seem slightly undervalued.
Just looking at the nature of Franklin's business, it seems appropriate to value the company a few different ways.
The company's plan is to add 30 salesmen total in 2013 and in its Q2 earnings webcast, management made sales projections assuming the addition of 30 salesmen per year for the next 5 years.

The calculation projects that revenues could be $117M or 66% higher in 5 years. Management also stated that flow through of revenues would be 30% going forward, meaning that FCF should increase 30% faster than revenue. That implies FCF 86% higher five years from now or $22M. That's a FCF CAGR of 13.22%, an attractive annual return for most investors.
Looking at valuation relatively, the stock trades near a 5 year high. I'm not a big proponent of technical analysis but I do like to buy shares at lows as a safety net of sorts. From that standpoint, the stock doesn't look attractive at all.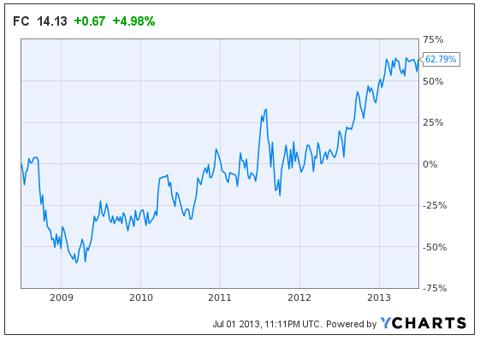 Insiders
I am comforted by insiders' 8% stake in the company but bothered by excessive executive compensation. I view executive compensation as profit sharing. FCF sits at $11.75M. Executive compensation in 2012 was $5.6M, over half of FCF. I've compared these numbers at just about every company I analyze and this situation is quite excessive. A more reasonable value is 10-15% of FCF. CEO Whitman serves as chairman of the board and CEO so I wouldn't expect any change in compensation structure in the foreseeable future.
Conclusion
Thinly traded and ignored by Wall Street, Franklin Covey is a quality business selling a little bit below intrinsic value. Although the margin of safety is not large enough for my liking, this company has the makings of a solid long-term investment. The sales model is attractive and has proven itself these last few years. The company is just beginning to add to the sales force and so even stronger returns should be expected in the years to come. The company will benefit from an economic recovery which I see as likely. The company has a ton of potential for growth; it's just a matter of how long it will take to get there which is yet to be seen. Management has the company performing well but is getting paid too much to do so.
The bottom line is FC is a quality company selling just a little bit too high. As I often do for companies of this kind, I recommend adding the company to your watch list and waiting for a buying opportunity to present itself in the next year.
The stock is 9% undervalued now. Most investors look for at least 25%. Considering that the stock is at about a 15-year high right now, I think it's pretty likely that we'll see a dip some time in the next year to bring the margin of safety to 25%.
The company reports Q3 results in about a week. Expectations are high. An earnings miss and resulting drop would present the perfect opportunity to pick up shares. You have a week to do your own research before then.
Disclosure: I have no positions in any stocks mentioned, and no plans to initiate any positions within the next 72 hours. I wrote this article myself, and it expresses my own opinions. I am not receiving compensation for it (other than from Seeking Alpha). I have no business relationship with any company whose stock is mentioned in this article.