The 13 closed end fund (CEF) types on average were up 1.9% for the week ending 7/31/09. The S&P 500, as measured by the SPDR S&P 500 ETF (NYSEARCA:SPY), registered an increase of 0.8%. On an aggregate, unweighted basis, the weekly price increase for 639 CEFs was up 1.8%.
The weighted 51 CEFs comprising the Claymore CEF Index registered an average advance of 1.8% for the week. The 639 CEFs' aggregate, unweighted current distribution yield is 7.8% and is trading at a 4.9% discount. Year-to-date, CEFs on average have extended their price appreciation to 30.9%. (Click here for YTD CEF performance.)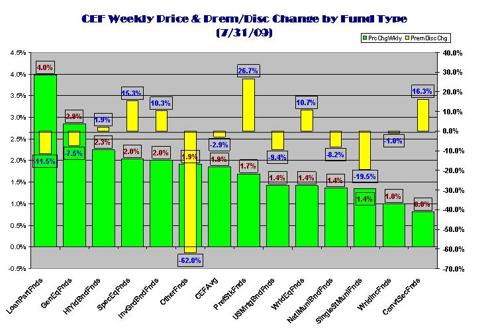 In contrast to the CBOE Volatility Index (VIX) which rose of 12.3%, the Eqcome CEF Fear Index subsided for the week although the spread narrowed materially. The unweighted average price rose greater than NAV (1.8% versus 1.4%, respectively). The biggest spread between the weekly price and NAV change was for MFS High Yield Municipal Trust (NYSE:CMU) at 8.5%; the least was for Templeton Russia and East European Fund Inc. (NYSE:TRF) at -9.1%. (A positive spread between the price and NAV could be viewed unfavorably subject to other metrics, and visa versa.)
CEF Weekly Fund Type Performance: All fund types again posted positive price performance. The spread between the best performance fund type and the laggard was narrow. However, convertible fund types which led the fund types last week was relegated to last place this week. Loan participation funds advanced the most with equity and debt oriented fund types being interspersed with no clear trend emerging.
Premium/Discounts: Changes in premium/discounts were widely dispersed. Six of the 13 fund types registered increases in their discounts despite the fact they all experienced price appreciation. This would indicate the average fund type NAVs were appreciating faster than the related share price.
One downside extreme was OtherFnds; it registered a 62% drop in its weekly premium/discount. (This may have caused the aggregate unweighted average, in contrast, to show price changes greater than NAV). The top three fund types that demonstrated an average increase in discount were PrefStkFnds (26.7%), ConvSecFnds (16.3%) and SpecEqFnds (15.3%).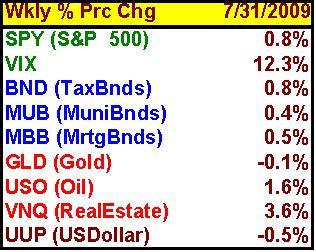 Weekly Comparisons: By now everyone is aware that Dow surged 8.6% for the month of July. The S&P climbed 7.4%, up 34.3% in five months—the best showing since 1938. However, for the week, the S&P held onto gains earlier in the month; appreciating only 0.8%.

While investors are feeling more confident that we're at the bottom of the recession, the economic backdrop is still one of "less bad". The rise in the VIX is worth watching this week.
While manufacturing only makes up 30% of the GDP, those businesses likely to see tangible movement of goods—such as freight forwarders (trucking and railroads), are still seeing depressed level of shipments.
YRC, the nation's largest trucking company said its per day tonnage on a national level slumped 39% and saw its revenues slide 45% YTD. Norfolk Southern, reported that revenues from coal shipments are down 34%, general merchandise are down 33% and intermodal are down 31%. The rebuilding of inventories is likely to show up here first.
Next week is a week full of economic reports (click here for next week's economic calendar).

ETFs: As illustrated in the related chart, the debt segment (blue) of the ETF market posted modest gains. The week's record amount of treasury auctions were completed with only modest levels of residual anxiety.
The commodity segment (red) of the market continued to signal growing global investors' confidence and an expectation of a global economic recovery. Two fear trade indicators—gold and the US Dollar (USD)—subsided. The decline in the USD helped bolster commodity prices. Oil rallied 3.7%, reversing price declines earlier in the week. (Click here for ETF YTD sector performance.)
CEF High & Low: Eaton Vance Senior Floating Rate (NYSE:EFR) was one of the best CEF performers for the week, up 10.2%. EFR has increased its monthly distribution sequentially for the past 4 months—albeit, as a floating rate investor the dividend is volatile. The LoanPartFnds were the best performing fund type.
Kayne Anderson MLP Investment Company (NYSE:KYN) was the worst performing CEF as a result of the sale of its 5.5 million share following-on public offering at $20.25 per share. The deal priced on Thursday, the 30th. KYN invests in mid-stream energy companies (energy processing) through Master Limited Partnerships (MLPs).

KYN has consistently been trading at a premium. An issue of additional stock would make sense from the perspective of the advisor and its underwriters. The stock was priced at a slight discount from Thursday's close. Approximately a third of the issue traded in the after-market on Friday.
CEF Insider Trading: The biggest increase in insider buying for the week was TCW Strategic Income Fund, Inc. (NYSE:TSI). Jeffrey E. Gundlach, SVP and Portfolio Manager, purchased an additional 178,475 shares at $3.7367 for a total outlay of $666,907 bringing his total shares ownership to 893,125. Another officer of TSI added 700 shares to his position. The stock closed at $3.90. (A senior portfolio manager significantly adding to a position should cause us to take notice.)
There was also continued "insider" buying of MBIA Capital/Claymore Managed Duration Investment Grade Municipal Fund (NYSE:MZF) by Benchmark Plus ("Benchmark"). Benchmark added an additional 18,000 shares at $11.74 per share from July 27th for a total incremental investment of $211,351.
Both Benchmark and Western Investment LLC ("Western') are considered "Participants" in a Schedule 14A filing with the SEC in connection with the solicitation of proxies for an alternative slate of directors for MZF. It appears MZF is resisting the participants' request for a shareholder list for the purpose of proxy solicitation.
The Participants added another $1.7 million of MZF share value to their holdings in July. It appears the Participants may now control approximately 15% of the shares outstanding.
Daniel Neidich, a director of GAM, has added another 4,000 shares to his initial position 4,200 share earlier in the month.
CEF Focus for the Week: Kayne Anderson MLP Investment Company (KYN) is the focus stock of the week. Given the recent follow-on offering, there may some additional weakness this coming week as the syndicate stabilization may end.
Additionally, PIMCO High Income Fund (NYSE:PHK) should be declaring its August monthly dividend this upcoming week. It could materially move the stock one way or the other.
The stock is trading as if its dividend amount is going to be reduced. PHK trades at a 16.2% yield based on its current annualized dividend and at an unsustainable premium of 44.3%. Its peer group is trading at a 9.3% yield and a 3.5% discount.
Long investors are betting on two things:
there is enough of a cushion in its current yield to support its $9.03 current stock price on a 42% reduction in the dividend;

the "Bill Gross Effect" will sustain its current premium—which has no historical precedent. Maybe this time it's different.
Disclosures: Long SPY, GLD and short PHK