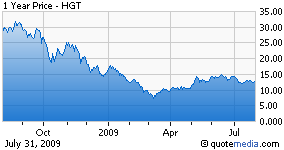 Market prices for natural gas imply that buy-recommended Hugoton Royalty Trust (NYSE:HGT) and hold-rated San Juan Basin Royalty Trust (NYSE:SJT) are rounding the bend now in monthly and quarterly income distributions. Concentrated entirely on natural gas, HGT and SJT are among the lowest in stock price as measured by McDep Ratio and ratio to 200-day average.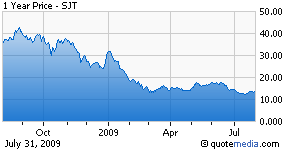 The market action appears extreme as it appears to match the decline in short-term (12 month average) natural gas price more than long-term (72-month average) natural gas price. Believing that long-term investors have an opportunity presented by short-term traders, we have maintained our buy recommendation on HGT. As for timing, the maximum physical pressure on spot natural gas may be during the next few months as winter storage fills earlier than usual. Realizing that short-term price can be volatile and unpredictable, we retain the option to upgrade our rating on SJT to buy.
Monthly Distributions Depend on Drilling Deductions and Price
A slight difference in timing of HGT and SJT in rounding the bend in distribution declarations is due in part to the pattern of development expenditures subtracted from cash flow before making the distribution. HGT makes deductions that are more anticipatory and gives guidance on future deductions furnished by the operator of the properties, buy-recommended XTO Energy (XTO). SJT takes deductions when payments for development drilling are made by the operator of the properties, buy-recommended ConocoPhillips (NYSE:COP).
Index prices are already known for the next three monthly distributions because index prices are set at the beginning of each month and distributions declared in mid-month lag real-time price by two months. Thereafter we take price from the futures market which can change every trading day. Indeed, the recovery is taking longer than futures prices indicated when we last published monthly projections for HGT and SJT. Realizing that detailed projections tied to futures prices are continually changing, we update weekly the end result, Distribution for the Next Twelve Months.
Originally published on July 10, 2009.