I got some feedback on a recent article from a young man named Curtis. After going back and forth a few times, and understanding more about him and his needs, we worked to come up with something more suitable for him than was presented in the article. Curtis is smart, a hard worker and a great saver. At just over age 40, he has a good start on a lifetime nest egg. He has done enough investing to realize he has to be careful about finding "the next big thing" and making a quick decision. Perhaps his growing understanding of his limitations gives him an edge, a position of strength because he understands his vulnerabilities. I think that is what the old Greek meant when he said, "Know thyself."
The solution I proposed in the article had a few too many old fuddy-duddy stocks, the stuff most suitable for the "widows and orphans." Perhaps there was too much emphasis on yield. Along with dividend growth, he wanted solid proven companies that had been around for a while. Blue chips, you could call them. Here are the first 5 that I put forth.

With a strong yield of 3.4% and a Dividend Growth rate of 8.5%, I think 11.9% is near enough the Chowder number to pass. This is a good mix of telecom, healthcare, energy, technology and Procter & Gamble (NYSE:PG) representing consumer staples. Are we done yet? I guess five stocks is not enough for someone who wants to be broadly diversified. Let us find some more.

McDonald's (NYSE:MCD) is a poster child for dividend growth, as is Coca-Cola (NYSE:KO). That "0" beside General Electric (NYSE:GE) in the DGR box sure brings the 5-year dividend-growth-rate average down, but they seem to be on course, and that is still a respectable yield and DGR. I guess a question is, how many stocks is enough? A Solomon Brothers broker told me once that after six, the value of diversification was quite small. More often, I hear that 30 or so stocks is a better number. Bob Wells has a good idea; if you own 50 stocks then none of them is more that 2% of your holdings, you cannot get too badly hurt if a company goes bad.
Here is a question, if 30 is adequate and 50 is good, how would 100 be or even more? Possibly, with the right stocks it could be safer and better. Finally, we settled on 175 stocks. Read on…
Few individual investors want to have a nearly full time job of managing a portfolio that size, even those with the right skills to do so. That would be an insane situation. Most people realize there are things in life more exciting than reading annual reports or studying market data and crunching numbers. In fact, many people would like a little time to play golf and tennis, go fishing, travel to interesting exotic places and enjoy the arts.
Fortunately, there is a way to own the above individual stocks we selected, to diversify with a large number of other quality holdings, which involves very little time. That is by holding ETFs that hold exactly the stocks we want. After considerable trial and error, we found the contents of the below funds formed our ideal portfolio, all wrapped up in four tidy packages.

To create this portfolio of Dividend Growth Stocks, we eliminated those funds which were loaded with higher yielding but slower growing REITs, MLPs and utilities. This selection is more suitable for the younger investor. It is just as suitable for an older person if they are not looking at the highest current income possible, a need of some retirees.
The reason for holding three different domestic Dividend Income ETFs is that each does their selection differently. SDY consists only of companies, called Dividend Aristocrats, which have increased their dividend each year for over consecutive 20 years. VYM selects all companies that paid a dividend in the past 12 months then ranks them by yield. It then selects the highest yielding of those remaining stocks that total up to 50% of the total market cap in their sum. This creates a universe of mature large companies. DHS allocates not by market cap but weights by highest yield. Therefore, we have some duplication, and heavier weighting, of the very best stocks. All three funds own Johnson & Johnson (NYSE:JNJ), McDonald's and Procter & Gamble, and a diversity of other holdings.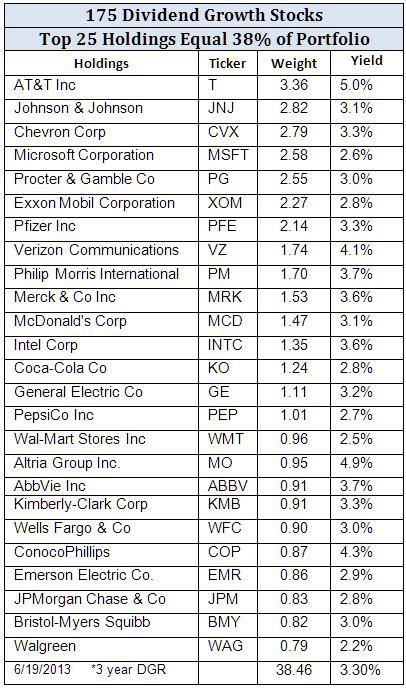 These powerful engines of capitalism, large, blue chip stocks form the backbone of the portfolio. Of all stocks in the holdings, 75% are large cap stocks. Spread over all sectors, and are a little heavier in defensive areas. Domestic stocks are 90% of the holdings.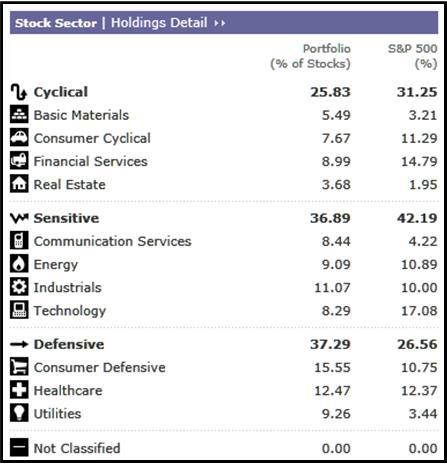 Summaries of Funds
The above descriptions are courtesy of Morningstar.
The Value of Quality
One of the things I have learned is that you do not go wrong if you buy quality. I consider it my job and responsibility, as a mature investor and experienced writer, not to allow things like dramatic yield and cute marketing influence my selections. It is very easy to make the wrong decisions; I do not expect every investor, young or old, to know all the hazards out there. I certainly learned some of my lessons the hard way, the expensive way. I hope to help prevent others from doing that.
Good luck!
Disclosure: I am long JNJ, MCD, PG. I wrote this article myself, and it expresses my own opinions. I am not receiving compensation for it (other than from Seeking Alpha). I have no business relationship with any company whose stock is mentioned in this article.