An alternative fuel based company with a dividend, zero debt and $196 million in cash! That's what I will be looking into today. FutureFuel (NYSE:FF) is engaged in the production and sale of chemicals and biofuels and competes with industry heavyweights that are a lot larger in all respects except one - growth. What sets FutureFuel apart from its competitors is the company's willingness to accept custom manufacturing contracts and setting up a derived demand for the chemicals it makes. For example, the company makes bleach activator for P&G. An increase in demand for P&G's bleach products can inadvertently result in an increase in business for FutureFuel. Furthermore, FutureFuel also boasts more than 300 specialty chemicals it has produced for performance and other purposes.
If chemicals are not enough to provide a financial base for FutureFuel, the company also sells biofuels. In 2011, the mandated level of biodiesel in the market place was 800 million gallons. This moved to 1 billion gallons in 2012 and increased to 1.28 billion gallons in 2013. With time, this value is only going to get more and more inflated, which is good news for FutureFuel revenues for the coming years.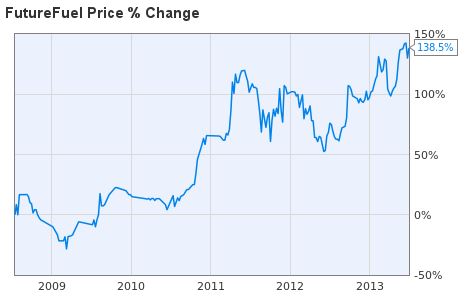 Since the company's listing on the NYSE, its share price has increased by a whopping 138.5%. Throughout the company's time in the market, it has witnessed a steep price increase at least once throughout the course of each year. This is because as financial filings and results are revealed, investor confidence is boosted. Seeing how FutureFuel's next conference call and publication of results is expected in August, July is the perfect moment to assess whether this company will experience the same steep price appreciation in 2013 as it has shown for the past four years.
Performance and Competition
In the company's release of financial details for Q1 2013, it reported a net income of $14 million, representing an increase of 100%. Revenues were up 8% to $85.7 million, with revenues earned from biofuels up by 10% and accounting for 56% of total revenues in the Q1 2013. Revenues from chemicals increased 4% and accounted for 44% of total revenues in Q1 2013. The EPS has been sequentially improving over the past 3 years and over the TTM, which stood at $0.98. Side by side, its free cash flow per share has been improving, too - so much so that it improved by well over a 100% over the last year. FutureFuel may be small but its liquidity and financial health are mighty! (Figures taken from Morningstar and FutureFuel's website)
In the chemicals industry, FF has the advantage of diversity as it also provides biofuels. While its competitors also offer diverse products due to their large financial allowances, their competence in biofuel research and advancement cannot match that of FF. To gauge the competition that is faced by FutureFuel, I've compared FF to Dow Chemical (DOW) and E.I. du Pont de Nemours & Company (DD). The graphs below illustrate share price appreciation/depreciation of the three companies while being compared with the S&P 500 and the Dow Jones Industrial Average.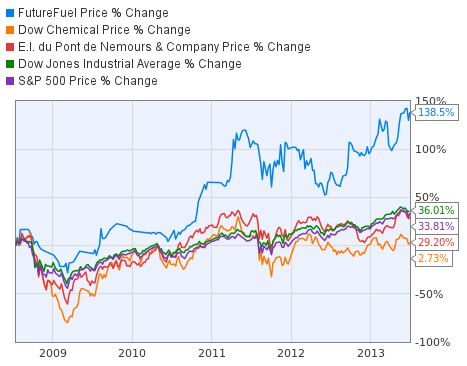 The graph above shows that four-year shareholders of FutureFuel have seen the value of their shares appreciate by 138.5%, completely outstripping the market averages and the competition along with it. DOW and DD on the other hand, have been bearish in their performances as the return on stock value for these two stocks has been less than the market averages.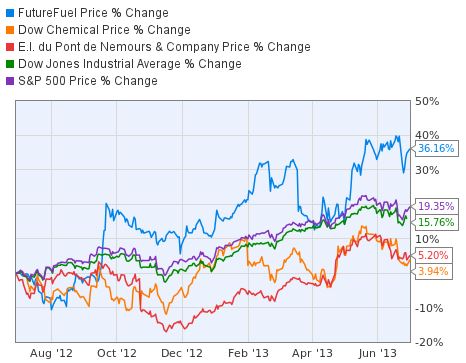 Over the past 12 months, FutureFuel has again out-performed the competition, and at a swifter rate. More worrisome, though, is the inability of DOW and DD to find opportunity and markets to explore, and this makes FutureFuel a much more attractive investment than it previously was.
Indicator

Market Cap

$617.5 mil

$39.5 bil

$49.0 bil

Price/Earnings ttm

14.4

38.8

20.1

Price/Book

2.1

2.3

4.0

Net Income Growth (3 Yr Avg.)

26.4

22.2

16.7

Revenue Growth

(3 Yr Avg.)

21.4

8.2

8.9

Dividend Yield, %

2.96%

3.98%

3.31%

Return on Equity

14.1

5.4

42.7

Debt/Equity

-

1.1

0.9

Current Price

$14.30

$32.41

$52.24
Data from Morningstar on July 2
Easily being smallest of its competitors, this comparison has a lot more 'percentage' value attached to it than just absolute magnanimity of numbers. With an industry average P/E of 18.1, FutureFuel looks undervalued at $14.30. I mentioned earlier about the growth potential of the company and my claim is further strengthened by its strong growth in revenue and net income over the past 3 years. DOW and DD are extremely big corporations with a large chemical processing presence in the United States, but since chemical production is a very expensive process, the two companies are laden with debt as is suggested by an industry average of 0.9 for the debt/equity ratio. FF's financial position of having no debt allows it a buffer and leverage if its projects go south, while also adding to its ability to borrow money.
As DOW and DD continue to shift resources towards agriculture, FF has a good opportunity to gain market share with its products. For investors, however, the large capitalization of DOW and DD make their 3.98% and 3.31% yields large obstacles whenever thinking about buying FF. DD expects a fall in operating profit due to a wet spring in North America and Europe that hurt its agricultural business. It might not be the best time to tap into the large conglomerate. For FF, however, the stock's growth-stock nature can land it much higher on the price charts, and continued increases in its dividend payment will attract risk-taking investors.
Make or Break for Investors
Chemical manufacturers rely heavily on the manufacturing sector for business, and especially from the automotive, appliance and construction industries. When manufacturing production levels decreased during the recession, industry demand took a hit. With U.S.'s manufacturing production having increased by 4% in 2012, I believe DOW and DD made a wrong call by shifting to the agriculture sector. There is still potential in the chemicals market and companies like FutureFuel stand to benefit from it as the majority market-share holders shift into other industries.
FutureFuel's business strategy includes continuation of specialty contracts, increased production of performance chemicals and biodiesel. Biodiesel contributed to the company's revenue by more than 50% and there is potential for further increases in 2013 due to the global focus on finding alternative fuels and greater efficiency from vehicles.
Final Verdict
Coupled with the company's dividend offering and competitive financials, FutureFuel is a prudent buy for the long term. Having a look at price charts for the company's performance, we can see its potential. With continued focus on biofuels and chemicals, FutureFuel is a 'Buy' for today and for the future.
Disclosure: I have no positions in any stocks mentioned, and no plans to initiate any positions within the next 72 hours. I wrote this article myself, and it expresses my own opinions. I am not receiving compensation for it (other than from Seeking Alpha). I have no business relationship with any company whose stock is mentioned in this article.