Regardless of the disastrous and repeat plummet in Silver prices, the June 2013 sales of American Eagle Silver coins at 3,275,000 ounces outpaced sales of Silver coins at 2,858,000 ounces in June 2012 last year. The total for the first six months of this year, sales of the American Eagle Silver coins were 25,043,500 ounces, up substantially from total sales for American Eagle Silver coins of 16,051,000 ounces for the first half of last year, a 56% increase. (see number in Red in table below). Investors will now keenly wait for the U.S. Non-farm payrolls figure on Friday. A good jobs number will see silver and gold come under pressure again, while a weaker number could lead to robust buying after the recent back-to-back carnage. The U.S. Mint sold 826,500 ounces of Silver coins on the first day in July, according to figures on the Mint's website (see number in Blue in table below). Silver and Gold prices appear to have hit bottom and may take technical support around their latest lows seen in June on any repeat dips further on.
Sales of Silver Coins Till now in 2013
Month
One
( oz. / #coins )
January
7,498,000
7,498,000
February
3,368,500
3,368,500
March
3,356,500
3,356,500
April
4,087,000
4,087,000
May
3,458,500
3,458,500
June
3,275,000
3,275,000
July
826,000
826,000
Sales of Silver Coins in 2012
Month
One
( oz. / #coins )
January
6,107,000
6,107,000
February
1,490,000
1,490,000
March
2,542,000
2,542,000
April
1,520,000
1,520,000
May
2,875,000
2,875,000
June
2,858,000
2,858,000
July
2,278,000
2,278,000
August
2,870,000
2,870,000
September
3,255,000
3,255,000
October
3,153,000
3,153,000
November
3,159,500
3,159,500
December
1,635,000
1,635,000
Total
33,742,500
33,742,500
Meanwhile, Gold prices also tumbled to a three-year low on June 27th to $1,180 per ounce. As the US Mint sales figures show, June sales of U.S. American Eagle Gold coins sank to their lowest level since August 2012. Sales of the American Eagle Gold coins sank to a month-long total of 57,000 ounces, down from 60,000 ounces during June 2012. (see number in Red in table below).
The point of solace even in weak sales is, at a total of 479,000 ounces, sales of American Eagle Gold coins for the first six months of 2013 still substantially exceed coin sales for the first half of last year by 39%, as the first half of 2012 sales totaled 343,500 ounces. Gold ETF (NYSEARCA:GLD) outflows continue and are at a four year low, with SPDR Gold Trust saying its holdings dropped to 968 tonnes, a figure not seen since 2009. However physical demand remains robust as seen in China, in the U.S. Mint figures and the increasing demand for international bullion storage, outside the banking system. The U.S. Mint sold 14,500 ounces of gold coins on the first day in July, according to figures on the Mint's website (see number in Blue in table below).

(Click to enlarge charts)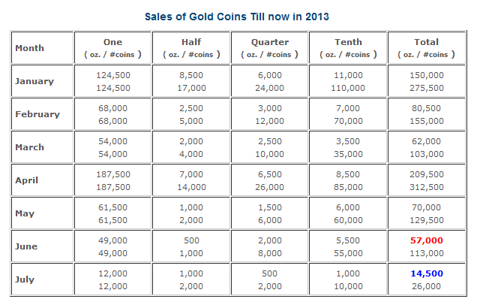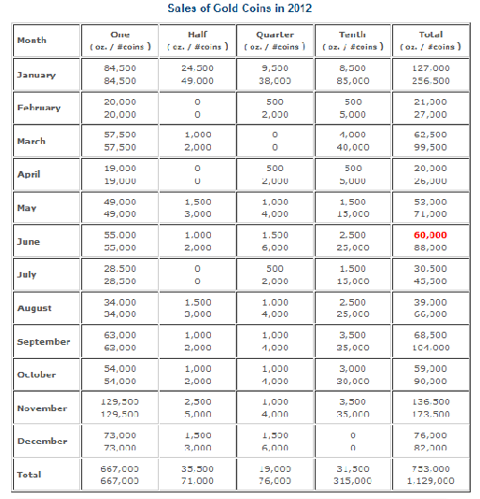 Goldman Sachs Group Inc. says bullion will reach $1,050 by the end of 2014 and Credit Suisse Group AG forecasts $1,150 in about 12 months. Still, not everyone is bearish.
If All Banks feel so bearish about precious metals, then why are global sales of Gold and Silver Coins soaring?
Gold and Silver may have seen their trough as prices are near or even below production costs. Physical demand seems to rise with each passing day at the moment, and at the current prices, mine production is not sustainable. The average production cost of gold-mining companies is $1,201 an ounce, according to Bloomberg Industries, which tracks seven of the world's top 10 producing companies. The U.S. seems to be witnessing one of the biggest physical demand and sales for Silver coins ever. Any idea why? Its but obvious. The already robust and booming sales of Silver Coins in the U.S., Canada, Australia, and elsewhere clearly indicate investor bias for Silver over Gold. Meanwhile, Silver is already a winner in India, as the world's largest gold buyer wages a war against Gold. Clearly the "Time" for Silver seems to be fast approaching.
In other developments, the Singapore government has been promoting the country as a bullion-trading hub, removing a 7 percent sales tax from investment-grade precious metals last year. UBS, Switzerland's biggest bank, started storing gold for wealth-management clients at a facility in Singapore, citing interest from investors in the region even after the metal slumped into a bear market. UBS joins Deutsche Bank AG and JPMorgan Chase & Co. in offering storage services in Asia, where China may surpass India as the largest user this year. In the meanwhile, India will quietly accumulate massive quantities of Silver Bullion….
Disclosure: I have no positions in any stocks mentioned, and no plans to initiate any positions within the next 72 hours. I own and plan to add more Silver. I wrote this article myself, and it expresses my own opinions. I am not receiving compensation for it. I have no business relationship with any company whose stock is mentioned in this article.