Raymond James upgraded JPMorgan Chase (NYSE:JPM) on July 2, 2013 to a "Strong Buy" rating from outperform while raising the price target from $55 to $64 based on a more favorable outlook on earnings growth even in the face of the Federal Reserve approving bank reform measures. The new measures will force banks to raise the Tier 1 capital requirements that banks need to hold from 4% to 6%, which causes the banks to hold about 8% capital on their balance sheets when taking into consideration a buffer. With that in mind I want to evaluate on a fundamental, financial, and technical basis if it's worth buying more of the stock right now.
Fundamentals
Chase currently trades at a trailing 12-month P/E ratio of 9.37, which is inexpensively priced, but I mainly like to purchase a stock based on where the company is going in the future as opposed to what it has done in the past. On that note, the 1-year forward-looking P/E ratio of 8.8 is currently inexpensively priced for the future in terms of the right here, right now. Next year's estimated earnings are $5.96/share and using that forward P/E value I'd consider the stock cheap until at least $89.40. The PEG ratio (1.44), which measures the ratio of the price you're currently paying for the trailing 12-month earnings on the stock while dividing it by the earnings growth of the company for a specified amount of time (I like looking at a 5-year horizon), tells me that Chase is fairly priced based on a 5-year EPS growth rate of 6.52%.
Financials
On a financial basis the things I look for are the dividend payouts, return on assets, equity and investment. Chase boasts a dividend of 2.9% with a payout ratio of 21.3% while sporting return on assets, equity and investment values of 0.9%, 11.2% and 6.7% respectively; which are all respectable values. If maybe you feel the market will retract a little more and would like a safety play then maybe the 2.9% yield of this company is good enough for you to take shelter in for the time being because the earnings growth to me is not high enough. Chase goes ex-dividend on July 3, with a $0.38/share dividend and is payable to shareholders on July 31. This $0.38/share dividend marks a 26.67% increase from the prior dividend of $0.3/share!
Technicals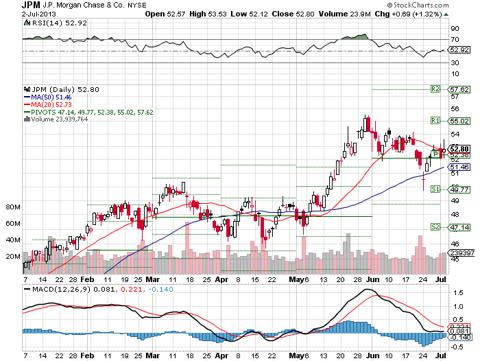 Looking first at the relative strength index chart [RSI] at the top, I see the stock at around a middle ground value of 52.92, but with an upward projection; this tells me that there may be a little bit of upside to the stock. To confirm that, I will look at the moving average convergence-divergence (MACD) chart next and see that the black line is below the red line and that the divergence bars are decreasing in height to the upside, indicating there may be a bit of upside coming. As for the stock price itself ($52.80), it's slightly above the 20-day moving average and I'd expect the 20-day moving average to act as support. If the stock can bounce up off of the 20-day moving average, I can see it going to $55.02, but if it can't, I see it going down to $49.77 for a risk/reward of -5.74% to 4.2%.
Recent News
On June 7, 2013 Macquarie downgraded Chase to "neutral" with a price target of $57 based on lofty relative valuation.
On June 11, Standard and Poor's downgrades Chase's "A" credit rating outlook from "stable" to "neutral" because the looks of another huge bailout by the government of any bank is pretty much next to nil.
Conclusion
With the passing of the new measures for the Tier 1 capital requirements Chase may need to slow down the growth rate of its dividends, but the current payout ratio is low enough that I don't think it will be an issue. Fundamentally this is a great value stock but I honestly don't see any growth associated with the name if interest rates continue to rise. Rising interest rates are deterring people from getting a home loan refinanced or even getting a new home altogether. Just within the last 12 hours two situations occurred to a couple of friends:
One friend told me that he is thinking of withdrawing his refi loan application from a bank (not JPM) because it is taking way too long to process it, and I told him that he will lose out on the interest if he does that and he agreed that he would lose out on his interest rate.
Then after that situation took place, another friend told me that because his refi paperwork took way too long that his bank (not JPM again) told him he would be charged a new and higher interest rate than what he had locked in previously. So that friend just cancelled the refi altogether.
Though these two situations did not involve Chase, there is no doubt in my mind that some of Chase's customers are experiencing the same issues. If these types of situations continue to occur, this housing recovery will be lost pretty quickly. With the risk/reward ratio I calculated in the technicals section I don't see too much to be excited about. While writing up this report I was feeling pretty good at the start till I encountered the earnings growth issues and with my dividend stocks I like to see at least double-digit earnings growth potential. If you like a value play with a dividend growth story and not earnings growth then this stock may be just for you. While I do hold JPM in my portfolio, I will not be making any purchases at this time and will even look into trading out of the stock and trying to find a regional bank such as M&T Bank (NYSE:MTB) or pure investment bank such as Blackrock (NYSE:BLK).
Disclosure: I am long JPM. I wrote this article myself, and it expresses my own opinions. I am not receiving compensation for it (other than from Seeking Alpha). I have no business relationship with any company whose stock is mentioned in this article.
Disclaimer: These are only my personal opinions and you should do your own homework. Only you are responsible for what you trade and happy investing!