Introduction:
When I was getting started as an investor, there was a fellow that I discovered one weekend on the radio. His name was Bob Brinker, and he was hosting a call-in financial show that was called "Moneytalk." This was back in 1986, and Bob has been hosting that nationally syndicated show ever since.
He also writes a monthly financial newsletter called, "Bob Brinker's Marketimer" which has the stated goal of "Leading You To The Land of Critical Mass."
So, what exactly is this notion of "critical mass?" Well at his website, Bob provides this definition:
A state of freedom from worry and anxiety about money due to the accumulation of assets which make it possible to live your life as you choose without working if you prefer not to work or just working because you enjoy your but don't need the income. Plainly stated, the Land of Critical Mass is a place in which individuals enjoy their own personal financial nirvana. Differentiation between earned income and assets is a fundamental lesson to learn when thinking in terms of critical mass. Earned income does not produce critical mass......critical mass is strictly a function of assets.
What I Know:
While Bob's definition of "critical mass" is his own and is more than likely a proprietary one, I've always used the term in a slightly different way. The way I view "critical mass" is also relative to investing, and while I do like his definition, I see it more in the context of how the term would apply to Dividend Growth Investing [DGI].
Since I am a DGI, I look for companies that have a history of paying dividends, that have a history of increasing those dividends annually; and that have grown those dividends at a rate that is larger than inflation.
Now, there are stocks in my portfolio that have had decreasing dividend growth rates and are not increasing the dividend at that "better than inflation' rate that I look for, but I've become more comfortable with looking at total dividend growth for the portfolio and not being overly critical of a company that has "slowed" the rate of return. AT&T (NYSE:T) would be one of those companies that I'm talking about.
When I started working for Coca-Cola (NYSE:KO) back in 1984, one of the company benefits was a 401k plan that allowed us to invest in a number of mutual funds as well as the option of purchasing shares in Coke. That seemed like a pretty good benefit from my perspective, and I began investing with the 401k and invested the maximum amount that I was allowed to set aside. That 401k plan worked out very well for me, and when I left KO, I rolled the monies and stock from that plan into a Traditional IRA.
After leaving Coca-Cola, I worked for a number of companies, and all of them offered 401k plans to their employees. While putting money aside in those plans, whenever I left a company, my 401k was rolled over into my IRA account at Schwab.
What You Should Know:
Getting back on track here, the term "critical mass" as I define it is:
That point in time, when the dividends being paid in your retirement account are greater than the amount of money that you can actually invest in that retirement account.
For those who have a Roth IRA, the 2013 contribution limit is $5500 if you are under age 50 and $6500 if you are over age 50. In order to generate $5500 in dividend income with a portfolio averaging 3% yield, that would mean that you would have to have a portfolio value of around $185k to generate $5500 in dividends (for those under age 50) and around $220k to generate $6500 a year (for those of us over age 50).
Why would that be attaining "critical mass?" Well, let's take a minute to look at an example of an investor who is currently 50 years old. That individual has a $220k portfolio of Dividend Growth Stocks that average a current yield of 3%.
This investor can contribute $6500 to his Roth this year and his Roth will give him an additional $6500 in dividend income this year. That's a total of $13000 realized over the next 12 months.
Those dividends are "doubling" his allowed contribution of $6500, and over the next 15 years (until he reaches 65), that scenario can continue to play out with the advantage of the dividend income actually becoming larger than the amount that he is allowed to contribute to his Roth annually.
An Example For Your Review:
Our example makes a few assumptions. First, our investor has reached age 50 and can contribute $6500 to a Roth IRA. He currently has a portfolio value of $220k and his portfolio is yielding 3% in dividends. Our investor's portfolio consists of a basket of stocks that have a dividend growth rate of 3% on an annualized basis.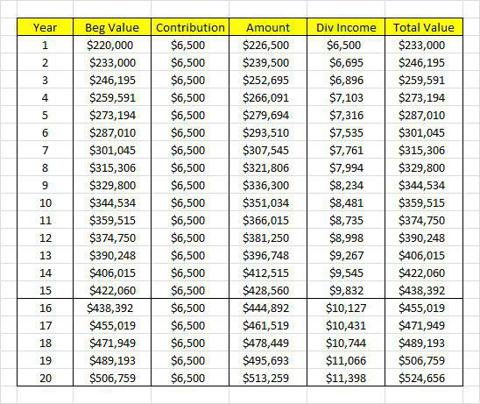 Now I realize that stock prices go up and down. This example doesn't take that into account. It's not supposed to be an actual example of portfolio value change, but just looks at the starting value, the annual contribution and the 3% dividend growth rate. Then we have extrapolated out he numbers based on only those assumptions.
What is consistent, in my opinion, is the dividend growth rate [DGR] as stated here. If the portfolio is currently yielding 3% and the DGR continues at 3%, then reaching $11,398 in dividend income should be a real number.
I have not increased the amount of the contribution an investor can make in his Roth, for this example. There is no telling where the contribution limits will take us in the future. What's interesting here is that once we reach the $220k base amount, a portfolio with a 3% dividend yield and a 3% DGR will produce more dividend income that the contribution amount, in the first year. Critical mass.
Example #2:
Making the same assumptions as in Example #1 with the only change being a DGR of 6% annually, the potential results look something like this: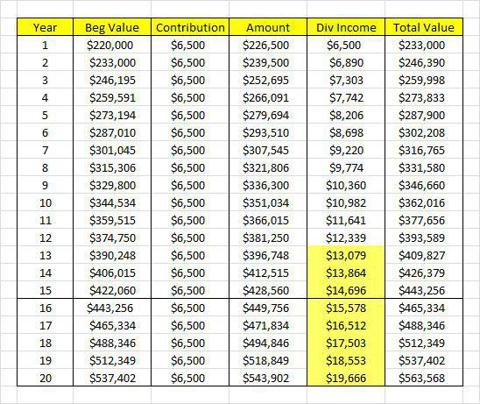 In this example, in year 13, the dividends that the investor receives with a 6% DGR reach a point where not only is the contribution number reached through dividends paid, but there is a doubling relative to actual contribution and there's where "critical mass" begins to accelerate its effect on the portfolio performance, relative to our model.
Conclusion:
Having an investment plan and sticking to that plan is critical to having success as an investor. It is easy to find reasons why not to invest, but it serves us well to find reasons why we should invest. While price changes in individual stock positions held is a given, having a long term perspective tends to give those value changes more of a flat line.
As with any investment strategy, investors need to remain active in their portfolio management and as market conditions change, investors are going to have to make decisions relative to their own personal strategies and investment goals.
Disclosure: I am long KO, T. I wrote this article myself, and it expresses my own opinions. I am not receiving compensation for it (other than from Seeking Alpha). I have no business relationship with any company whose stock is mentioned in this article.