It seems like the online real estate marketing companies such as Zillow (NASDAQ:Z), Trulia (TRLA) and Move, Inc. (NASDAQ:MOVE) have figured out a way to grow their earnings, by raising advertising and sales department spend. In this article, we will take a quick look at why this type of business is currently a continual "Catch-22," and the growing revenue that analysts are excited about is at the cost of profit margin.
In these following quarterly earnings reports, you can see a correlation between increasing in ad / selling spend and higher increases in revenue. When the spend is increased slightly, all three competitors usually show moderate revenue increases and vice versa; with heavy spend increases the revenue increases jump. This might explain why Zillow has committed to a high spend increase in Q2 of 2013, to generate high revenue and keep subscriptions growth high to attract more investors. But the downfall to such a model is very low to negative profit margins and Zillow has forecasted a negative quarter to try to pull off a positive year.
Zillow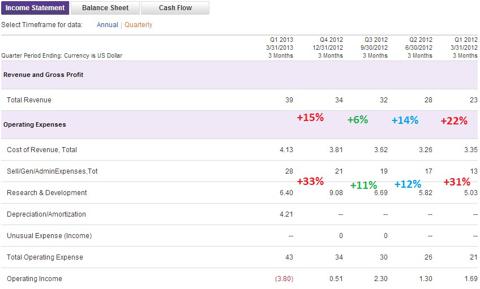 Trulia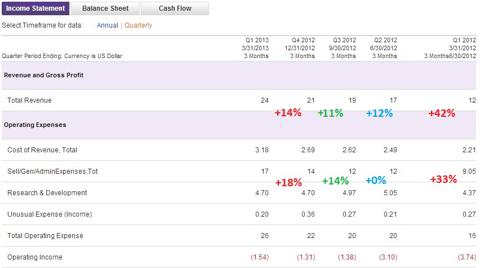 Move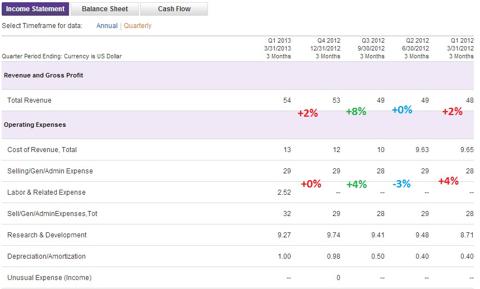 These quarterly earnings also re-affirm the spend vs. revenue growth model for this market by showing that all the companies keep their R&D spend steady. This spend for most companies is the growing spend as they need new innovative products and technology, but in this industry, they seem to grow by just increasing ads for their websites and their sales departments increasing calls to real estate agents to get them to sign up for services. The possible downfall with this model is that there might need to be a constant spend to keep web page views high and a constant growing spend to aggressively call agents to sell them services.
This can be inferred by the fact that when this spend goes down, the revenue growth shrinks. Taking Zillow as an example, their biggest quarterly revenue jumps are when they increase spend by more than 30%. Their website revenue is growing slowly compared to their agent subscription rates. Thus the increase in spend is mostly targeting their core market, real estate agent subscriptions, but the fact that they cannot let up on the spend suggest that there can possibly be a high agent turnover rate. Since we do not know how many agents try Zillow out and then quit it, we cannot determine what amount of this spend correlates to loyal subscribers. If they are spending millions for a low rate of return (subscribers that leave them after a short period of time), then this high spend model will need to be constant. If Zillow can show investors that their spend is bringing in a lot of loyal subscribers with a low turnover rate, then this model might be effective in the end, but so far they have not shown this data.
This correlation can further be seen by plotting the above spend vs. revenue percentages and seeing that the line of best fit always has a positive slope, easily showing that the higher their ad / selling spend the higher their revenue.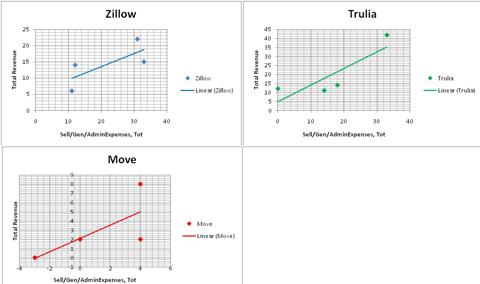 Lastly the "Catch-22" for this business sector is that the profit margins are very small due to not being able to maintain high revenue without high spending.

These three competitors have all operated below a 3% profit margin and in many quarters have reported negative profit margins. This further re-affirms that this industry needs to do a lot of work to break the vicious cycle of spending a lot to gain high percentage increases in revenue, but not being able to impact the bottom line. The analysts are attracted to the high percentage revenue growth, but who knows how long their attraction will last without seeing profit margins grow.
Since this industry is somewhat new (Zillow and Trulia went public in the past several years), analysts are still hoping that the companies can capture the possible 5-10 billion spent on advertisements by real estate agents and possibly find other ways to break into the larger real estate market. But with continued low profit margins and giants like Google (NASDAQ:GOOG) introducing innovative pay per click services like Google Adwords, which a lot of agents use and only pay for clicks to their ads, this industry might get the cold shoulder if they cannot start making better margins. Thus investors need to take into account the current way these companies are attracting investors by buying their revenue growth with high spending. This can sometimes be a great way to capture market share, but a company has to prove this is a viable long term business plan by showing they can also grow their profit margins. In my opinion, this does not seem to be the case from the past several quarterly reports from these companies.
Disclosure: I am short Z. I wrote this article myself, and it expresses my own opinions. I am not receiving compensation for it (other than from Seeking Alpha). I have no business relationship with any company whose stock is mentioned in this article.