On the morning of Friday, June 21, 2013, the U.S. Patent Trademark Office ("USPTO") posted a Notice of Allowability for Patent Application Number 13/569,837 (linked PDF file size: 1.2MB) on its Patent Application Information Retrieval ("PAIR") website. For the few people familiar with this communication portal, this meant that the USPTO was publicly announcing its intention to grant a continuation of MGT Capital Investment's (NYSEMKT:MGT) '088 patent. Despite no press coverage until six days later, this USPTO update sparked an overnight rally of 20%: $4.45 to $5.35 per share. The rally, depicted below, progressed slowly as awareness trickled out to the Wall Street community. More importantly, it allowed savvy traders to profit from public information before traditional media reported it as "news."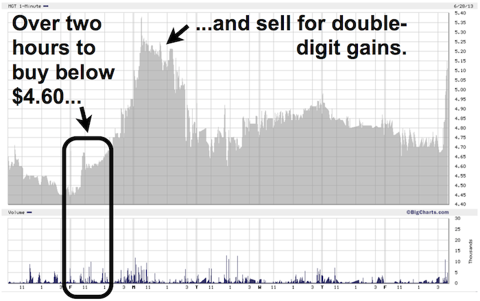 As readers of my articles know, the '088 patent is the foundation of MGT's high-profile lawsuit against five casino industry defendants. It covers a process of displaying bonus rounds on an overhead screen while playing slot machines (I explain MGT's '088 patent in a prior article). MGT has stated that its patent could be worth hundreds of millions in the courtroom. Personally, I am not trained in law and have no opinion of MGT's likelihood of success, yet the above chart clearly demonstrates that there are optimists who trade this stock. Proactive traders saw the PAIR update on Friday morning and sold their shares over the ensuing hours for large profits as awareness spread.
I wish I had been one of them. I was holding a moderate position as a long-term investment (I explain elsewhere that I am an investor in MGT because of its unrelated gaming divisions and low-risk capital structure), but this would have been a chance to take a large position for a day trade. Fortunately, I was able to sell some shares with a GTC limit sell order in the $5.20s (like I have done before) and was able to repurchase those shares on a retracement.
The Point
If what happened with MGT raises your eyebrows, good. Traditional stock market news agencies like Bloomberg and Reuters will undoubtedly provide real-time updates of USPTO filings in the future, but right now, PAIR is still an under-the-radar communication portal. Patent litigation is a nascent sector, and news firms are still discovering and integrating information sources into their coverage domain. Most news agencies still view PAIR as a jumbled repository of legal papers with no relevance to stock prices. This has generally been true, until just recently. At this current point in history, manually refreshing PAIR provides advance notice of material, public information and a legal opportunity to trade the securities of public companies before almost all other investors discover the news. This opportunity will eventually degrade as traditional media initiate coverage of USPTO actions.
I will probably regret publishing this article in a few weeks, yet that sentence probably just made someone rich. If you become that reader, I hope you contact me one day with your story. Anyway, back to the details.
The Prerequisite: Homework
The event that occurred the morning of June 21 was the USPTO designating application #13/569,837 as "allowable." Obviously, homework is prerequisite for understanding the significance of such an event. Application #13/569,837 is a continuation of application #12/930,712, which is a continuation of application #09/982,437, filed October 18, 2001. Application #09/982,437 resulted in the issuance of patent #7,892,088 ("the '088 patent").

The USPTO issued the '088 patent to inventors Steve Brandstetter and James Devlin, who later assigned 100% ownership of the patent to MGT Gaming. The two men retain 45% ownership of MGT Gaming through their private firm, J&S Gaming, but they sold 55% ownership to MGT Capital Investments, the public company. All of this was public knowledge prior to the June 21st Notice of Allowability. I even posted the following pie chart in my last article, illustrating the exact value of MGT's 55% '088 patent ownership relative to the rest of its assets.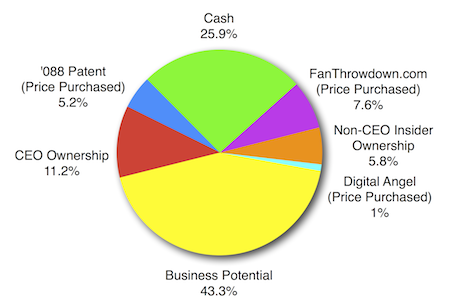 What does it mean when the USPTO posts a Notice of Allowability? Well, an application for patent continuation is "a patent application filed by an applicant who wants to pursue additional claims to an invention disclosed in the parent application. The continuation uses the same specification as the parent application, claims the priority date of the parent, and generally names at least one of the same inventors as the parent." According to the USPTO, "If, on examination, it appears that the applicant is entitled to a patent under the law, a notice of allowance will be sent to the applicant." When the USPTO decides to grant a patent continuation, they send a notice to the applicant, the applicant pays a fee, and the final patent is usually mailed within a month. In the case of MGT's '088 patent, the continuation is now a done deal. MGT has paid the fee, and the actual issuance is merely a formality as prosecution on the merits is now closed. Within the next few weeks, the USPTO will send an issue notification to MGT with the publication date and patent number under which the application will issue.
In other words, a Notice of Allowability is essentially news that the USPTO has approved the application, pending only paperwork formalities. Because MGT's application was for patent continuation that could be worth several times its market capitalization through litigation, this almost-approval was a positive event for MGT shareholders.
As readers are quickly realizing, despite how much profit potential exists in the boldfaced sentence above, PAIR is not a free lunch. Only investors who complete difficult homework can decipher USPTO actions in real-time. In the case of MGT, only a few dedicated investors understood that the Notice of Allowability for application #13/569,837 meant that MGT's '088 patent would receive continuation, indicating that the USPTO had reviewed additional prior art and not only confirmed the validity of the original '088 patent but also clarified, refined and expanded its claims. They understood that this would catalyze a short-term rally for MGT as awareness spread about the increased likelihood of MGT winning its multi-million dollar lawsuit.
This conclusion is reinforced in the language of the allowance. For example, on June 12, 2013, USPTO examiner Steven J. Hylinski conducted a phone interview that strengthened the patent's claims and resilience to prior art, adding conclusive statements like, "the best prior art of US 5,772,509 to Weiss neither anticipates nor renders obvious the interactive game." The full text of the allowance is downloadable in PDF format here.
The Aftermath
After MGT received this letter from the USPTO, it filed an 8K with the SEC to fulfill its Regulation FD obligations. This 8K posted to the SEC and Yahoo Finance websites during after-market hours on Thursday, June 27. This accentuates the amount of time that can transpire while an event is translated into a headline (in this case, market hours on June 21 to after-market hours on June 27). Indeed, when we say that we are alpha seekers, this situation epitomizes the type of alpha-generating opportunity we seek.
Disclosure: I am long MGT. I wrote this article myself, and it expresses my own opinions. I am not receiving compensation for it. I have no business relationship with any company whose stock is mentioned in this article.