Marine Harvest (MNHVY.PK), which is the world's largest producer of farmed salmon, is an attractive buy at current levels considering the current salmon market price trend. This investment note discusses the near-term positive outlook for the stock and the long-term fundamental drivers for the business.
Salmon Prices Are Surging
According to the FAO report (June 2013) on world food markets, the salmon price index has increased from 146 in June 2012 to 195 in June 2013.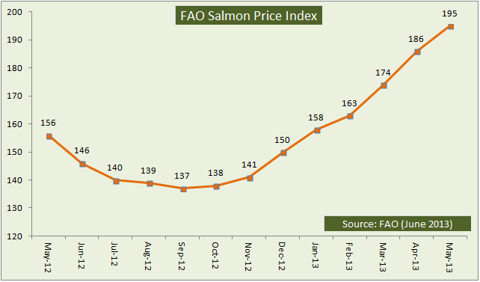 The same report states that -
Despite a 13 percent increase in farmed Atlantic and Pacific salmon production between 2011 and 2012, salmon prices continue to recover from the very low levels reached in 2011. Strong demand in the face of rising salmon price implies a structural shift in consumer demand, which is good news for salmon producers. Production is expected to increase by only 2-3 percent in 2013, and prices are expected to remain high. Some added supply is foreseen for the second half of the year, but it will be less than previously expected due to production problems in Chile and Norway.
According to another June 2013 update on Salmon by Globefish -
The increase in global demand for salmon can be attributed to a combination of attractive prices, product development, extensive marketing campaigns and a global shift towards healthy yet sustainable seafood choices such as salmon sushi. Another encouraging trend is the continuing development of increasingly important markets in Russia, Poland, China and Brazil, which collectively imported almost 500,000 tonnes of salmon products in 2012, more than Japan and the US combined. Russia in particular has seen spectacular growth in salmon imports, while Poland's smokehouses have become a major supplier of products for Western Europe and domestic consumption is also on the rise.
The primary objective of these excerpts is to show that the demand for salmon will remain robust in the foreseeable future. This trend will positively impact Marine Harvest's earnings over the next few quarters.
The positive earnings development has been already evident in 1Q13 earnings. For 1Q13, the operational EBIT per Kg was robust for Norwegian, Scottish and Canadian salmon. A negative EBIT per Kg for salmon from the Chilean origin was primarily due to increased costs for biomass.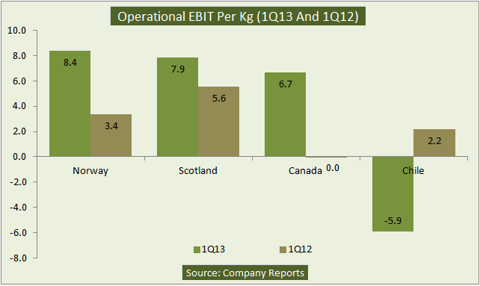 As a result of the positive price development in 1Q13, operational EBITDA for the period increased by 46.8% to $111 million compared to $75 million in 1Q12. The operational EBITDA margin also increased to 17.4% in 1Q13 compared to 11.5% in 1Q12.
What is important to note here is that the average salmon price index for 1Q13 was 165. With the salmon price index data available until May 2013, even if the June index is considered to be the same as May, the average price index for 2Q13 will be 192. Investors can therefore expect a robust second quarter in terms of EBITDA, EBITDA margin and earnings per share. Record exports of Norwegian seafood in May 2013 underscore the point that the upcoming results will surprise on the upside. In line with an expected strong result, the stock should trend higher in the near-term. Further, as the FAO summary above suggests, demand will remain strong for the remainder of 2013.
And Will Continue To Trend Higher...
The discussion so far has primarily been with a near-term focus and a positive outlook. In this section, I will discuss the reasons for having a bullish long-term outlook for salmon. If the long-term demand trend does remain positive, Marine Harvest, being the largest farmed salmon player, is best positioned to benefit.
Before discussing the demand coming from a rising population and a greater demand for protein, I would focus on the 30-year relative price development for salmon relative to other protein sources. As the chart below shows, salmon has become relatively cheaper over the last 30 years compared to other animal protein sources.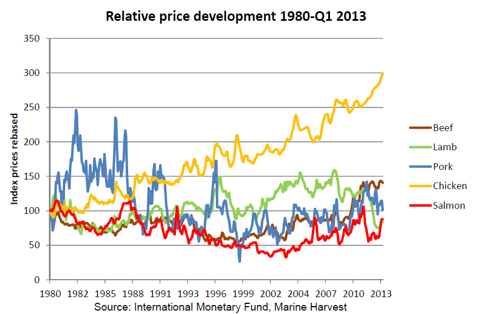 One of the most important conclusions from this chart is that salmon is depressed compared to other animal protein sources despite the current rally in prices. Considering a long-term bear market for salmon prices, it might not be surprising to witness a sustained uptrend in prices going forward.
Besides the price development, the fundamental factor, which supports growth in the salmon industry, is the expected rise in global population over the next few decades and the incremental demand for protein. As the chart below shows, protein consumption is expected to rise by 40% during the period 2008-2040. With the stagnation of wild catch, the growth in the fish production industry will be robust to meet the global protein demand. Incremental demand from high growth markets like Russia, China and Brazil will keep the demand-supply scenario tight resulting in firm prices and robust profits for players in the salmon industry.

The supply side constraints are evident from the chart below, which gives the expected growth in farmed Atlantic salmon from 2013 to 2020. A disease outbreak is the key reason for relatively slow growth in supply. As recently witnessed in Chile, disease outbreak can impact harvest quantity.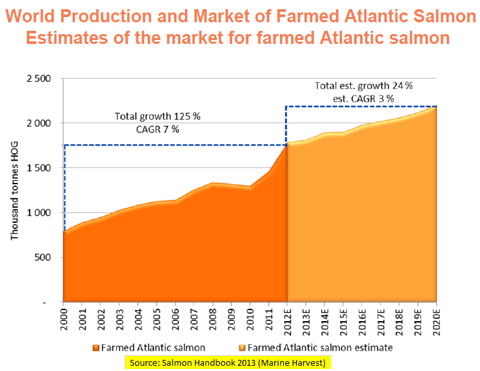 Leading To Robust Growth Estimates
Considering the arguments presented above and looking at the 1Q13 earnings trend, the results over the next few years are expected to be robust in line with high salmon prices. From an EPS of Norwegian Kronor 0.06 per share in FY12, the EPS is expected (mean estimates) to increase to 0.54 in FY13 and 0.70 in FY14. Therefore, considering an earnings growth of 800% for FY13 and 30% for FY14, the current PE of 30 does not look expensive as it translates into a PEG ratio of 1. Even beyond 2014, Marine Harvest should continue to exhibit robust growth as the industry fundamentals are strong and the price support factors are positive.
Current Fundamentals Will Support Expansion
Marine Harvest has been aggressive in its growth plans in the past and has ventured into an inorganic path for growth. In the first quarter of 2013, Marine Harvest increased its stake in Morpol ASA from 48.5% to 87.1%. Morpol is among the world's leading processors of salmon and the acquisition is a step toward becoming an integrated protein player. Besides the cost of acquisition, Marine Harvest also has a capital expenditure program of nearly $300 million for 2013.
An aggressive growth path needs to be supported by strong fundamentals. Marine Harvest has favorable fundamentals with strong positive operating cash flows, a low net interest bearing debt to equity (50.3% as of 1Q13) and a high EBITDA interest coverage (5.0 as of 1Q13). These metrics provide Marine Harvest with sufficient financial flexibility to fund future expansion plans. The company's liquidity position of $70 million as of 1Q13 was also sufficient to service short-term debt maturity of $50 million. Further, after the failed bid to acquire Cermaq, the company sold Cermaq shares in June 2013, which resulted in a gain of $22 million. This adds to the overall liquidity position. As of 1Q13, Marine Harvest also has current biological assets of $1.1 billion compared to the current market capitalization of $3.8 billion. As salmon prices trend higher, favorable fair value adjustment of biological assets will boost the balance sheet going forward.
Conclusion
A positive price action for Marine Harvest is underscored by a strong Norwegian salmon farming industry, robust salmon prices, favorable long-term demand drivers and a leading position in the industry. Marine Harvest also plans to start quarterly dividends from 2Q13 and this should also be positive from a shareholder return perspective. Given the surge in salmon prices and record exports of salmon from Norway, the 2Q13 results can surprise on the upside resulting in positive stock price action. Investors can therefore consider the stock from a near-term perspective. Also, the long-term demand drivers are compelling enough to also consider the stock for the long-term portfolio.
Disclosure: I have no positions in any stocks mentioned, and no plans to initiate any positions within the next 72 hours. I wrote this article myself, and it expresses my own opinions. I am not receiving compensation for it (other than from Seeking Alpha). I have no business relationship with any company whose stock is mentioned in this article.