The solar photovoltaic (PV) market is mixed in that the European market dropped from a dominant 70% of global installation in 2011 to 54% in 2012, and an estimated 37% in 2013, while emerging markets such as China and Japan are booming due to their national incentive schemes. The overall PV industry is improving in terms of module price stability (or prices going up), risks mitigated by market diversification, and manufacturers' losses narrowing. These positive signs from Chinese solar PV manufacturers make it a good time for investors to reconsider the value of Chinese solar stocks. Below I will provide a perspective on recent Chinese government measures assisting the domestic PV industry, the market circumstances benefiting Chinese manufacturers, and the improved operation margins of Chinese PV companies.
Chinese Government Measures to Aid the Domestic PV Industry
The Chinese government is releasing a series of measures to open up the domestic PV market, which is expected to go up to 10GW in 2013. Due to restrained overseas demand resulting from feed-in-tariff (FIT) reductions across Europe and anti-dumping/countervailing duties (AD/CVD) from U.S. and the European Union (EU), China is taking more initiatives to boost its domestic market. Those include the following:
Encourage the domestic distributed solar PV project deployment.
State grid companies are urged to buy all available solar power, and power transmission facilities must be built to accommodate solar power generation.
Regulate solar power pricing and expand national renewable energy funding to subsidize solar power generation in time.
Financial institutions are convinced to support PV companies and help them overcome financing difficulties.
Strengthen research and development into key materials and equipments in the PV industry.
Control excess production capacity expansion and bring up the competitive companies through mergers and reorganizations among PV makers.
The Chinese government focuses on promoting PV application or pulling downstream, rather than supporting production capacity expansion as happened years ago.
PV Market Circumstances
The PV market is promising. A recent outlook on global PV market demand is about 38 GW in 2013, almost a 20% increase from 2012. The PV market is nascent and the room for growth is there for the superior Chinese PV makers. After the plague of imbalance of demand and supply, less competitive players are leaving and the industry reshuffle makes the survivors even stronger and worth trusting.
The solar dispute tension between China and the European Union is improving. In early June, the EU imposed an interim anti-dumping duty of 11.8% on imports of all Chinese solar PV products. If both sides fail to come to an agreement, the duty will be raised to an average of 47.6% in August. The discussion between China and the EU shows that both sides are sincerely engaged in working toward an amicable solution, and the EU wishes to negotiate a settlement as quickly as possible. A solution buzzing around the market is a minimum module pricing set with a quota cap, which will ease the Chinese PV products being exporting to Europe.
The imbalance of the PV market demand and supply is improving. It is not rare to hear about Chinese PV makers being insolvent or broken, which moves out a large portion of capacity in short term. Although these tentatively idle capacities may come back when the reorganization of the PV industry implements, it really makes the supply-to-demand ratio more reasonable and improves the PV market health for this moment. That is why the module price has been stabilized and moving upward in recent months.
The Improved Operating Margins of Chinese PV Companies
Most of China's PV companies' gross margins (GMs) turned positive in the Q1 2013 earnings releases. The GMs will be improved further and the shipment will increase as well in Q2.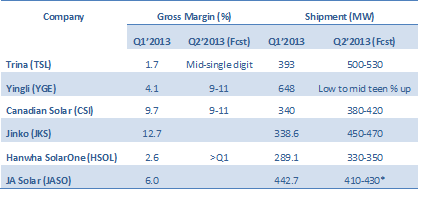 JA Solar (NASDAQ:JASO) expects second-quarter 2013 deliveries to exceed this forecast, thanks to the increase in demand from the U.S. and Japan. The companies listed above have enhanced GMs for Q2 along with the shipment increases, which means they are at least narrowing their losses, if not becoming profitable.
Summary
Chinese PV supportive policies are in transition from production expansion to downstream applications. For Chinese PV makers, it is only a prelude to more positive developments that Yingli (NYSE:YGE) recently signed a 3GW solar project development framework agreement with the Yunnan province. The main six measures mentioned above are guidelines from the central government and the local government that will specify related policies, each of which will be a catalyst for China PV makers. For example, Jiaxing local government in Zhejiang province has announced solar FIT at RMB2.8/kWh, almost equivalent to USD0.45/kWh. Just as Chinese PV industry leaders say, there is no worse news for Chinese PV makers.
Disclosure: I am long YGE. I wrote this article myself, and it expresses my own opinions. I am not receiving compensation for it (other than from Seeking Alpha). I have no business relationship with any company whose stock is mentioned in this article.