Something funny happened today (Wednesday, July 3). Crude (NYSEARCA:USO) started the day up strongly. This was blamed on Egypt fears, but most likely it was due to the EIA weekly Petroleum Data report having leaked, as it would later show a large drop in crude inventories (- 10.3 million barrels, greatly exceeding consensus at around -2.5 million barrels).
But why was it funny? The reason is simple: the inventory drawdown did not happen because of some incredible surge in demand or an implosion in production. It happened because of an implosion in imports. Imports fell 1.37 million barrels per day when compared to the same week last year and nearly 0.9 million barrels per day when compared to one week ago.
The story here
This plunge in imports has a two-pronged motive:
In one hand, inventories were unseasonably high - and continue to be (Source: EIA).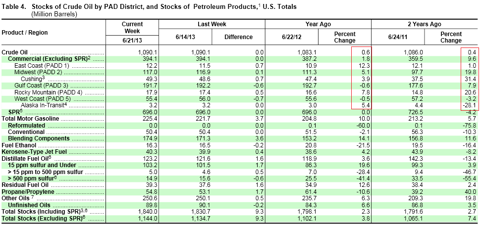 And in the other, inventories are so high mainly because of a huge increase in production coming from the shale revolution, where the usage of horizontal drilling and fracking led to unlocking of vast tight oil reserves (Source: EIA).

High inventories and surging production are not motives for a crude rally. The only existing motive is actually speculation - fed by the Fed. And sure enough, the speculators have responded to the monetary stimuli, as can be seen in the commitment of traders report (Source: Barchart.com):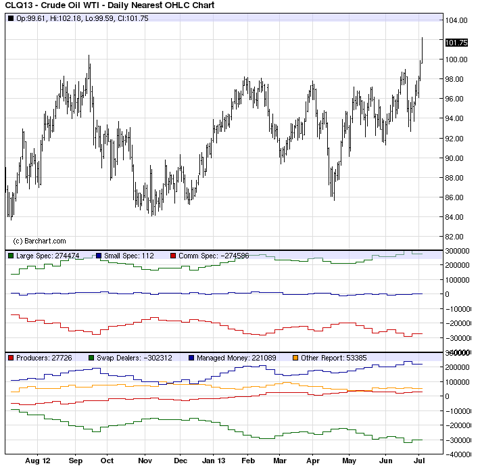 In short, today's rally made no sense except in as much as it contributed to a tighter WTIC/Brent spread, for which lower imports contribute. But the speculative rally was so strong that instead of just narrowing that spread, it actually ended up taking Brent higher. With U.S. production likely to continue going up, this speculative frenzy will not last and crude, both in the U.S. and abroad, will head lower (unless the Fed gets crazier).
Natural gas went through a similar process, also due to the shale revolution, and it too did not hold high prices even with the help of monetary madness. Crude won't hold them either.
Conclusion
Today's crude market reaction to EIA's report showed limited rationality. Sure, plunging imports can lead to WTIC crude trading closer to Brent and in that sense it would be expected for the spread to narrow. However, plunging imports and surging production are not ingredients for a rally in WTIC crude of such magnitude that it actually made Brent crude go up as well.
Obviously, the endless money printing allows for this kind of speculative behavior, and indeed, speculators are heavily long crude as a result. But the U.S. production shows no sign of abating, and over time it's bound to take crude lower much like it took natural gas lower. So to those speculating on crude from the long side - take caution.
Disclosure: I have no positions in any stocks mentioned, and no plans to initiate any positions within the next 72 hours. I wrote this article myself, and it expresses my own opinions. I am not receiving compensation for it (other than from Seeking Alpha). I have no business relationship with any company whose stock is mentioned in this article.