The Multi-Asset ETF 100 uses the real money asset levels invested in ETFs to serve as a proxy for how the overall investment world is allocated. By definition, this is what ETF investors as a whole actually own and in the proportions they own them. By observing the contributors and detractors to this portfolio (with a starting value over $1 trillion), we can get a good sense of where the world at large is getting (losing) performance.
95 of the 100 ETFs in the index declined in June as interest rates rose and equities fell. That said, US stocks (the largest component of the ETF 100) were down only modestly. If you think it was a really bad month -- you probably haven't been involved in the markets very long -- it wasn't. (And you will likely then be shocked speechless then when a real correction does eventually hit).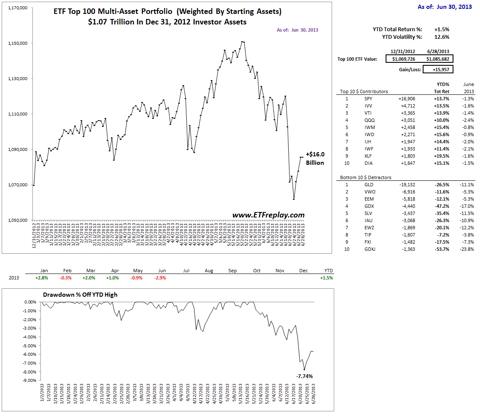 Some media attention focused on the losses experienced by 'risk-parity' funds -- it should be noted that many risk-parity strategies call for using a fair bit of leverage. Typical unlevered risk-averse allocations were only slightly down for the month.
Another interesting development is that of the TIPS market (Treasury Inflation Protected Securities). It is estimated that PIMCO as a firm owns 10% of the entire TIPS universe. The problem with TIPS is that they have interest rate risk (duration) --- and when you don't have inflation, you are just left with exposure to a general move up in rates. Underweighting duration (or zero duration with cash-like securities) has been the play in the bond market.
Emerging markets dropped more than -5% for the second consecutive month with many popular individual country funds obviously doing much worse than the EM index. On a higher level, do you recognize a theme in all of these examples? The weak coming into May and June all got a lot weaker. TIPS, Gold/Silver/Mining, Emerging Markets... these all were making new multi-month lows in March, April and/or May prior to dropping more seriously in June. One of the primary benefits of proactive relative strength analysis is in missing big problem areas. Mining equities and various commodity ETFs have been an unmitigated disaster. In some ways, it is shocking to see the YTD figures on things like GDX/GDXJ and SLV. On the other hand, these have consistently been some of the most volatile ETFs in the marketplace. And naturally, high volatility tends to get larger drawdowns.
With regard to US stocks, we have seen this all occur before. In past years, the US market has at times been viewed as a safe haven, immune from world events. This divergence can remain in place for sometimes longer than you think --- as investors left underinvested in US stocks see the pain in their performance comparison vs the S&P 500 and capitulate by buying more US stocks. But ultimately, the US market goes back to doing its thing --- getting volatile and drawing down.... and those who had believed in decoupling get burned. Said another way --- stick to your process.
We compare the ETF 100 to the hedge fund index as another comparison of a large pool of assets. After a long-run of poor performance by the hedge fund index, a small losing month shows up as a solid result and the HFRX Global Hedge Fund Index has moved ahead of the ETF 100 for the YTD period thru June. As noted in past months, we expect this index to outperform when global equities (and US equities in particular) fall -- as happened in June. The very low volatility of this index helps cushion it from large drops. The trick of course is to produce attractive returns, not just low volatility. Low volatility/low returns can be created by anyone for (almost) free through the use of short-duration bond funds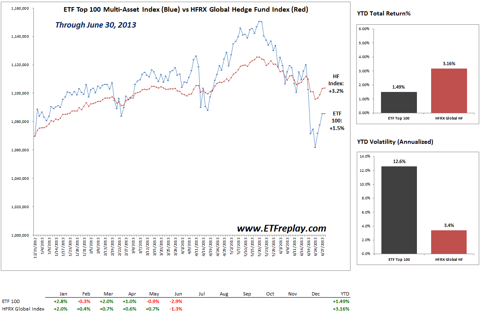 Disclosure: I have no positions in any stocks mentioned, and no plans to initiate any positions within the next 72 hours. I wrote this article myself, and it expresses my own opinions. I am not receiving compensation for it. I have no business relationship with any company whose stock is mentioned in this article.