Looking at aggregate year-to-date sector performances in 2013, the financial sector has outperformed, posting the best gain (33.42%) among all other sectors.
After the financial meltdown in 2007-2008, policies by federal banks have supported the economy's slow recovery and benefited this sector. The financials sector includes several different industries, such as consumer finance, commercial banking, REITs and capital markets and among these industries, there are companies that still have more room to rally during the latter half of the year due to key growth factors.
Drivers of Growth For Financials
There are several factors that will drive growth for financial companies in the coming years:
Improving consumer sentiment, and hence increasing consumer spending
Improving credit quality
Record levels of cash hoarded by corporations that will trigger increased M&A activity
Stabilization of housing markets, which result in lesser foreclosures
Increasing commercial activity which will result in more office leasing, thus benefiting REITs
Now let us discuss top picks in the financials sector and assess their key fundamental metrics and drivers of business.
(1) BlackRock Inc. (BLK, $256.82 as of 7/2/2013)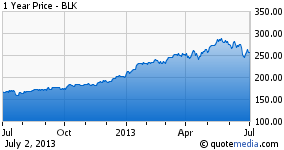 BlackRock is one of the best investment management companies in the United States with a varied product portfolio comprising of fixed income as well as equity funds and a huge client base.
BlackRock has shown a stable earnings growth of 13.26% in the trailing twelve months compared to previous TTM. Its revenue growth in the last five years has been a positive 6.15% as compared to the capital markets average which is negative (-0.13%). Likewise, the cash flow growth rate in the same period has been an impressive 18.13% for BlackRock, compared to the industry average which is again negative (-1.37%).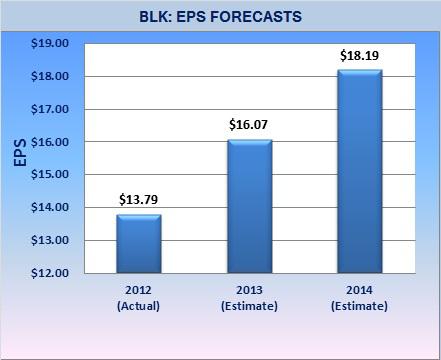 The company's Gross Profit Margin in the most recent quarter (annualized) is 41.40%, and its TTM Gross Margin as well as EBITD Margin is 41.60%. The TTM Operating Margin of 38.51% beats the industry's mean margin of 21.80%.
Applying the five year average P/E multiple of 19.81 to the 2014 estimated earnings, we get the target price of $360.34, which is 40% price appreciation potential. Add to this BlackRock's dividend yield of 2.62%.
(2) American Express (AXP, $74.62 as of 7/2/2013)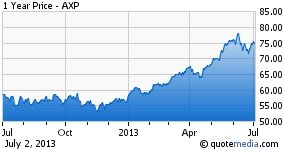 American Express is a global payments as well as travel and expense services company with very stable fundamentals. The credit crunch in 2008 hurt this company a lot but after 2009, American Express has seen a solid turnaround of its fortunes as credit recovered and economic decline stabilized. The credit quality has consistently improved since then and so has consumer spending, which helps American Express' credit and prepaid card business.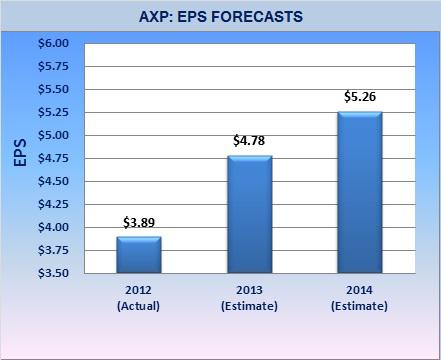 The company's earnings have remained positive in the last five years which include some horrible days for the financials. The 28 analysts or analyst firms that cover this stock have a mean EPS target of $4.79 for 2013 and $5.26 for 2014, projecting a 9.8% for the next year.
Revenues are expected to be $33 billion in 2013 and $34.9 billion in 2014, showing a growth of more than 5%. Also, its gross profit margin is 49.86%, EBIT Margin is 27.82% and Operating Margin is 19.36% - all good numbers.
Eleven of the 28 analysts have a Buy or Better rating for American Express while the remaining have a Hold rating. There are no Sell ratings for this stock. This stock currently trades at around 19 times earnings. Applying this multiple to 2014's expected EPS, we get a price target of $99.64 or 34% above its current price. In addition, American Express gives a dividend of 1.22%.
(3) Lazard Ltd (LAZ, $31.03 as of 7/2/2013)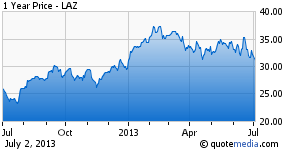 Lazard Ltd is a major financial advisory and asset management company with branches all over the world. Its main business is advisory services including M&A and asset management counseling. In July 2012 when Lazard was trading at $24.83, I had discussed this stock in great detail here, and many of the catalysts discussed then still do apply.
Even though the stock has appreciated by more than 24% since that article, a possible increase in M&A activity could take Lazard much higher from here. The company's market share is bound to increase as economic activity picks up globally. In addition, initial public offerings are expected to increase partly due to the recent market rally, which will benefit Lazard's underwriting business.
Lazard's projected earnings for the next year is expected to grow by 36.8% and its forward EPS growth in the longer term (3-5 years) is a solid 36%. Its TTM Gross Margin, EBITD Margin and Operating Margin levels are high at 18.80%, 18.76% and 16.70%.
The annual EPS estimates are expected to increase from $1.44 in 2012 to $1.71 (a 50% increase) in 2013 and $2.34 in 2014 (37% increase).
Conclusion
Investors must rely on the fundamental reasons why certain sectors are poised to benefit in the long run when picking stocks for investment. The financial sector is not done with the rally yet and there are several companies that have a long way to go from here. As with any other investment, investors should monitor the company announcements or press releases closely to watch for signs of upward guidance or distress, and make decisions to buy or sell accordingly. The companies discussed in this article are well positioned to outperform among their peers in the long run, and it would be best if these stocks are accumulated slowly and steadily upon price pullbacks.
Disclosure: I have no positions in any stocks mentioned, and no plans to initiate any positions within the next 72 hours. I wrote this article myself, and it expresses my own opinions. I am not receiving compensation for it (other than from Seeking Alpha). I have no business relationship with any company whose stock is mentioned in this article.