Gold and silver bullion, typically seen as a hedge against inflation, have taken a beating ever since Fed Chairman Ben Bernanke hinted that the economy was recovering strongly enough for the central bank to begin tapering its stimulus in the near future, and possibly end the program in mid-2014. Gold and silver investors are waiting for the all crucial U.S. jobs data this week to determine the strength of the economy to calculate the exact timing of the Fed's QE tapering. The current estimate, according to Econoday, is for 161,000 jobs to be created in June with a range of 145,000 to 200,000. Currently, weak economic forecasts caused by uncertainty surrounding fiscal policy keeps businesses focused on minimizing costs by increasing productivity and minimizing employment. With the Affordable Care Act (ACA) looming just ahead, higher current tax rates and reduced tax incentives in the future; it is not surprising to see businesses opting for temporary/part-time hires to reduce the costs associated with full-time hires. Currently, full-time employment relative to the population remains near the recessionary lows. This brings me to the 3 reasons why Lance Roberts thinks the June jobs report could be a disappointment.
The June employment report could be a disappointment:
1) Reduced Demand
The recent negative revision to GDP, from an initial read of 2.5% to a final print of 1.8%, is continued evidence of slow economic growth. The negative revision was almost entirely focused in the consumer spending component of the economic calculation which is a bulk of the demand driver for businesses. The weaker read on consumption is likely to have led to not only weaker employment in June but also, potentially, negative revisions to the April and May data as well. The chart below shows the correlation between the annual changes in PCE and Employment. The current negative trend in PCE is likely to drag employment lower in the months ahead which could pose a serious issue to Bernanke's view to a strengthening economy and a reduction in liquidity programs.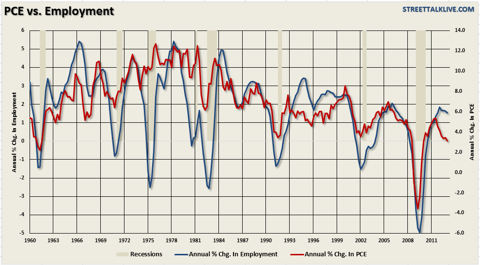 2) Corporate Profits Have Likely Peaked
As I stated above the main driver of employment is increased end demand that leads to increased profitability. The problem currently, as I discussed recently, is that corporate profits have reached what seems to be a peak in growth. The chart below shows both operating and reported earnings for the S&P 500.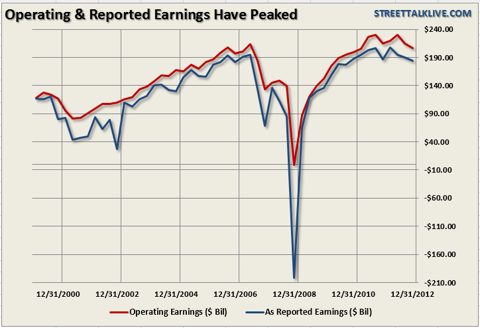 With earnings growth slowing it is far more likely that corporations will become more defensive in their hiring in order to sustain profitability. Furthermore, with exports comprising roughly 40% of corporate profits, the Eurozone recession, slowing in China and Japan's realization of the limits of "Abe-nomics" are negatively impacting profits, outlooks and employment.
3) "Muddling" Economy
Weak economic growth certainly does not inspire corporations to hire. The chart below shows the correlation between the annual changes in employment and the STA Composite Employment indicator (see here for detailed explanation) which is a composite indicator of the employment component of major economic surveys.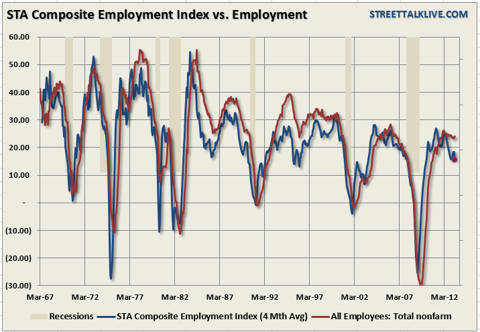 Currently at 15.60 the indicator is at its lowest levels since December of 2012 when the economy was barely growing as the "fiscal cliff" loomed. While there has been some pickup in hiring intentions in some of the latest manufacturing reports; these are more related to seasonal hiring tendencies and the need to meet demand growth from increased population.

While the mainstream analysts, and economists, continue to hope for a resurgence in the economy, and a return to full employment, the reality is that such a event is likely very far away. With 90 million people out of the workforce, near record levels of individuals on food stamps, disability or other forms of government assistance and wages stagnant as the cost of living continues to rise - there are few indicators that would suggest a strong economic recovery on the horizon.

It is currently expected that the "fiscal policy" drags from recent tax hikes, reductions in tax credits and increased regulations will somehow dissipate as we head into 2014. The reality is that such fiscal drags take quite some time to filter into the economy and begin to take a toll on consumption. Furthermore, the onset of the ACA, going into the beginning of next year, has not been fully factored into economist's expectations. The higher costs of healthcare, benefits and regulations will likely have a much higher negative impact to profitability, employment and growth than what is currently factored in.

Lastly, it has been completely disregarded that we are now more than four (4) years into the current economic recovery. After trillions of dollars of stimulus, bailouts and artificial supports expectations for a surge in economic growth are coming very late in this cycle. While it is clearly possible to delay an economic recession with enough monetary stimulus it has yet to be proved that such events can be repealed.

For all of these reasons I suspect that the June report on Friday will be a disappointment of between 120-150K jobs with a surge in temporary hires. However, employment numbers in the current month are always "iffy" and subject to adjustments that cannot be accurately accounted for. However, what I am most interested in seeing is the revisions to prior employment estimates. If I am right, we are likely to see negative revisions in that data which would be a reflection of the continued slow growth economic environment that has been the hallmark of this recovery.
A sustained rise in crude oil prices may trigger inflation:
Crude oil prices have been moving in the $90 to $98 range a long time now and a breakout in either direction was long awaited. Crude oil futures jumped above $ 102 a barrel in Asia's electronic session today on supply concerns in the Middle East after Egyptian President Mohammed Morsi rejected calls for his resignation. Crude oil futures are now well above the psychological $100 a barrel for the first time since September 2012. Brent crude also rose 1% to 105.20 a barrel. Egypt's President Mohammed Morsi has rejected an army ultimatum to resolve the turmoil by Wednesday, triggering concerns that the crisis may escalate. The army's ultimatum expires around 16:30 (15:30 BST) on Wednesday. Mr Morsi has insisted he remains the country's legitimate president.
Crude oil at crossroads on contradictory statements:
Crude Oil prices also got a boost after a report showed U.S. crude supplies fell three times more than expected for the week ended June 28. The American Petroleum Institute said supplies fell by more than 9 million barrels, while analysts polled by Platts had expected a decline of 3 million barrels. There are several contradictory views that may affect the future of crude oil prices. There are some good enough reasons to believe the jump in Crude oil prices is likely to be temporary. Moreover if IMF reports are to be trusted, global economic growth has been slowing and as a result, demand for oil is likely to remain low. Also the recent negative revision to GDP, from an initial read of 2.5% to a final print of 1.8%, is continued evidence of slow economic growth. There is more than enough crude supply and there is relatively weak demand. Crude oil prices may not sustain long enough above the $100 level if the Middle East tensions ease out. But If the Egypt crisis escalates into something bigger then prices may hit much higher levels. Also if Bernanke's statements are to be believed (for once), then on the basis that the U.S. economy is on the up-move, oil demand may strengthen which will eventually lead to higher oil prices.
If bullish on oil, then technically, crude oil should gather support around $98.20 and can face a resistance range around the $104.50 to $109 levels. Higher crude oil prices directly affect end user prices triggering higher inflation. A breakout above the $109 level may send oil prices and thereby inflation into orbit. The Egyptian army's ultimatum expires on Wednesday and we may soon see the outcome.
Many more strong reasons to be bullish on gold and silver:
The head of the Federal Reserve Bank of New York on Tuesday reiterated that the U.S. central bank will likely continue to support the economic recovery for some time to come despite market worries that it was soon pulling back. The Fed's easy monetary policy will likely be warranted for "quite some time" as the U.S. central bank drives down high unemployment while nudging low inflation back toward target, Fed Board Governor Jerome Powell said on Tuesday. Gold traders in India, the world's biggest buyer of the metal, stayed on the sidelines on Tuesday, and premiums continued to get support from lower supplies due to restrictions by the central bank.
JPMorgan just issued a key report urging institutional investors to buy commodities and use gold as a hedge. You can be sure that institutional clients are not only listening very carefully, but also taking action big time. Crude oil has not confirmed the declines seen in most other commodities, and that's important. A surge in oil prices could increase the current cost of mining gold and silver. Mining companies like Barrick (NYSE:ABX) and Newcrest (NCMCF.PK) have already announced layoffs and production delays. The fundamentals of tighter supply and escalated demand could turn the fortunes for Gold and Silver soon.
Technically, for the gold and silver futures, a crossover buy signal seems imminent. If a large inverse head and shoulders bottom pattern (that's in the forming on the daily gold charts) gets completed, the minimum target price would be about $1,810. As for upside targets for silver, I have got nothing short of sensational, so the less said, the better. Volumes on the Shanghai Gold Exchange's benchmark contract have topped 14,000 kilograms every day since June 25. Volumes play an exceedingly important role in technical analysis. Any upside with exceptionally large volumes will now confirm a new bullish phase for gold and silver.Higher buy-side volumes will also be seen from institutional traders based on the buy call from JPMorgan. Interest rates are also an important indicator of inflation and deflation, so it will be especially important to monitor the interest rate trend in the coming months, which will come into play for the gold and silver price rally.
Disclosure: I have no positions in any stocks mentioned, and no plans to initiate any positions within the next 72 hours. I wrote this article myself, and it expresses my own opinions. I am not receiving compensation for it. I have no business relationship with any company whose stock is mentioned in this article.
Additional disclosure: I hold Silver and will add more on all declines now on.