Keppel Corporation (OTCPK:KPELF) is a diversified company based in Singapore. The company is divided up into four segments which are not particularly related.
Keppel Offshore and Marine: Keppel Corp. is the premier designer and builder of offshore drilling rigs. The company also provides repair and maintenance services for those rigs. The company provides these services through twenty shipyards and offices located around the world including the renowned Keppel FELS shipyard in Singapore.
Keppel Infrastructure: Keppel Infrastructure owns and operates natural gas-fired power plants in Brazil, China, the Philippines, Nicaragua and Singapore. This division of the company also owns and operates some "green" power assets such as waste-to-power plants in Singapore, Asia and the Middle East. This division of the company also operates data center facilities.
Keppel Land: Keppel Land is one of the largest property companies in Singapore. The company owns a portfolio of both residential developments and commercial properties that was valued at $11.5 billion as of December 31, 2012.
Keppel Investments: Keppel's Investments Business focuses on making strategic investments through k1 Ventures and M1 Limited. These include investments in telecommunications, transportation leasing, education, oil and gas exploration and automotive retail.
The company's presence in multiple industries makes it comparatively more difficult to analyze than a company that only operates in a single industry. The Offshore and Marine business is the most important one for the company and for our investment thesis, which consists of Keppel Corp. profiting off of an impending construction boom from the offshore drilling industry. This division is the company's primary profit center already, producing 61.7% of the company's first quarter revenues and 62.8% of the company's first quarter profits. These percentages were not flukes, either. In the 2012 fiscal year, the offshore and marine unit was responsible for 57.0% of the company's total revenues and 48.9% of total profits. Therefore, it should be pretty obvious how important this unit is to Keppel Corp.
The offshore drilling industry has seen a building boom over the past few years. This is evident by looking at Keppel's order book: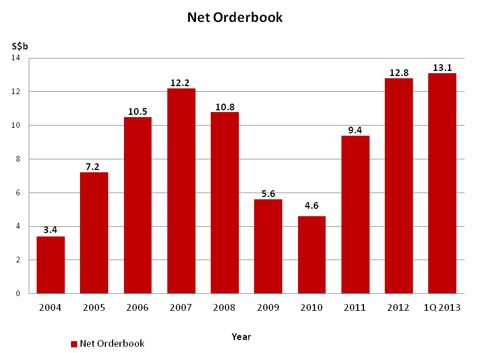 Source: Keppel Corp.
As the chart above shows, Keppel Corp. has seen the size of its order book grow every year since 2010 and its size currently stands at a ten-year high. The company has also secured more contracts to build rigs in 2011 and 2012 than it has in any of the preceding ten years.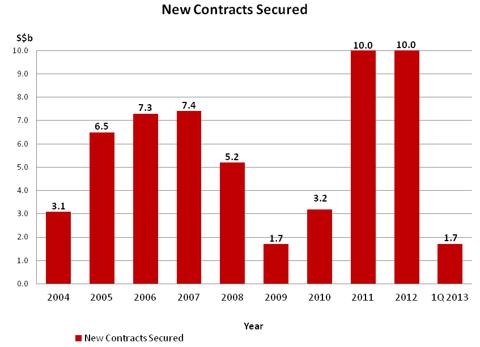 Source: Keppel Corp.
In 2013, the company's number of new contracts fell on an annualized basis compared to 2011 and 2012. However, this is not necessarily a negative. Offshore drilling giant Seadrill (NYSE:SDRL) showed how the price for constructing an ultra-deepwater drilling rig has fallen over the past few years in its presentation at the Howard Weil 41st Energy Conference.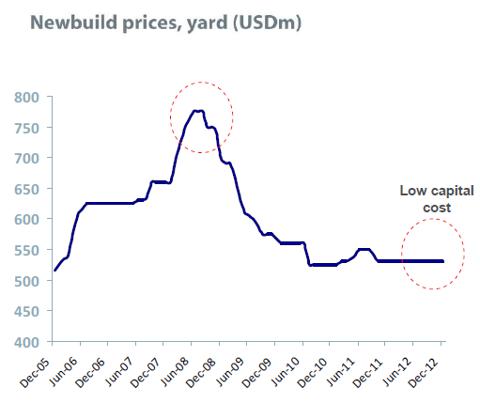 Source: Seadrill Ltd.
Ordinarily, we would expect this to compress margins but Keppel Offshore and Marine actually saw its operating margin increase from the previous quarter. Keppel Offshore and Marine achieved an operating margin of 14%, slightly higher than in the fourth quarter of 2012. The company's management does not believe that this is stable over the long-term and expects to see margins fall to the 10-12% range. A boost in business could make up for falling margins though and indeed we may see that. In the last nine months, there have not been any orders placed for new ultra-deepwater drillships with Keppel or any other shipyard. One of the reasons for this is that there are currently a large number of drillships under construction at various shipyards in Korea. These drillships are expected to be delivered over the 2013 to 2015 period. As a result, offshore drilling contractors may be hesitant to place new orders. However, there are not enough drillships under construction to meet the industry's current and future needs and so buyers will likely return to the marketplace in 2014 and 2015 once the current orderbook runs down. Keppel could benefit when orders return to the market due to its new DrillDeep DS-12000 rig design, one of the most sophisticated ultra-deepwater drillship designs in the world today. This rig design is an improvement over the older DS-10000 design that is used by companies such as Ensco (NYSE:ESV) and Transocean (NYSE:RIG). At the moment, demand for rigs of this design is relatively low due to the aforementioned low volume of new drillship orders.
Keppel Offshore and Marine has proven the quality of its rig designs through the widespread adoption of the KFELS B class jack-up rig. To date, there have been 42 jack-up rigs built and delivered with this design and another 21 rigs are under construction using this design. Keppel has also proven its construction quality in the jack-up market. Approximately 50% of all jack-up rigs worldwide that have been constructed since 2000 have been built by Keppel. If the company did not have high build quality then this would not be the case. There have been seven of these rigs ordered over the January - April period. It costs approximately $230 million to build one jack-up rig, if Seadrill's latest order is any indication. Assuming a 14% operating margin, the company would have $32.2 million in operating income per jack-up rig. That is roughly 1.8 cents per share per rig. The company also expects its margins on constructing this rig to improve with time as it gains familiarity and experience with the construction of this class. A drillship will be significantly more profitable for Keppel simply due to the higher construction cost (the same margin applied to a higher cost item equals more profit).
There is likely to be an enormous demand for new jack-up rigs over the next few years. One reason for this is that the current jack-up fleet is aging. Today, 275 jack-up rigs are still in operation that are at least 30 years old. By 2015, that number will have increased to 289.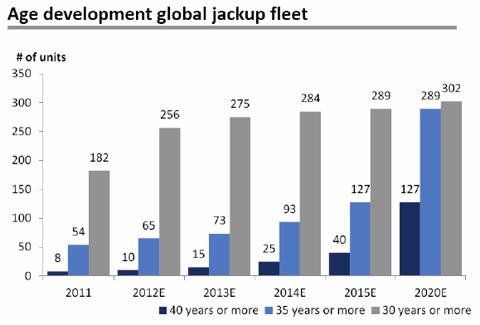 Source: Seadrill Ltd.
Today, customers (typically large oil and gas companies) have a marked preference for newer rigs due to their improved technical performance and safety equipment. These old rigs have thus been falling into disfavor due to lack of demand. Offshore drilling contractors have thus been retiring and scrapping these old rigs in order to replace them with new ones. The rate of rig retirements spiked sharply in 2011 likely partly due to the Macondo disaster of 2010.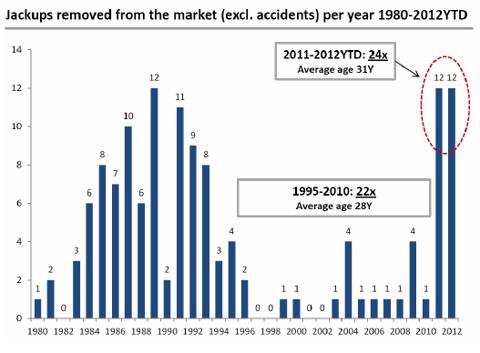 Source: Seadrill Ltd.
There are nowhere near enough jack-up rigs under construction to replace all the ones that are needed due to the retirement of older rigs. Only 90 jack-up rigs are under construction, far less than the number that needs to be built. The number of jack-up rigs in operation worldwide has remained relatively stable at between 300 and 350 over the past twelve years. Therefore, nearly all of the jack-up rigs in existence today will be ready for retirement and replacement over the next few years. Due to its expertise in jack-up rig construction and the quality of its rig designs, Keppel Corp. stands to capture a good portion of this business ensuring steady or growing revenues for years to come.
Investors stand to benefit from this. Keppel Corp. has the stated policy of paying out approximately 50% of its net profit every year. This has caused the dividend to vary over the years but the overall trend has been toward a growing dividend.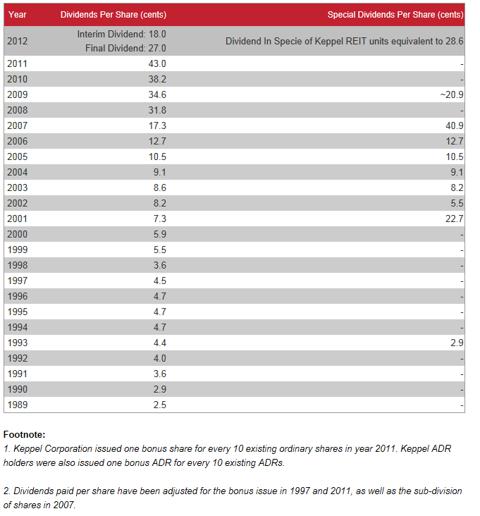 Source: Keppel Corp.
The company's 2012 regular dividend was $0.45 SGD (about $0.355). This gives the stock a dividend yield of 4.2% at the current level which is certainly respectable. The company is also likely to see these dividends grow going forward along with profits.
One of the challenges to this thesis is shipyard capacity. Due to the resource- and space-intensive nature of offshore rig construction, only a limited number of rigs can be constructed at any one time. Currently, shipyard capacity is quite tight due to the construction boom in the offshore drilling industry. This is evident when looking at the delivery schedules of the various shipyards. According to Offshore Magazine, an average jack-up rig now requires at least 36 months to be constructed and delivered due to shortages of equipment. Some offshore managers, such as Seadrill, are able to get favorable delivery slots with the various shipyards but even they are waiting up to three years for jack-up rigs to be built.
These capacity constraints will limit the growth that Keppel Offshore and Marine will see due to this construction boom. However, the company has made some moves to increase its capacity. For example, Keppel is moving some of its production to satellite shipyards in Nantong, Bintan and the Philippines. This will allow the company to take on more jobs than it can now and thus better allow it to profit off of the rig construction boom.
Disclosure: I am long SDRL. I wrote this article myself, and it expresses my own opinions. I am not receiving compensation for it (other than from Seeking Alpha). I have no business relationship with any company whose stock is mentioned in this article.