Conclusion first, Nokia (NYSE:NOK) is a strong buy ahead of results.
Equity investing is a funny thing. If you aren't the biggest guy in the room, you have to discover what the biggest guy in the room considers to be the important metrics from the thousand of data points you can pull from a company.
Of course you can always be the most diligent stock-picker in the world but even if you have found the holy grail of value for a company like Nokia, you need to make sure you can remain liquid while the irrational markets look for value.
With the Nokia EOS release on the 11th of July, results coming out on the 18th July and a stock hovering around the EUR3 ($3.90) mark, knowing what to look for becomes mightily important.
As most Nokia followers know, the story doesn't currently revolve around standard profitability metrics. EPS beats won't mean a thing if Nokia doesn't deliver on the metrics that the market considers important. Furthermore, with JPM's huge weight thrown behind the company, many institutional investors will be waiting until the 18th until deciding whether to invest real money with the company.
Lumia sales
With the Lumia 500 series, 928 and EOS part of the cycle for 2013, the Operating System perfected and the New Nokia well and truly public, 2013 is a vital year for Nokia. Mobile phones have around 18 months from birth to be sold and it is vital that companies like Nokia do a good job of balancing demand and supply.
It is of no surprise that Nokia hasn't achieved this. Last quarter it admitted that it was too conservative with production meaning that a portion of the significant investment has gone to waste.
Not to worry though, JPMorgan (NYSE:JPM) have already outlined that Nokia has capacity to sell 45m phones through the cycle, which means supply will no longer be an issue and judging by public support from Telefonica (NYSE:TEF) and the constant barrage of positive reviews, demand won't be an issue either.
Lumia Sales: 7.2m
Nokia has guided for 27% Lumia growth QoQ but also admit that it is conservative with its guidance. In my opinion, a number greater than 7.2m phones will tick the first of three boxes.
The most up to data Mobile OS counter, estimates a 16% growth excluding July (which includes the EOS launch) which would be a miss but then this doesn't include the first generation Windows consumers who will upgrade this quarter. A lot of people have also been looking at Kantar data but the July release includes only data up until May, which won't paint a current picture.
Asha Acceleration
No doubt the bumpiest ride out there, the Asha surprised everyone when nine million units were sold in 4Q12 and then surprised everyone again with a near 50% drop in units sold to 5m. Statcounter puts the Series 40 OS as selling 7% more than last quarter but in my opinion, with the release of the new Asha series as well as the 105 and the 200 series, we have to see improvement.
The management acknowledges that increased competition from new entrants meant that sales underperformed but the Xpress browsing apps as well as the $20 phone segment should help both Asha and the Mobile Phone Segment in General.
Using Google Trends (looking over the last 90 days), I am more than encouraged by emerging markets data:
GOOGLE TRENDS: INDIA

A quick primer for those who haven't used Google Insights, WE ARE NOT GIVEN PAGE VIEWS. The 100 level corresponds to the number of searches by the most popular keyword I have chosen at the most popular time and all other keywords are based on this.
The above graph is based on the number of searches for Samsung (OTC:SSNLF) in June 2013. Three months ago Nokia came in at 51 and Asha at 6. For the month of June 13, Nokia is at 61 and Asha is at 8. Searches for Nokia have increased 20% quarter over quarter and Asha searches have increased 33% QoQ.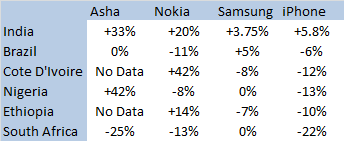 I chose a couple of countries of the top of my head (developing countries) to try and gauge the search impact. The good news is that India remains one of Nokia's largest markets and seems to have a positive search trend.
Personally, I would like to see at least 7m Asha devices sold but it is worth remembering that because of the significant amount of legacy mobile phones, it will be difficult to get a gauge on sales volumes of the ultra cheap handsets.
Nokia Siemens Networks
The NSN deal may have come too soon to reflect on the balance sheet, which is a shame as I would have been very interested to see if Nokia includes a non-cash accounting gain of EUR1,300 (valuing the NSN equity at EUR6bn). Nevertheless, we are likely going to be given an opinion of value, which will help sentiment.
What's more important is the cash generative qualities of Nokia Siemens Networks. We would hope to see another quarter of operating profits (including one offs) as well as a positive cash flow (last quarter Operating Cash Flow - Investing Activities was +EUR239m). Finally it would be good to see another improvement in EBIT margin pre exceptionals (last quarter 7.4%).
Cash Flows
Most Nokia detractors have jumped on the tight liquidity position that Nokia currently faces. Last Quarter (ex NSN) the company burnt through EUR585m of cash! On top of this, the firm operates on negative working capital (meaning that its near-term outflows exceed near-term inflows) and have just spent EUR1,200m on the acquisition of NSN. Even worse, accrued expenses (expenses due within a year) are EUR6,479 or 110% of revenue!!! (BlackBerry's (BBRY) accrued expenses are only 62% of revenues and Apple (NASDAQ:AAPL) is only 30%).
Therefore despite the strong performance by the company QoQ, it may find itself in the uneasy position of asking current investors for more money via a capital increase or rights issue. This is undoubtedly one of the near-term risks that will only intensify if it cannot arrest the rate of cash burn (part of the cash burn will be paying for these accrued expenses).
Summarizing into a nice little cheat sheet, look for:
1) Lumia Sales +7.2m
2) Asha Sales +7m
3) NSN statement of value
4) NSN Cash from Operations - Cash from Investing greater than EUR239.
Cash flows won't be an issue this quarter unless they increase dramatically but always good to keep this in mind for the future. Successful or not, a cap increase will dilute your shareholding and cost you money!
In this writer's humble opinion, we have seen the euphoria from the NSN acquisition subside and the stock drop below EUR3 ($3.90). The firm has finally got..
1) A complete set of mobile phones covering all price points
2) An optimized operating system with a software partner hell-bent on making it a success,
3) A strong endorsement from Telefonica
4) A cash generative business on the cheap
5) An increase in phone capacity to cover excess demand
but hasn't got
1) A stable investor base
2) A cash positive business
The risk/reward is in favor of the buyers and with BlackBerry almost dead and buried, the race for the third ecosystem looks over before it even began. If you have an appetite for risk, buy now or at least ahead of July 11th. If you want to ride the gravy train then wait until the 2Q results tick all the boxes mentioned above.
Happy Investing
Disclosure: I am long NOK. I wrote this article myself, and it expresses my own opinions. I am not receiving compensation for it (other than from Seeking Alpha). I have no business relationship with any company whose stock is mentioned in this article.