America has long sat on far more oil reserves than most people are aware of, with the challenge being to figure out ways to extract that oil from the wells for use.
The most recent and well-known method of getting more oil out of the ground is fracking, but there are a number of other methods being developed that have the potential to be disruptors, and in aggregate they're simply known as enhanced oil recovery techniques, with the most popular and used at this time being carbon dioxide (CO2).
In this article we'll look at Vanguard Natural Resources, LLC (NYSE:VNR) and how it could be affected by the quickly changing production methodology in the oil and gas industry.
First let's look briefly at Vanguard Natural Resources itself. With very few exceptions, the company is incorrectly identified as a master limited partnership (NYSE:MLP). It isn't. Rather it's a limited liability company that includes some of the benefits of an MLP.
Here's how Vanguard describes itself on its website:
Vanguard Natural Resources is not a MLP or a corporation, but a publicly traded limited liability company with partnership tax status.
The differences between Vanguard and an MLP or corporation are shown in the chart below.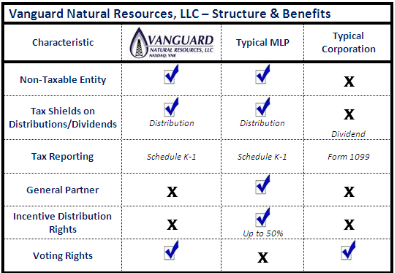 source:Vanguard
This isn't simply a matter of semantics or definitions, as there is a major reason for understanding the difference, with the primary being the fact Vanguard doesn't have a general partner, which means it can distribute the income it produces to its investors rather than have to distribute some of its earnings to a partner. As I write the dividend of Vanguard is $2.46 with a yield of 8.80 percent. It's one of the favorites of income investors.
Vanguard's Reserves
When Vanguard went public in 2007 its reserves were pretty much 100 percent gas. Since then, even with recent acquisitions, it has dropped to about a mix of 60 percent gas and 40 percent liquids. Most of the industry has done the same in response to the huge gas reserves and lower natural gas prices. Vanguard dropped gas production to as low as 35 percent in the past, but has decided to make a contrarian move by buying gas assets when the prices are extremely low.
As you can see below, the company has diversified since its IPO, both geographically and by commodity. Consequently, since 2007 it has been able to expand its distributions by about 45 percent. Cash flow from the company has also settled down, allowing the company to pay out distributions on a monthly basis.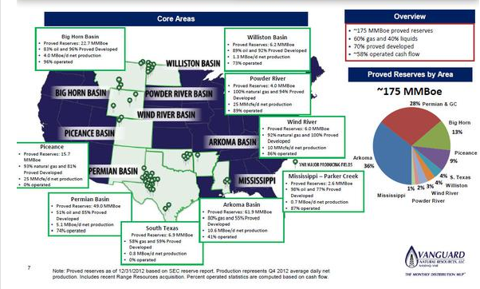 source: Vanguard
The company has 175 million barrels of oil equivalent reserves.
The two major properties held by Vanguard are in the Arkoma and Permian Basins. Together they account for approximately 66 percent of all the reserves Vanguard has under its control. Other major reserves are in the Piceance Basin and Big Horn Basin.
Enhanced Oil Recovery
There are several methods used under the umbrella of enhanced oil recovery, including the already mentioned CO2, as well as stream, vibration and microbes. The one that is being experimented with and used in a big way at this time is CO2. The others are also being used, but are expected to have a larger impact later on. For now, CO2 is the dominant method of those mentioned here, and it is quickly changing the industry.
To show how much of a difference it is expected to make, the Department of Energy estimates "that full use of CO2 enhanced oil recovery in United States could generate an additional 240 billion barrels of oil." Add in the other methods in the years ahead and even if there is no more oil discovered, it is the equivalent of discovering huge new deposits.
On a daily basis the impact is also expected to be extraordinary. As fantastic as fracking has been, when combined with traditional drilling it can fail to extract as much as 75 percent of the oil in a well.
That means when the carbon dioxide method is rolled out across America, it should produce about 4 million barrels more per day (MBPD). In contrast, fracking produces about 3 million of the 7 million barrels of oil produced daily in the United States at this time.
It is already being used in the Permian Basin fields in Texas and New Mexico and is expected to be adopted around the nation.
How it works is carbon dioxide is pumped into oil wells that are already in existence. Essentially it works like a lubricant which allows crude oil to be released easier out of the rock formations it's locked into, releasing it to be pumped to the surface.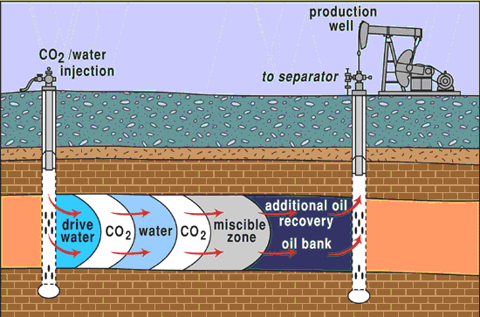 Source:Kansas University
The process isn't new, but what has changed is in the past the crude would be mixed with water, making it useless with the existing technology. Now the oil companies have a de-watering process in place which results in the oil being able to be produced and refined.
A secondary benefit of the process is clean water is developed in the process, which can than be used in all the usual applications, including for drinking by people and animals.
When these new enhanced oil recovery methods are employed, it's not going to necessarily replace prior methodology, but will complement it. Together, the goal is to get every bit of oil in the ground out of it. That is the game-changer here, which has potential negative and positive disruptive effects on the industry.
Positive Impact of Enhanced Oil Recovery
Even though Vanguard has made a move to boost its gas reserves, it still has plenty of oil under its care, with 175 million barrels of proven reserves. The company could easily change the mix to boost more oil if it chooses to, depending on the market conditions.
If the numbers are accurate concerning the use of conventional and fracking methods to pump oil out of the ground, with as much as 75 percent not being able to be accessed, Vanguard has an extraordinary opportunity even if it didn't buy any oil for years.
We have to assume the 75 percent figure is on the high end. But even if we slashed that to as low as 50 percent, you can see how much more oil Vanguard could pump out of the ground using new EOR methods.
It gives Vanguard an opportunity to be flexible by boosting daily oil production or extending its wells out longer. Either way, shareholders would benefit strongly from it. There is also the probability the company would boost its dividend even higher, generating more income from its existing holdings.
This is something shareholders and investors need to consider when contemplating investing in Vanguard, or similar companies.
Negative Impact of Enhanced Oil Recovery
The positive impact of EOR on Vanguard and the industry was easy and predictable to see, but the negative side may not be.
Since Vanguard buys assets that include proven reserves, these new methods, as they apply to oil, could be very disruptive. Energy companies glad to get rid of old assets and raise capital to acquire new assets may not be so quick to do so when they may be sitting on over 50 percent of the oil in their existing wells, which can now be profitably produced.
They may start to ask the question as to why they should buy new locations and participate in exploratory drilling when they can use their capital to drill in proven wells. This is where I see the greatest disruptive potential in the upstream industry.
What's the disruption? The drying up of available acquisition assets for Vanguard and similar companies. What if energy companies start to view their mature assets as newer assets in the sense of having all sorts of potential with what they already own? That would be an extraordinary challenge for Vanguard and the industry.
It would not only probably lower the amount of wells for sale, but could also lower the quality of the wells as measured by the quantity held in them. It is possible only smaller wells would be placed on the market in the future, or that companies will produce much longer on existing wells before offering them for sale.
Conclusion
In the near term I don't see this having much of a material impact on Vanguard. Once energy companies understand the disruptive potential on the positive side however, it will almost surely dry up the availability of quality, proven oil reserves in the long run.
Since Vanguard has significant oil reserves and can use the new methods to produce even more from those reserves, it has a good base to work for into the future. The challenge will be to work some more deals before the industry starts to waver on selling assets Vanguard would have had no problem acquiring in the past. Higher prices could also become a factor for the available properties.
I don't see this as being close to panic mode at this time, but it will start to sink in that there are some tremendous reserves being sat on by energy companies that will generate terrific returns for years into the future. Those reserves are unlikely to be sold; at least for the reasons they were in the past.
This provides an interesting scenario for Vanguard under its current strategy of acquiring gas-rich properties. It would be interesting if it knowingly has seen the future challenges concerning the oil sector and has positioned itself with a stronger natural gas mix. That, and the probability of natural gas demand and prices going up were for sure part of those decisions.
Enhanced oil recovery is disruptive on the positive and negative side of the equation, and it's only a matter of when, and not if, it affects Vanguard. If natural gas prices do rise and Vanguard starts to get more out of its oil wells by utilizing the pumping of carbon dioxide into its wells to get more daily production out of them, while prolonging the lives of the oil wells, it will be a terrific positive for the company over the next decade, as well as its shareholders. Boosting reserves based on methodology is a sure winner in that regard.
On the negative side, once investors start to hear about and understand the implications of energy companies possibly holding on to what they thought were mature reserves much longer than in the past, they could bake that into the price, pushing the share price of Vanguard lower.
Over time it would slow down Vanguard because it would struggle to find quality properties that would help it to boost reserves and, by extension, its dividend.
In the short term I see this as a positive catalyst for Vanguard. It's the long term that's of more concern. Since a lot of the enhanced oil recovery methods haven't received much media attention, it hasn't been a factor in investors' psychology yet. That, maybe more than anything, is what needs to be watched, as once the general investing sector gets wind of it will have a dramatic impact on Vanguard.
Whether it's a positive or negative impact will depend upon how the investing public understands and interprets it.
Disclosure: I have no positions in any stocks mentioned, and no plans to initiate any positions within the next 72 hours. I wrote this article myself, and it expresses my own opinions. I am not receiving compensation for it (other than from Seeking Alpha). I have no business relationship with any company whose stock is mentioned in this article.