Similar to the fast food burger rivalries, seemingly everyone has an opinion about which pizza is the best (Papa John's (NASDAQ:PZZA)). Many take pride in finding the little mom and pop shops that have the best sauce (Fortunato's, Baltimore), but when it comes to the national level, three establishments have outpaced the rest; Pizza Hut (NYSE:YUM), Domino's (NYSE:DPZ), and Papa John's.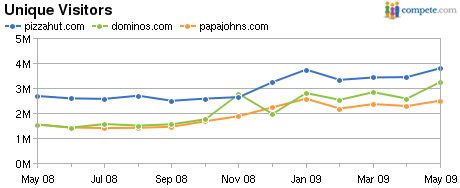 Monthly unique visitor traffic to these three sites remains relatively close, but aside from a short fluctuation late last year the pecking order has been set. So we look to where sites often turn to when trying to make up ground on the competition - search.
Papa John's falls back to the pack when it comes to search, with sites like Yahoo! and Facebook ranking ahead of them. It's not from lack of trying (a.k.a. paid search) though - 30% of Papa John's search referrals in June came from paid clickthroughs, as opposed to 21% for Pizza Hut's and 11% for Domino's. Maybe people just don't agree with me that better ingredients mean better pizza, or maybe convenience is king and the 2,600-plus Papa John's locations in the U.S. just can't compete with Pizza Hut's more than 6,200.